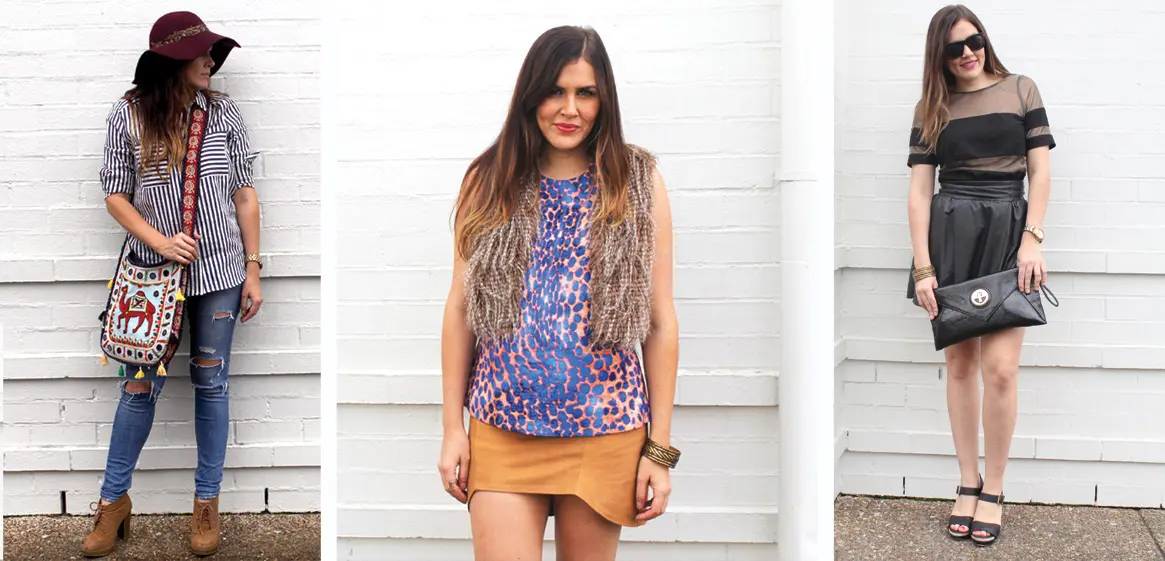 30 Days Styled By My Boyfriend
Digital Editor Lucy embraces a fashion challenge - for 30 days, she's being styled by her boyfriend. Yep - she's a brave one!
By Guest Styler | 24th April 2015

When I first tell my boyfriend he's to dress me for the next 30 days, he takes it surprisingly well. "Easy," he says. "I know my style. I'll just dress you as a secretary or a cowboy". Um, say what?

I'll be honest – I'm terrified. Here's a bit of background info about him: he works in sport and wears a uniform to work, and the night I met him, he was wearing a green Boston Celtics basketball singlet over a fluro orange t-shirt (note: it was his Borat impersonation, not his fashion sense that won me over). Wardrobe-wise, he has an obsession with stripes and a love of polo shirts. In his defence, he says his thick neck and thighs thanks to years of playing rugby league make it difficult to be as stylish as he'd like to be.  And I'll attest to that.

I'm thinking this could go two ways: bad, or really bad. Whose idea was this again? Oh yeah, mine.
DAY 1
Despite talking about planning all the looks in advance, it's Monday morning, 7am and he's just opened my wardrobe. He spies a blue and white striped blouse straight away and pulls it out. "Where are your jeans?' he asks.
He also sees a pair of boots and a hat he likes. Pheww …it's actually not too bad! But, just when I think I've dodged a bullet, he starts rumbling through my handbags. His hand emerges holding a tassel bag with a camel on it – mum brought me the bag back from Egypt and I've never worn it. Gaaaaaah! What is he doing?
I put it on, and it kinda looks ok. In fact, I think I like it. So far, so good!
He proudly looks me up and down and says, "I call this look; Boho-Safari Chic. Although I don't know what any of that means."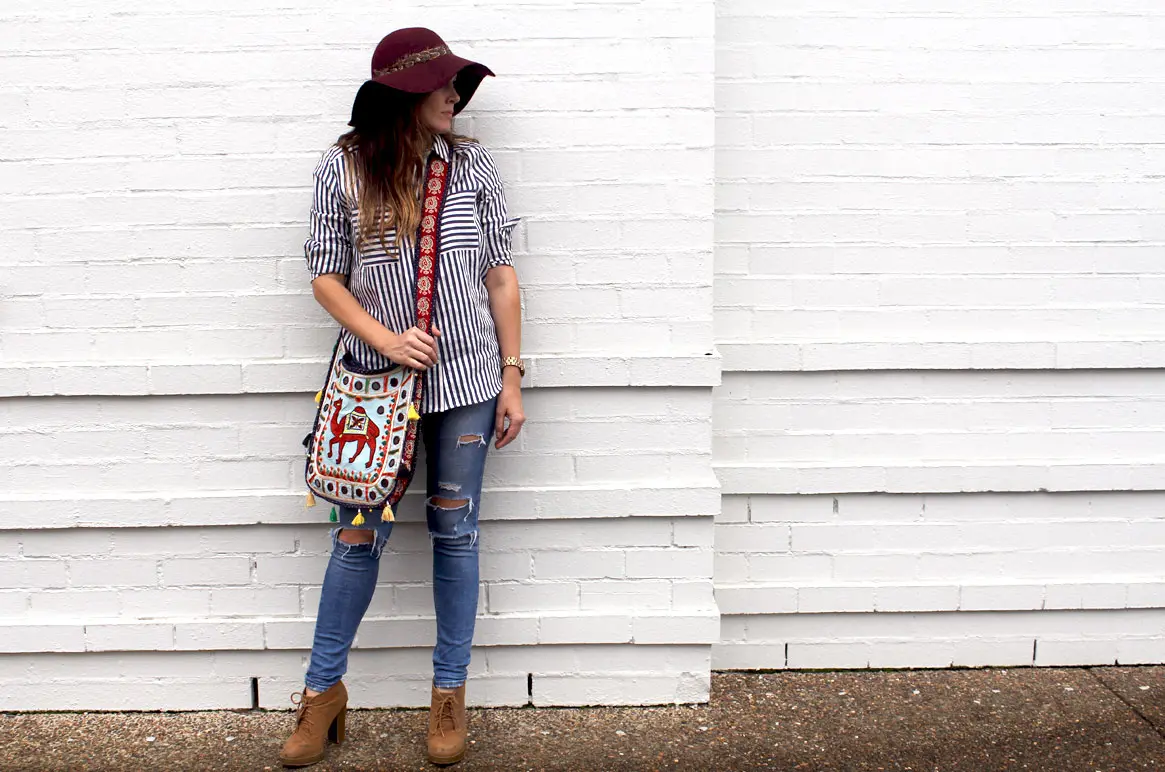 DAY 2
I tell him the graphic designers are impressed with his bravery towards pattern clashing. "You can't fear if you don't know it's a risk!" he says.
After a barrage of positive comments yesterday, he's beaming. He stands in front of my mirrored wardrobe and flexes his muscles before proudly pulling back the doors and eyeing off my clothes like a kid in a candy store.
I tell him I'm attending an early morning breakfast with fashion illustrator Kerrie Hess, so it needs to be suitable.
This outfit is taking forrrrrrrrrever to put together. He's decided I am wearing tan leather cowboy-style boots, despite not being able to find the left one.
Next he chooses a leopard print top and proceeds to pull out a series of skirts and pants, placing them on the bed, watching my reaction as he does. I'm in stitches – this is hilarious. I've never seen him take any interest in my wardrobe whatsoever, and I'm loving every minute.
I find the boot, and he settles on a look.
"Today, you're a Tribal Socialite," he says. And I think he's nailed it – I'm feeling like a mix of a character from the Flintstones and Paris Hilton.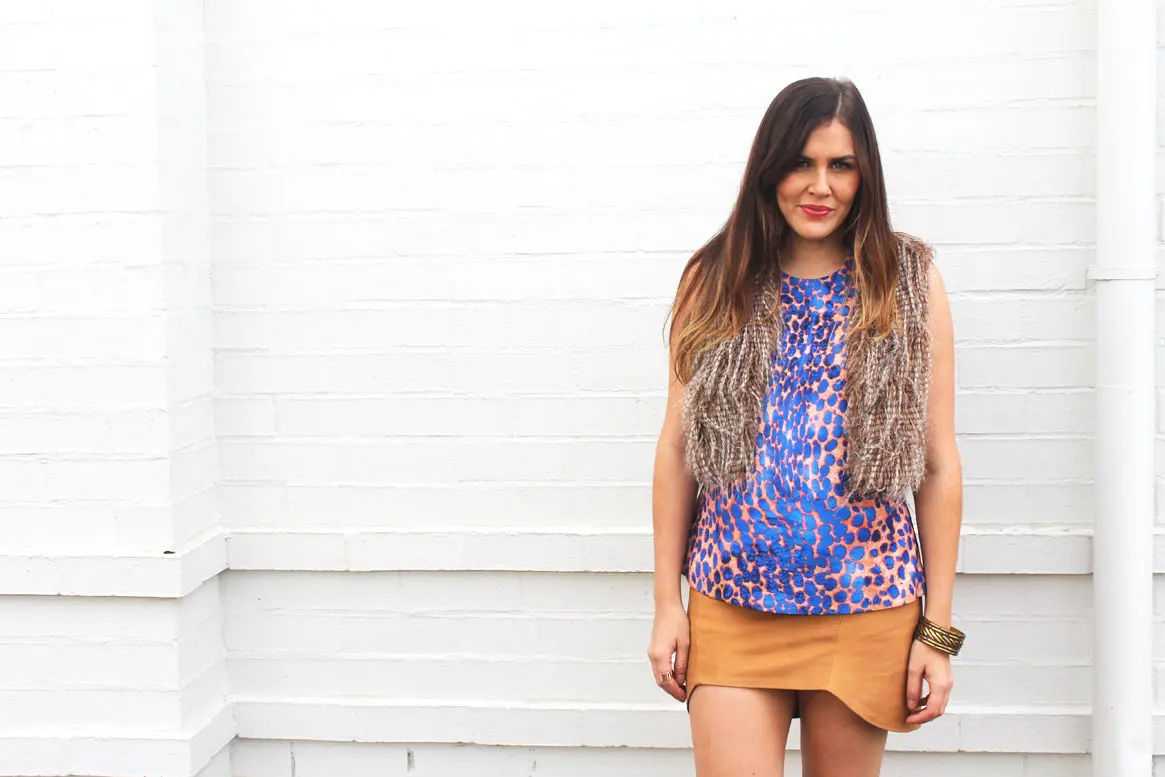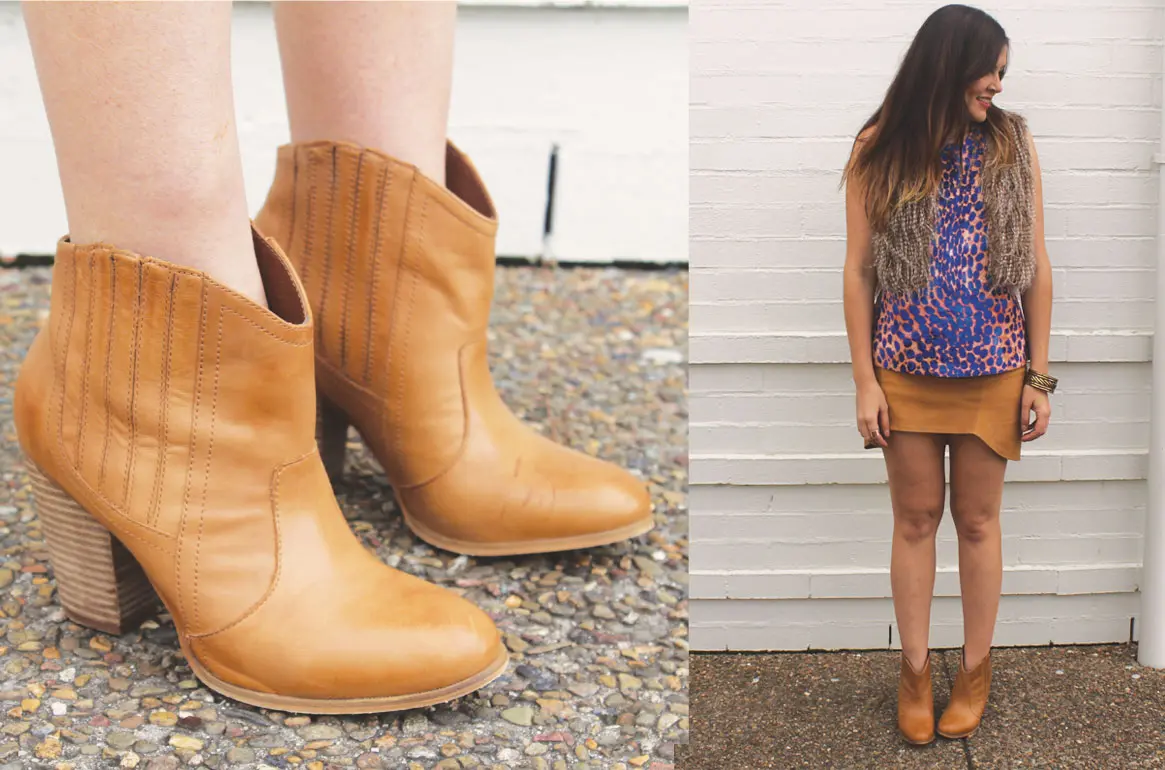 Day 3
I tell him the staff gather around each morning to check out what he's styled me in. They reckon he's a natural – I say it's a fluke. Either way, he's loving this waaaaay more than I thought he would.
Today's starter piece is a black and blue checked long-sleeve shirt, which he pairs with khaki coloured cargo pants. He reaches for a leopard print scarf  – and I flinch. He gets me to try it all on, adding red shoes and a red bag. I'm scared. This is tooooo much!!
Thankfully he thinks so too. He removes the scarf and replaces it with a necklace. Next he asks where my 'hipster hat' is. After finding it, he then looks for my "aztec rings". I inform him I don't own any. "You need to buy some," he says in alarm. Suddenly realising what's just come out of his mouth, he says: "wait – this is a trap!"
Stepping back from the outfit, he nods, proudly. I like this one too.
"This one is McLeod's Hipster Daughter, " he declares. He thinks he's sooo clever.

Day 4
He asks me what I doing today.
"A day in the office – head down, bum up," I say.
Again, he starts with one item, deciding on a military style jumper, and I immediately regret not sending it to Vinnies in my last wardrobe clean out. As he's rifling through my drawers, I ask him about his tactic; what's going through his mind when he's looking for outfits?
He stares at me blankly: "Stripes," he says. Ummm….sorry what?
"Cargo, animal print. Then maybe colour. Colour's last," he says. I see…. I gotta say, it's an unusual tactic and I'm a little alarmed that matching colours is not a priority.
The outfit he picks is a combo of army camo and leopard print. If I'm honest – I'm not totally digging this look. It's a bit 'blah' for me, although a friend of mine comments on Insta that it's her fave so far.
"I think naming the looks is my favourite part," he says. Uh, yeah – I can tell.
He calls this one: "Hunt or be hunted." I tell him it's a cute name. "I thought you might give this an Anzac-inspired title," I say. He smiles – "there's still time!".
Sh*t.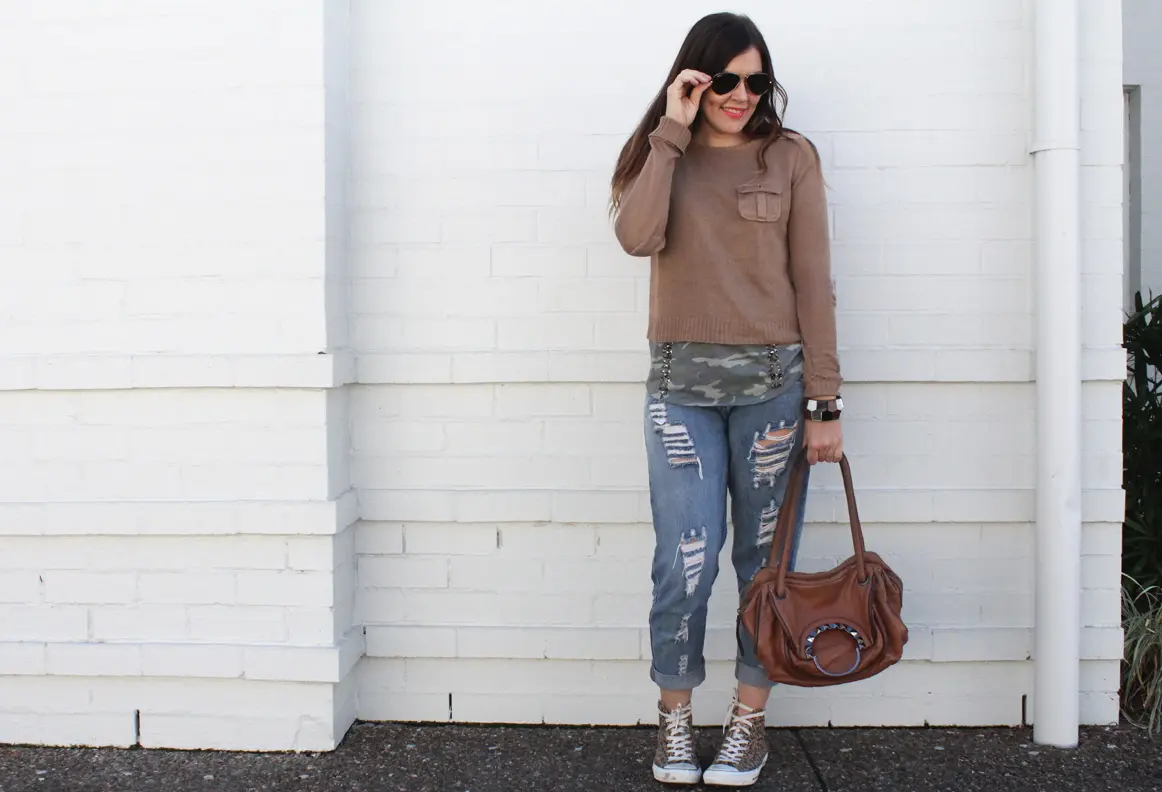 Day 5
"Why did you choose 30 days?" he asks me today.
Good question. He takes a lot longer to choose an outfit than I do, although my boyf tends to accessorise a lot more (now there's a statement I never thought I'd make). He tells me I have nothing to wear (another pearler!) before finally pulling out a short black leather skirt. He finds a black and gold top and black heels and tells me to find my black clutch and black glasses.
"Done," he announces. "Just try not to bend over today"
I leave without him deciding on a name, but he texts me at 10am: "Black Widow elegance"
"Ummmm…' I text back.
"It's a female Marvel Character, but your outfit is a bit more elegant than her leather jumpsuit," he says.
I like; very nice!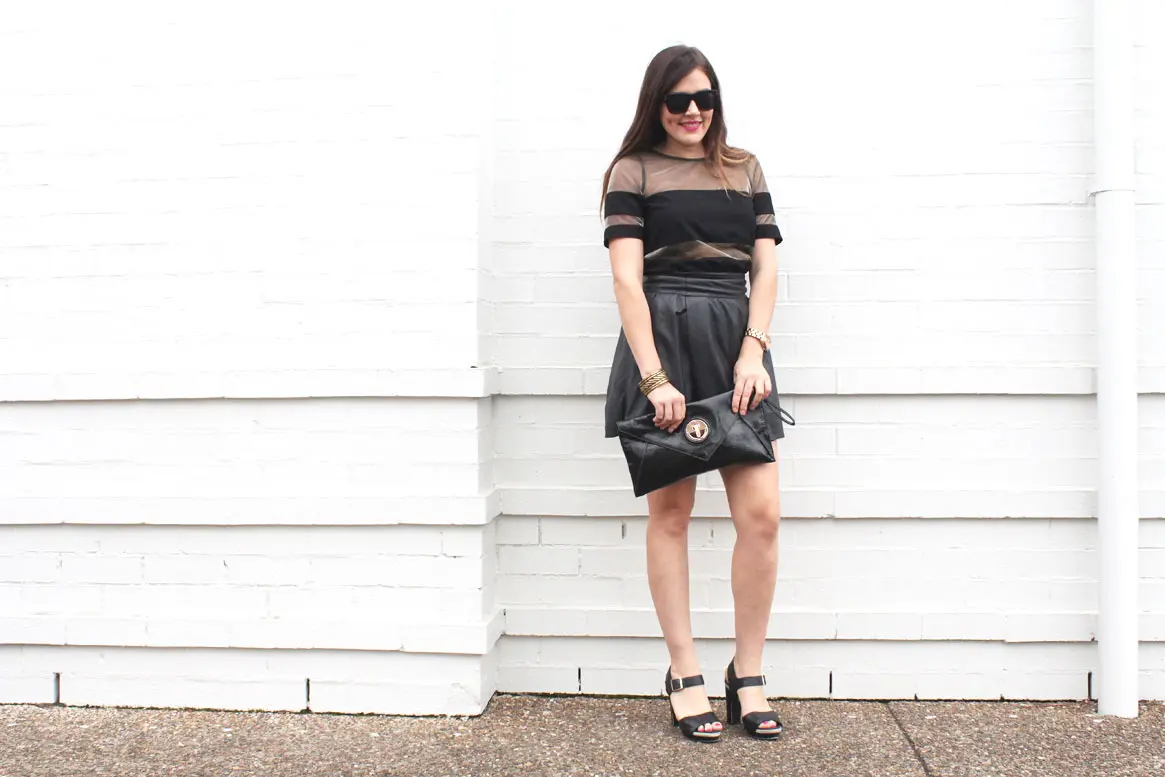 Check in here, on Instagram and on Facebook next week for all the flukes, faux pas and fashionista moments of #30daysstyledbymyboyfriend.