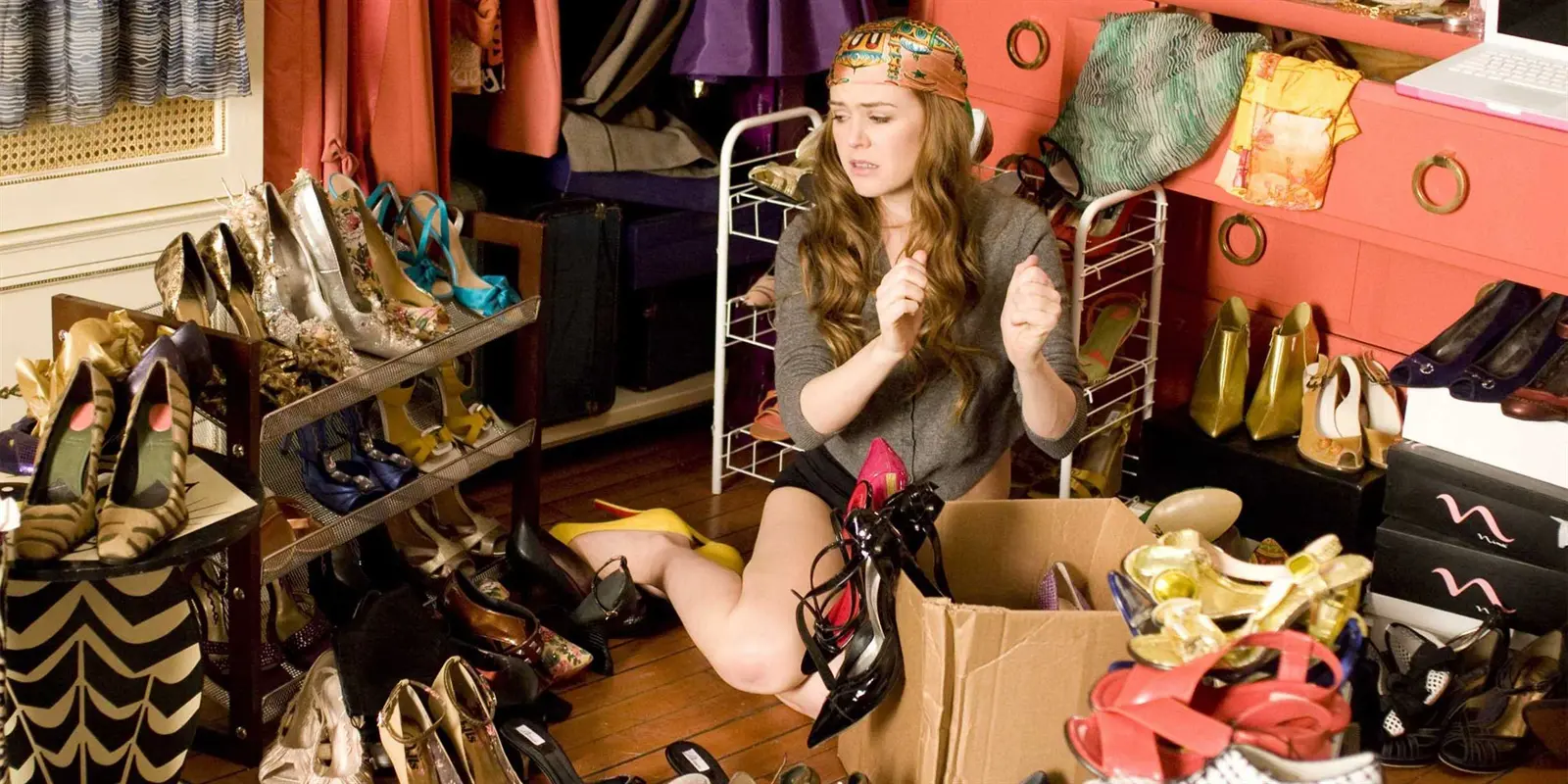 13 Fashion Movies You Need To Watch
You speak Prada?
By Guest Styler | 23rd May 2016

If you loved our 13 Fashion Movies You Need To Watch article, then you'll love this! For those who like to escape reality by watching a movie or 13, then have a peek below at our essential fashion movies to inspire you and give you serious #wardrobegoals! From Bonnie & Clyde to Sex and The City, we've covered off on multiple eras and trends that rocked Hollywood. Did someone say girls night?
The Devil Wears Prada
Starring Anne Hathaway, Meryl Streep and Emily Blunt, Andy is a recent uni graduate who has just landed the job that "a million girls would die for" as an assistant to – the equivalent of Anna Wintour – Miranda Priestly at Runway magazine. She has to put up with her cruel boss, the annoying 'first assistant' and try to figure out how to do the job properly. without getting fired. If you haven't seen this modern fashion movie, you haven't lived! For those who dream to work in a fashion magazine, this will be one film you need to add to your collection pronto.
Coco Before Chanel
If you're a fan of Chanel, this interesting movie is the backstory of Coco Chanel's life. It takes you through her younger years working in a bar as a seamstress for performers and as a singer, earning the nickname 'Coco' from one of the songs she sang every night. From her affairs with wealthy men to her opening her first business making hats, there's no doubt Coco Before Chanel is the perfect fashion film for Chanel fans.
Bonnie and Clyde
This movie follows the true story of America's most infamous criminals Bonnie Parker and Clyde Barrow who went on a crime spree from petty theft to bank robberies. This film is iconic for its costume designing, which saw Faye Dunaway's (Bonnie) wardrobe have a seventies feel – featuring berets, tweed, midi skirts, printed scarves and knitwear. The costume design for the film, Theadora Van Runkle won an Oscar nomination for her work. This is one of the films loved by the fashion industry and it has influenced catwalk shows for years.
https://www.youtube.com/watch?v=YNrSGutBOlE
Clueless
The ultimate 90s movie, Clueless is about upper-class rich school girls who care about wearing the right clothes over getting good grades. Cher (Alicia Silverstone) who lives with her layer dad and cute stepbrother, steps in to give a clumsy new girl, Tai, (Brittany Murphy) a makeover. It's full of dating, hilarious quotes and even better fashion – did someone say a yellow plaid schoolgirl outfit? If you haven't seen it, all I can say is "ugh! As if!". Clueless is EVERYTHING – watch it ASAP!
Cleopatra
Starring Elizabeth Taylor, this romantic rendition of the life of the Egyptian Queen Cleopatra is one film that has amazing costuming. The movie depicts Cleopatra's manipulation of Julius Caesar and Marc Antony to save the Egyptian empire. It actually won an Academy Award for Best Costume Design in 1964 – that's saying something! There were 26,000 costumes created for the film, 65 costume changes and the film influenced snake rings, arm cuffs, geometric haircuts and maxi dresses. This over-the-top costuming in Cleopatra is something you need to see!
The Great Gatsby
Whether it's the original or the 2012 remake with Leo DiCaprio, there's no doubt both films had costuming that brought back the 1920s flapper. From fluttery skirts, Tiffany's jewellery, sleeveless dresses, embroidery and custom pieces designed by Miuccia Prada, the latest instalment of The Great Gatsby is a modern variation of the original while still focusing on the trends of that era. The fashion is vibrant and sexy and it influenced catwalk collections – Gucci and Ralph Lauren's spring 2012 collections were inspired by Gatsby! If there's one film that makes you want to wear drop-waist dresses and sparkly accessories, it's The Great Gatsby.
Zoolander
If you appreciate really, really good looking people then Zoolander will give you just that! Ben Stiller and Owen Wilson star in this comedy which takes Derek Zoolander (Ben Stiller) to the top of the fashion world by his "Blue Steel" gaze (which is a MUST when taking photos these days). But when Zoolander's rival, Hansel unexpectedly takes the crown of Male Model of the Year, he's crushed. He then becomes easy prey for fashion designer Jacobim Mugatu (Will Ferrell) who signs Derek to star in his new fashion show and brainwashes him to assassinate the Malaysian Prime Minister. So basically, it's a hilarious take on male modelling. Not to mention the outrageous outfits and the laugh-out-loud rival between Derek and Hansel.
The Seven Year Itch
This movie is about a family man in New York who is tempted by his gorgeous neighbour (Marilyn Monroe) while his wife and children are away for the summer and ponders infidelity. It's iconic due to Marilyn Monroe's famous white dress. You know, the one where she stands over a subway grate and the skirt of the dress blows up? Well, that ivory halter-neck dress ended up selling at an auction in 2011 for $4.6 MILLION – not too shabby, huh? To find out what all the fuss is about, you'll have to watch it for yourself!
Breakfast at Tiffany's
This film follows the story of a young woman (Audrey Hepburn) who meets a man when he moves into her apartment building. He's with a wealthy older woman (but wants to be a writer) and she's working as an expensive escort searching for a rich older man to marry. The most iconic outfit in the movie is the Givenchy little black dress she wears at the start of the film looking into a Tiffany's window – which is now known as "the definitive LBD". Audrey Hepburn is still thought of the most sophisticated actress in Hollywood and this film showcases some of the most iconic costumes to reach the big screen. With over-the-top hats, pearls, huge sunglasses and an array of fabulous outfits, it's one of those movies that everyone has to see!
Confessions of a Shopaholic
This is one fashion movies for those that spend more money on their growing wardrobe than food! Rebecca Bloomwood (Isla Fisher) loves to shop, so much so that she's drowning in debt. She wants nothing more than to work at the top fashion magazine in New York City but can't seem to get her foot in the door…until she lands a job as an advice columnist for a financial magazine owned by the same company. When her column becomes an overnight success, her secret threatens to ruin her career and her love life. With colourful, bold, eclectic fashion and the signature green scarf, this is one for those gals that may need to physically freeze their credit cards!
Marie Antoinette
Starring Kirsten Dunst, this movie follows the life of French queen and ill-fated Marie Antoinette. She is betrothed to the Dauphin of France, Louis XVI at 15 years old and becomes queen at 19 following his death. Known for her lavish spending, expensive taste and living a life of privilege, Marie Antoinette loses her head during the French Revolution. This film is an educational flashback into 18th century fashion and takes you back to the days of hoop skirts and ruffles and when wearing lace said more about who you were than your words. Highly recommended for fashion history buffs!
Sex and The City & Sex and The City 2
If you haven't seen Sex and The City, you haven't lived! These two films follow the hit TV show where women all over the world learned they weren't the only ones trying to figure out the male species – phew. The first is a four-year-after to the show where Carrie, Samantha, Charlotte and Miranda are still close and getting through the obstacles of relationships and life. In the sequel, the girls go on vacation to Abu Dhabi. While the drama is addictive, the fashion is loud, fabulous and better than ever! When the most fashionable TV show turns into movies, you NEED to watch them! No excuses.
Honourable Mentions Gone With The Wind Gentlemen Prefer Blondes Pretty Woman
If you liked this, here are some more articles for fashion inspiration:
13 Fashion Movies You Need To Watch
Consider This Your Definitive Guide To An 18-Piece SS Capsule Wardrobe