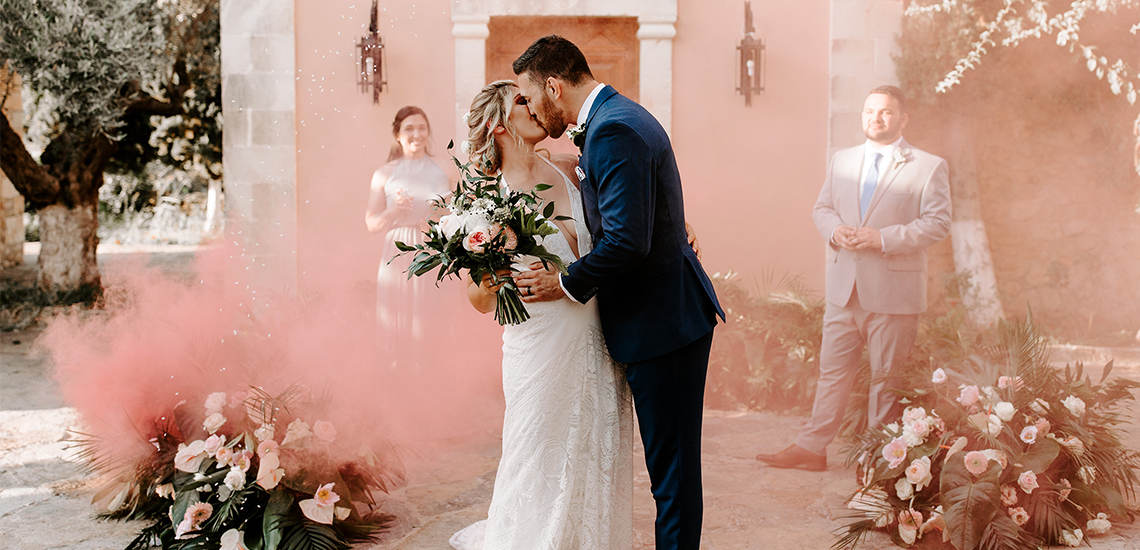 We've Found Brisbane's Best Celebrants
Your dream day starts here!
---
When it comes to weddings, no two are the same. Ceremonies and celebrants aren't "one size fits all" and we understand that the uniqueness of each relationship should be what shines through most on the day.
Choosing a celebrant should be a natural decision but it isn't always one that comes easy when you're searching for the right person. Whether you're planning the party of the year, an intimate affair, a same-sex marriage, an elopement or renewal of vows, we've put together a tight list of some of Brisbane's best celebrants that provide the best services in town.
Renee has been a celebrant for 11 years and has now conducted well over 1100 weddings. Renee understands a wedding day is one of the most important days in your life, so ensures the ceremony is all about you and of course, love. Detailed attention should be given to your ceremony, as much as any other aspect of the big day and that's why Renee is one of the best in the business, servicing Brisbane and surrounds, as well as both the Gold Coast and Sunshine Coast. Just as no two couples are alike, Renee ensures no two ceremonies are alike, intertwining laughter, personality, authenticity and the couples' beliefs into the ceremony. The ceremony will be a project of creation between the to-wed couple and Renee so it can be a memorable and special moment to forever cherish.
It's easy to see why Krista Webb from Celebrated Moments is one of Brisbane's most in-demand wedding celebrants. Krista understands that ceremonies are not a 'one size fits all' approach. Each couple shares a unique story and therefore your ceremony should honour your journey and be personal to you! With her warm energy, creativity and friendly nature, Krista will put you at ease and bring a special flair to your big day. Known for her fun and modern ceremonies, she will deliver a stress-free service that reflects who you are as a couple, while connecting with your guests. Krista offers a range of wedding packages, so whether you want her to organise the 'full shebang' or an intimate mid-week ceremony, she will take care of you from start to finish. Plus, with her background in drama teaching and event management, you can feel confident your day will be totally seamless and professional!
Jamie and Cara of Brisbane City Celebrants are the husband and wife celebrant duo that simply LOVE celebrating love! So much so, that their passion and expertise for creating and delivering modern, happy, and super enjoyable wedding ceremonies has seen them earn a heap of 5-star reviews from their happy couples. They have even been recognised as the no.1 rated celebrants in all of Australia on Google! With a focus on ceremony planning and coordination, you can rest assured everything will go seamlessly on your day with Jamie or Cara as your celebrant. This dynamic duo are not only super passionate about making sure your ceremony has all the happy feels, they can also make sure it looks amazing too! Their journey as celebrants combined with Cara's background in design, led her to establish the highly sought after Brisbane Wedding Decorators, where she provides gorgeous custom designed and impeccably presented wedding ceremony décor and set ups from luxe circular arbours to elegant tiffany chairs and so much more. How convenient is that? With over 10 years' experience performing modern and engaging weddings in the Brisbane area, in support of their industry peers, this innovative duo recently launched the Brisbane Celebrants Directory and Blog, making it easier for couples to find their perfect celebrant. If you are looking for a modern celebrant with an ability to create, coordinate and deliver a ceremony that you and your guests will love, we seriously recommended checking these guys out.
If you are looking for someone to bring a fresh and fun approach to your special day, Andrew Michael at AM Weddings is your man! Whether you are planning an elaborate ceremony, an intimate ceremony or you are eloping, Andrew's charisma combined with his calming and relaxing nature will make your day unforgettable! Andrew loves learning about people and what makes each couple tick, so he will work closely with you to personalise your entire ceremony – after all, no couple is alike! With his musical talent, Andrew proves to be a Jack-of-all-trades and can bring an extra special flair to your day. After you have said your vows, Andrew can grab his guitar and microphone and take care of the reception ambiance, and even be your MC! How's that for service?
Natasha Hill is the respected, experienced and professional celebrant behind Hills Celebrant Services, who loves nothing more than sharing the happiest day of couples' lives with them! With a variety of celebrant awards up her sleeve, Natasha will ensure your day is perfect thanks to her serious attention to detail, reliability and commitment. Her bubbly personality and friendly nature will put you at ease both during the planning process and on the big day. Natasha truly has a special way of connecting with people – her clients have even said that they felt comfortable and relaxed with her from the second they met her! If you are looking for a friendly and highly regarded marriage celebrant, look no further than Natasha of Hills Celebrant Services.
Ben is part of the one percent of celebrants in Queensland who works fulltime as a celebrant, which allows him to focus solely on creating completely authentic wedding ceremonies for couples. Ben is super passionate about his work and is said to be a master of engaging with crowds, killing the nerves and ultimately creating a warm and fun ceremony experience. With a fresh, fun and original approach, Ben's charisma is bound to have your guests talking about the ceremony for years to come.
Feature Image: The Shepards Photo
Liked this? You'll love these!
1. Our Pick Of Some Of Brisbane's Best Wedding Venues
2. All Of Brisbane's Best Wedding Vendors You Need To Know About
3. 8 Custom Wedding Dress Designers Every Bride Should Consider