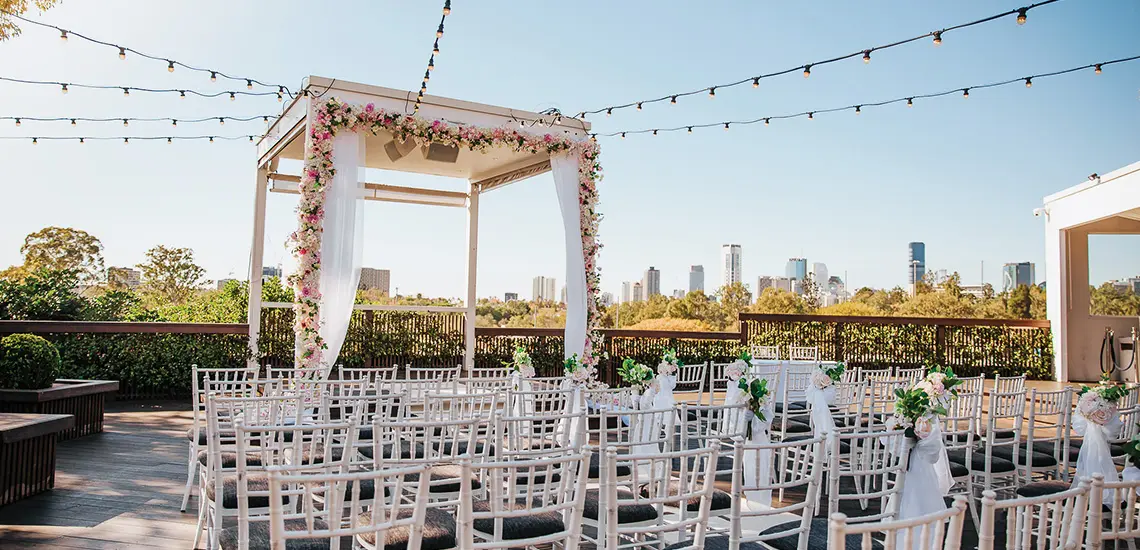 BNE's Most Awarded Wedding Venue
We do, do you?
By Fiona Williams & Dinushka Gunasekara | 13th February 2020

Just a quick note: This post is sponsored. To prevent a paywall or annoying pop-up ads, we sometimes need to publish sponsored content but we only promote brands that we think are doing great things and our readers will love!

There's no doubt that Victoria Park has made a name for itself within the elite of Brisbane's wedding scene. Named "Best Wedding Venue QLD 2019" and "Most Romantic Wedding Venue QLD 2018", the iconic space has established a reputation as Brisbane's number one wedding destination fit with parkland ambience, gorgeous gardens and a striking cityscape.

At Victoria Park, you can hold your ceremony on the adjoining balcony of your chosen reception room or hire The Courtyard garden ceremony space. All wedding reception venues feature beautiful marble bars and panoramic views of Brisbane City and parklands. The Marquee is the crown jewel of Victoria Park, featuring exquisite chandeliers as does the Ballroom, which exudes elegant Victorian charm. Celebrate in the lush surrounds and city views of the Garden Marquee, or make it more of an intimate affair in the Alabaster or Quartz rooms. With several service awards, plus private bars and alfresco areas attached to every venue, your wedding will be perfectly personalised at Victoria Park.

Each year, over 150 couples choose to get married in one of Victoria Park's five premier wedding spaces suitable for 30 to 400 guests who will receive complimentary parking on-site. Dedicated wedding planning support will take the preparation weight off your shoulders and an array of packages are available to make your day even easier, such as an off-peak special, 80+ guest special and the complete wedding package. With golf course photography and carts available to hire for the bridal party to travel across the course, every component has been considered.

At the end of the day, the Victoria Park team make it your day with the natural surrounds and cityscape as your witness, giving you stunning memories to last   a lifetime.

Impending nuptials? We spoke with Victoria Park's Wedding Executive, Samantha Pearson to find out the nitty gritty details on their most common questions.
What can guests do in the time between the ceremony and reception?
 If you have booked both ceremony and reception onsite, while you and your bridal party are getting photos on the golf course, we can offer you the below options for your guests during this time (4pm-6pm): A) hire The Orchard, an open-air marquee room near the Victoria Park Bistro and with dedicated seating and bar areas, or B) No privately reserved area booked and guests can use our facilities at their own cost and leisure (Victoria Park Bistro, Children's Playground, Driving Range and Putt Putt).
Can Victoria Park supply room styling such as centerpieces?
Victoria Park are very happy to look after your wedding styling. As a standard inclusion, we offer a 30cm cylinder vase with pillar candle inside surrounded by 4 tea light candles in glass votives on each table. However, we have many styling packages for you to consider and can assist you to create a tailored styling package that suits your own style. Victoria Park can also assist with theming, flowers, lighting, entertainment and other wedding supplier needs.
Can wedding photography be taken at Victoria Park?
When you book both ceremony and reception at Victoria Park, yes they certainly can! There are a number of amazing photo locations around the complex and golf course. For golf course photography, we offer golf cart hire for the bridal party to travel to different on course locations.
What AV is included?
Our Wedding Packages include a complimentary lectern, microphone, basic in-house audio system (suitable only for background music sound levels and for use by the MC and speeches), built-in data projector and screen.
 Can you cater for dietary needs and provide children's meals?
We can assure you that our Australian Young Chef and Australian Chef of the Year Winner, Jason Peppler, produces a sensational menu based on local produce and works hard to cater to all dietary needs. Your wedding planner will assist you to register all dietary needs of your guests prior to your wedding. Children's meals are provided for kids up to 12 years ($35 per child). Children above 12 years will be served the adult meal, excluding the beverage package and including a soft drink package (price on application).