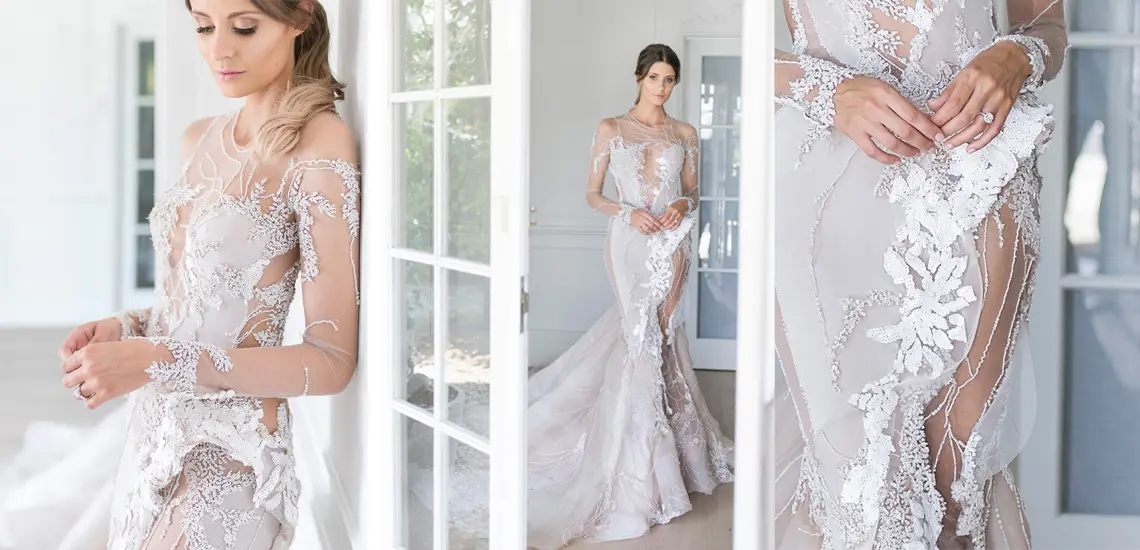 8 Custom Wedding Dress Designers Every Bride Should Consider
And you don't need to blow your budget!
By Guest Styler | 8th February 2018

You've fallen head over heels in love and he finally put a ring on it, but now comes the hard part: finding the one! And by the one, we mean your dream wedding dress, of course.

Buying your wedding dress can be tricky territory to navigate. You want a dress that is beautiful and unique but still distinctly you. After flipping through a zillion wedding magazines and stalking every bride blog on the internet, every dress starts to look the same and you quickly come to the conclusion that having a custom wedding dress made will be the easiest option. However, many assume that a custom wedding dress is reserved for those who can afford a designer price tag. Think again!

With wedding season upon us, we've done the hard work for you and found everywhere in Brisbane that you can have your dream custom wedding dress made just for you without blowing the budget.

Fashion design is in Ella's blood; her great-grandmother was the owner of a prosperous Russian bridal atelier in the 19th century. This meant that Ella spent her childhood surrounded by creative seamstresses and found herself preoccupied with fashion and design from a young age. Known for her distinctive style of classic cuts with romantic details, every Ella Moda gown is constructed with the best quality silks, laces and embellishments. As well as boasting one of Brisbane's most beautiful collections of bespoke wedding gowns, Ella Moda also offers custom wedding dress services; Ella and her team can help you create an original design from your inspiration and reference images and will make it your own. Her ability to transform gorgeous fabrics into sumptuous creations that respect and enhance a woman's beauty is second-to-none, with each gown expertly handcrafted in her Brisbane studio.

Boasting a tight, curated collection of impeccable designs, Jennifer Gifford creates each custom wedding dress from her Greenslopes studio on a made to measure ethos. This means that each bride will receive a full service that includes all of your fittings and fabrics, with some small gown customisations also available. Keep an eye out for her new collection launching this month.

There is never a dull moment in the Hamilton home studio where Isabella Longginou works her magic. At a glance, you can spot the distinctly feminine Longginou shape and style that is weaved into every garment Isabella creates. The Brisbane-based custom dress designer and maker can bring your custom wedding dress vision to life and is also a popular choice for bespoke bridesmaids' dresses, too.
Ginger & Gold Bridal
Blazing their own trail in the bridal industry, Ginger & Gold is for the brides that want a refreshing and alternative wedding outfit you wouldn't typically see down the aisle. Think bridal jumpsuits, rose gold gowns and bridal separates. Every Ginger & Gold piece is handmade in co-founders Ally and Zahra's East Brisbane showroom and it's clear that every stitch on each custom wedding dress has been thoughtfully tailored to each individual bride.
After launching his eponymous label in 2012, Jack Sullivan Bridal has become one of the most recognised specialist labels in the industry. Jack's popular style and unique use of fabrics combined with his talent for creating each custom wedding dress with expertise have seen the designer become a household name in Brisbane and beyond.
With an eye for detail that is unmatched in Brisbane, George Wu is one of Australia's leading designers. From the initial inspiration, design and pattern making process to fitting and finishing, George is passionate about perfection and each custom wedding dress is a true work of art.
MXM Couture
There is no question that identical twins Margaret and Michelle Williams of MXM Couture are at the forefront of custom wedding dresses and evening wear in Brisbane. The dynamic duo understands how a perfect dress should look, fit and make every bride feel and it's evident in their masterpiece custom creations. Each MXM dress starts with you and is fitted and created to suit your body shape.
Susan uses traditional tailoring techniques, which means you will see your very own dress evolve throughout your many fittings and will never have you feeling like you're just another number. From your first meeting at her East Brisbane studio, Susan gives you the confidence that your exact vision will be brought to life with a bit of guidance along the way.
Referred to as the modern woman's personal atelier, Fame and Partners have changed the way women shop for a custom wedding dress. Everything on the Fame and Partners e-commerce site is customisable, meaning that each piece is personalised and tailored to every bride, bridesmaid or wedding guest. They even have free shipping and returns to ensure a perfect fit for every size, every time. And their dresses are actually beautiful!
Feature Iamge: MXM Couture
Liked this? You'll love these! The 2018 Wedding Dress Trends Every Bride Needs To Consider 12 Iconic Wedding Dresses And Your Guide To Nailing Each Look We Regret To Inform You The Wedding Cake Is Dead