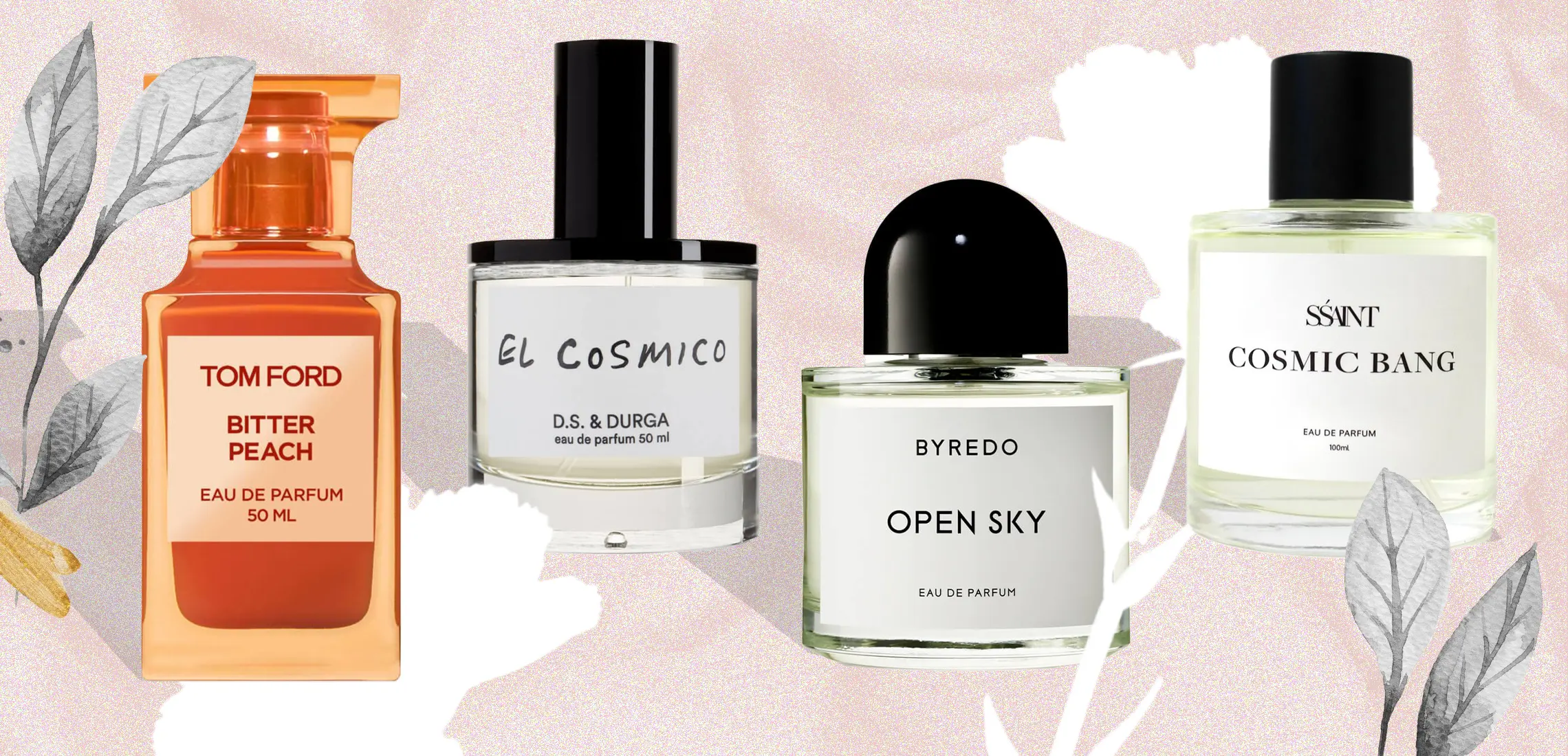 Spritz And Sniff: Four Unexpected Scents To Transport You Out Of Winter
One olfactive ticket to summer in Spain, please
By Astrid Taemets | 3rd June 2021

Fragrances spark joy in a way that's unlike other beauty products. A statement of intent regarding who you are, or intend to be, a perfume is something you wear just because – it's fun and frivolous, as opposed to functional.

It's also something that's highly personal. We choose a scent because it speaks to us on a deeper, emotional level, transporting us to a time, a place, a memory. So, when it comes to introducing something new into your olfactory wardrobe, it must feel right. Unlike a new lipstick or eyeshadow colour which can be purchased on a whim, a fragrance marks a point in time when you're ready for change. It might align with a new job, relationship, or change in season. It can also act as a realm for escapism – a way to feel connected to someone or something when you need it.

So, as we officially enter the months of winter, and find ourselves once again, unable to escape the throws of the cooler weather in lieu of European cliffside beach clubs, we've collated a niche list of scents that'll rock your world in more ways than one.

Equally complex as they are simple, these four fragrances mark the departure from your past, and will transport you to wherever you're dreaming of being.
Byredo Open Sky EDP 100mL $337
This limited-edition fragrance is for the barefoot wanderer in us all, and will spark your urge to travel (as if you weren't already missing that enough!), to venture outside your comfort zone, and explore new and exotic locations. Upon the first spritz, the boldness of Open Sky makes it immediately clear that creator Ben Gorham has successfully bottled the very essence he set out to capture. The top notes of citric pomelo and warm black pepper fuse to create a foreign but familiar aroma – like the memory of a place you've been to before, long ago. As the scent dries, it's almost as if your olfactory senses find their footing, as it brings you back to that fresh-off-the-plane feeling we all miss so deeply, where the Mediterranean air greets you like an old friend. Once settled, the notes infuse with your own pheromones, turning a vacation-like state into a sense of homecoming. Middle notes of hemp leaves meld with the top notes to create something that feels cosy and welcoming, in a recognisable way. As it embodies the vacation state, then it's only natural for it to fade. The sweeter notes disappear, and what is left is the woodier undertones of palo santo and vetiver to savour.
Tom Ford Bitter Peach EDP 50mL $480
Before you've even had a chance to smell it, it's obvious Bitter Peach is full of sex and spite – it's totally cool and completely irresistible. The scent is of a peach at its luscious peak, and hits your skin, half sweet, half tart, cheeky and bright with the sweetness of the fruit, accompanied by blood orange, responsible for the searing tang that follows, balancing out the mix of sweet and sour. Cardamom heats it up, with the rum-infused Davana oil expanding the top notes with an earthy scent, while the heavy, heady base including patchouli, sandalwood, vetiver, and cashmere finishes it off with a warm, approachable finish. It's a little cheeky – sweet enough to draw you in, but with a depth that's mysterious, maybe even a little bit dangerous – like you might wonder whether it's okay to want it so bad. Bitter Peach will keep you guessing, taking you on a tangent of overlapping scent trails, it's completely full of surprises.
D.S. & Durga El Cosmico EDP 50mL $266
In their attempt to capture the desert air in Texas, an architect and a musician in Brooklyn called on creosote shrubs and the tartness of sumac, primed with Chihuahuan Desert woods such as pinyon pine and oak, to forge this richly scented fragrance. Together, these notes blend to create something truly new – an odour that's hot, and hits you right in the back of the throat, opening your nostrils. The initial scent of El Cosmico is piercing (no doubt from the pepper), appealing and unmistakable.  On your skin there is a warmness, like your feet are buried in sand, and when worn on skin that's been exposed to the sun, the notes warm up, leaving behind the pine to reveal a type of fresh, dirt-after-rain type smell. There is a faint sweetness, barely there and soft, which fades. Overall, the scent is fresh and green, without being light or shallow, with a depth that might make your mind wander back to a time when you went camping in the woods in the cold. It's like falling in love with a landscape, seeing it for the first time, and revisiting that moment over and over.
SŚAINT Parfum Cosmic Bang 50mL $109
From first whiff of this androgynous scent, it's clear you're not dealing with your run-of-the-mill fragrance. Like the ocean tide crashing onto the shore at night, Cosmic Bang is soulful and silky, but with a thrilling coolness that shocks you right out of your dream-like state. Not marketed to a specific gender (and an all natural fragrance), the scent of bay leaf, hay, bergamot, and tobacco bring out the earthiness within, and will sway you back and forth between wanting to wear it and hoping to discover it on another. It's a complex fusion of mystery and equilibrium, where the delicacies of musk, fig and cedar even out the headier notes, like standing on the edge of a seaside cliff in the wind, but behind a barrier, warm and wrapped in a blanket. It lures you to the precipice, bringing you to the verge of danger in a way that's both exhilarating and chilling.