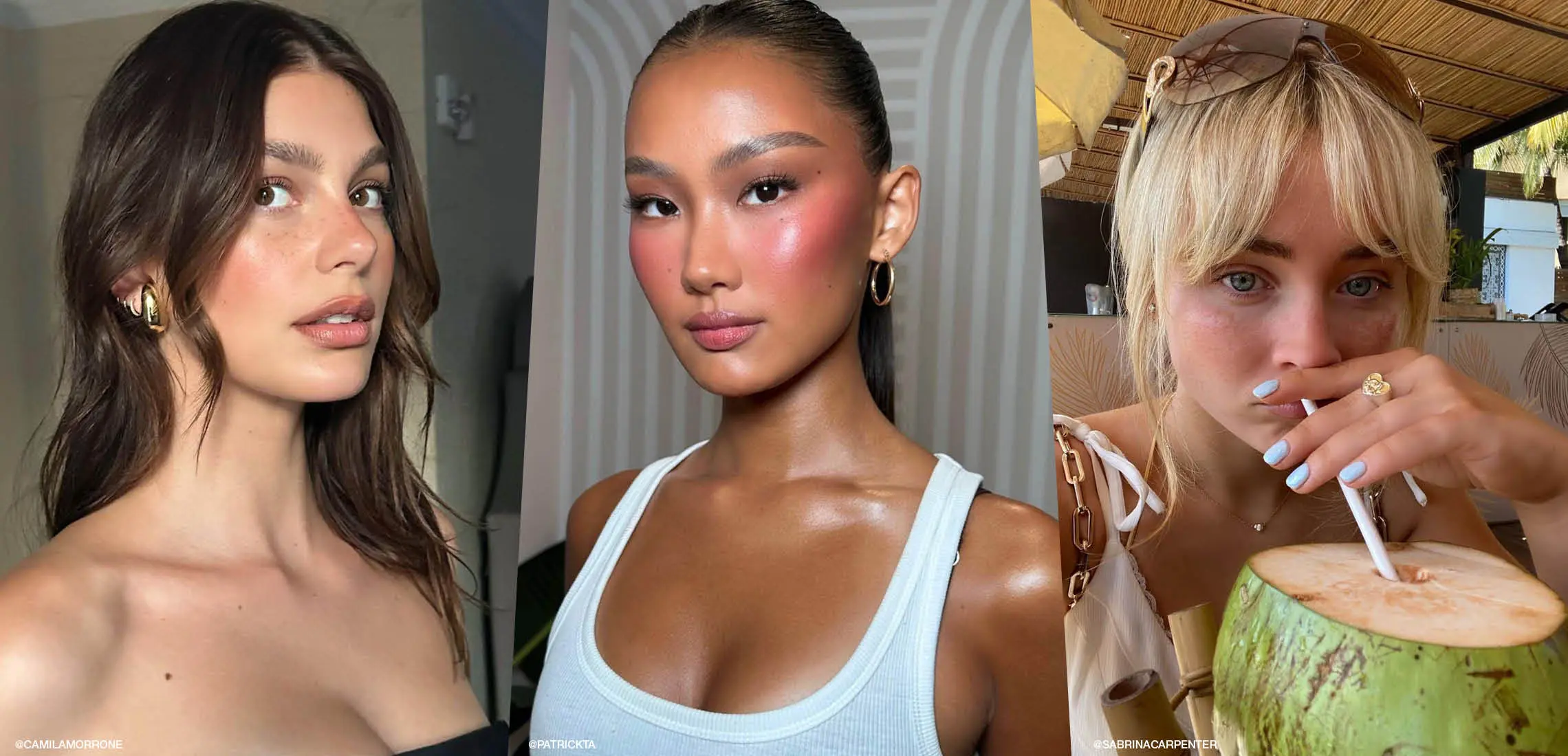 Serving Looks: 5 Food-Inspired Beauty Trends To Dig Into
Fruity and delicious 
By Natalie McGowan | 29th September 2023

In the ever-evolving, fast-paced world of social media and self-expression, it feels like every time we refresh our feeds, there's a new craze taking the internet by storm. Everyone's latest obsession? Naming beauty trends after food. 

Scrolling through TikTok nowadays can feel like walking down a supermarket aisle, but these looks often aren't as complicated as they sound. Rather, they're a way of reinventing past trends and making them feel fresh and new again. So, from Hailey Bieber's glazed donut skin to Sofia Richie's blueberry milk nails, we've rounded up the five best food-themed beauty trends, so you don't have to keep asking yourself WTF is a strawberry girl?
Pumpkin Spice Makeup
The internet's favourite seasonal drink, this trend gives lovers of the iconic pumpkin spice latte a chance to channel those autumnal vibes.
The key to achieving the look? Warm tones like oranges and browns buffed out across and below the lids to create a smokey, sultry eye (a touch of shimmer is optional!). For the rest of the face, opt for a monochromatic, bronzed base and neutral lips to avoid being washed out by the statement eye. 
View this post on Instagram
Strawberry Girl Makeup
Two months ago, trend-setter and all-round cool girl, Hailey Bieber made a splash in the beauty community when she coined the term 'strawberry girl'. Teasing the latest product release for her skincare brand, Rhode – a peptide lip treatment in strawberry glaze – Tik Tok creators quickly jumped on the trend with videos trying out the look. 
While Rhode hasn't reached Aussie shores yet, the sweet, fresh-faced aesthetic is pretty easy to recreate. Think fluffy brows, dewy skin, and lots of blush. Prep skin with a glowy primer or moisturiser, then apply concealer only where it's needed. Next, use a cream bronzer on the cheekbones and forehead to add dimension, followed by a cream or liquid blush liberally spread across the cheeks and nose. Fluff up the brows, smack some gloss on your lips, and add some faux freckles for an adorable finishing touch and voila! You've been strawberry girl-ified. 
*Note: Not to be confused with tomato girl, which is essentially the same thing!
View this post on Instagram
Glazed Donut Skin
Another trend started by Hailey Bieber, this look is all about using products that leave your complexion resembling an original glazed Krispy Kreme donut. 
The trick, according to Hailey's makeup artist, Leah Darcy, is to add 'glaze'  with a beauty blender on the high points of the face as the final step in your makeup routine. The 'glaze' being referred to is another Rhode product, however any formula containing a blend of peptides, niacinamide, and hyaluronic acid will work. 
For radiant skin 24/7, Hailey recommends lathering up the glaze, face oils, and moisturisers before bed to maintain plumpness and hydration. Thanks, Hailey!
View this post on Instagram
Latte Makeup
Similar to the pumpkin spice makeup trend, latte makeup is all about using warmer shades to create a gorgeously bronzed, sculpted look. Originally made popular on TikTok, the term latte makeup has now come to dominate all our socials, and for good reason. 
The aesthetic's main goal is accentuating the eyes, achieved by blending rich caramel, chocolate, and nude shimmery shadows together. To accomplish that smooth, sun-kissed complexion, opt for cream contours and bronzers, with a dash of highlight to let the latte look take full effect.
Want a step-by-step guide on how to perfect this trend? You can find our full breakdown with Brissy makeup artist, Tanielle Jai here.
View this post on Instagram
Blueberry Milk Nails
This trend exploded when the ever-so chic Sofia Richie was spotted sporting powdery blue nails. TBH, this one is super simple: just ask your nail technician for a soft shade of blue over a pearlescent polish base and you've got the hottest manicure of the season. Nailed it!
View this post on Instagram