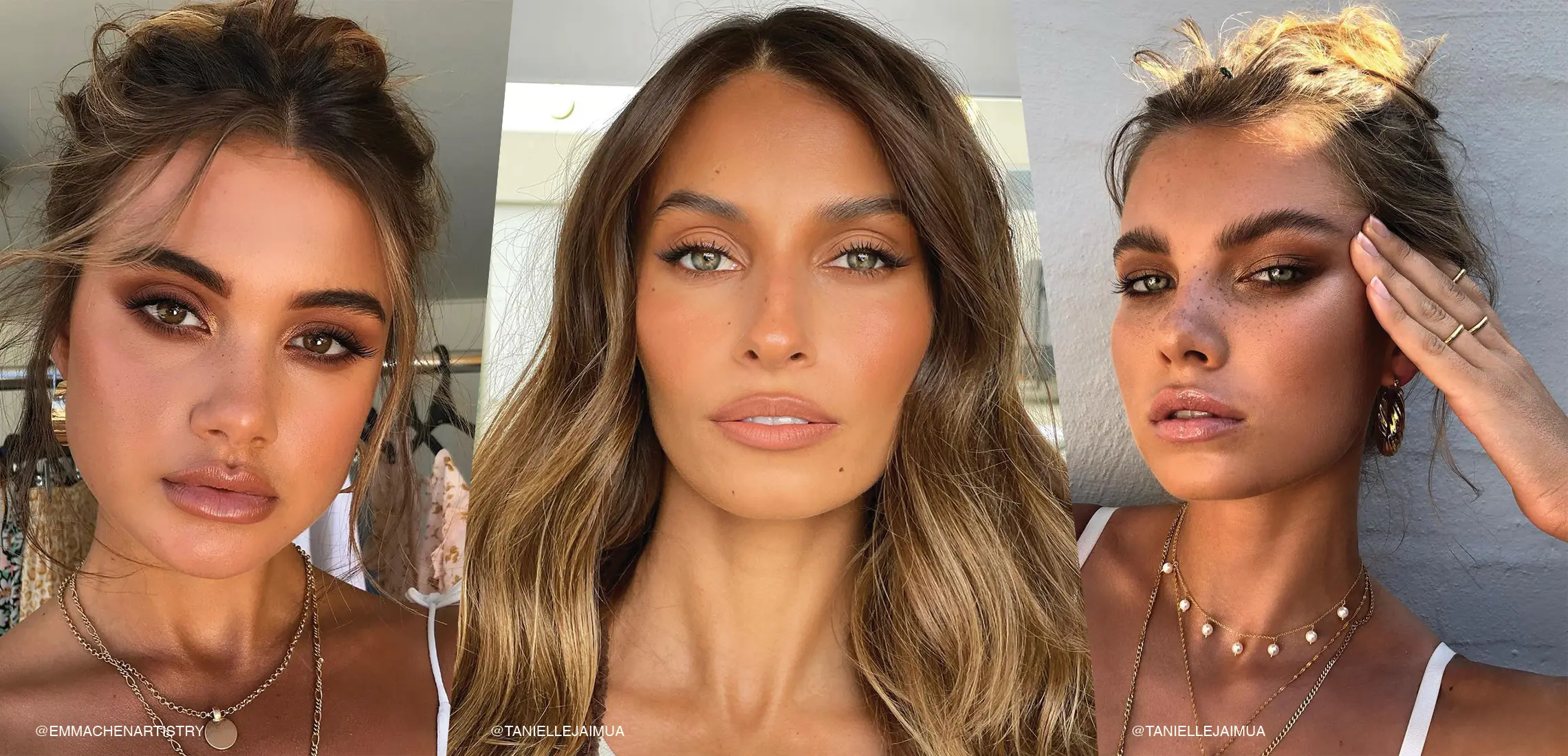 Get The Look: How To Master The Viral Latte Makeup Trend
The It Look For 2023
By Penelope Pelecas | 17th August 2023

Radiant caramel tones, a hint of blush, effortless nude lips, and a creamy complexion –  that's the formula for Brissy makeup babe Tanielle Jai's signature ultra-bronzy look, affectionately coined 'latte makeup', which has recently gone viral in the beauty world.

TikTok influencer Rachel Rigler popularised the makeup look after sharing a video which featured inspo pics created by the ever-so talented Tanielle. So, it was a no-brainer that we had to reach out to the local legend to learn more.

Captivated by the allure of caramel and chocolate tones, Tanielle says the beauty of this look is that you don't need an arsenal of products. Just gather your favourite prep essentials: primer, moisturiser (or a natural tint), cream bronzer, concealer, your go-to nude brown lip pencil, and if you're feeling fancy, a brown pencil or gel liner.

View this post on Instagram

If your skin has a cool undertone, Tanielle recommends opting for more of a taupe brown, while those with a warmer undertone will suit reddy browns best.   

"To find your perfect 'latte' tones, I highly recommend exploring the skin undertone wheel – it's a game-changer!" she adds.

Wanna know how she does it? Here's Tanielle's personal step-by-step guide and product breakdown on what she uses to achieve this dreamy look. You're welcome!

Step 1. Prep your skin with your preferred base. In winter, I opt for a luminous tint, while in summer I prefer something with a bit more staying powder.  

Step 2. Apply your cream bronzer – I also like to use mine as an eyeshadow base.

Step 3. Conceal and brighten. Use a concealer a few shades lighter than your skin tone and apply to the centre of your face. For areas that need a little extra coverage, use a concealer that matches your skin tone.

Step 4. Smudge your lip liner along your lash line and set in place with your bronzer.

Step 5. Define your lips with the same lip pencil, blending it seamlessly with your natural lip colour.

Step 6. Lastly, enhance those beauty spots! Allowing freckles and beauty spots to shine through is key.