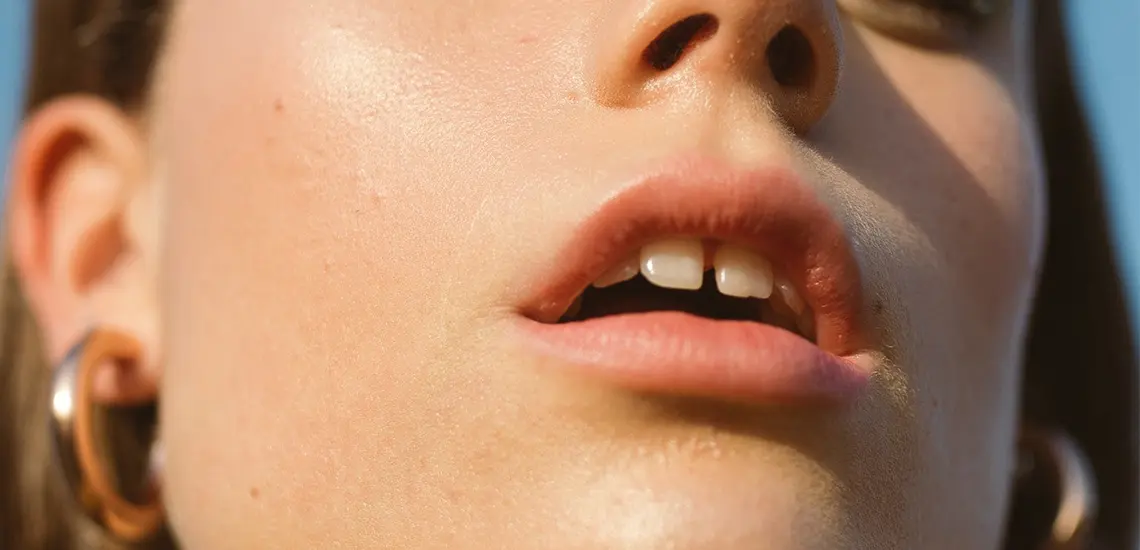 Chapped Lips? Pucker-Up On The How's, Why's And Remedies
Perfect your pout
By Guest Styler | 25th July 2019

Winter is supposed to be indulgent, cuddly, warm and rugged with rich wines, decadent treats and frothy hot chocolate, right? But it can be hard to enjoy such things when your lips are screaming from the excess dryness. "Skin-tight" takes on a whole new meaning when lips are dry, cracking from the slightest smile, laugh or pucker-up. Want to restore your irresistible pout to its former glory? Let's figure out why this is happening, and how we can fix it.
Why do lips get chapped?
To get scientific, the actual name for this dreaded chapped condition is 'cheilitis', and it has many triggers. What you think you know about chapped lips is actually cheilitis sicca, and it is the result of excess dryness. Lips are the most sensitive area on the body and most exposed to the environment. Without the same concentration of oil glands as regular skin, lips are constantly exposed to environmental factors like cosmetics and cold weather, and small habits like lip licking (not so sexy now, is it?) which increase their susceptibility to dryness, flakiness, splitting and peeling.
What causes chapped lips?
It can be a number of things, both obvious and not so. Often, it is the weather and outside environment that wreak havoc on the delicate outermost layer but be careful that the irritation isn't being caused by a product or allergen. Check your lipsticks, fragrances and flavouring agents in food that could be triggering the inflammation.
Also, in a cruel twist of fate, your skincare products may be to blame. Those of us who use skincare targeted for acne (could pimples just not be a thing anymore please, god?) might inadvertently get the product on our lips. Since these products dry out the affected area, lips are in trouble when they come into contact. Slather on some Vaseline as a protective layer if you're worried about cross-contamination between skincare and lip products.
Use whitening toothpaste? This too can cause dry lips. But don't worry, you can still have your coffee and white strip it off your teeth too, just make sure you give your lips some TLC after brushing.
How can we repair chapped lips?
Easy peasy. Number one: keep lips moist throughout the day. Regularly apply lip balms containing ingredients with occlusive agents, such as lanolin and white petroleum (found in Vaseline), or beeswax to protect your smackers. Make a habit of putting a lip balm, salve or treatment on before bed for extra moisturisation and overnight lip repair.
Since the sun continues to shine in Brisbane all year round, using a treatment formulated with sunscreen is one of the best ways to protect your perfect pout. Dry and chapped lips can burn easily and possibly trigger worse things than chapped lips (yes, it's possible). A fever blister outbreak and cold sores are just waiting for you to drop your guard.
When it comes to exfoliating, don't overdo it. Lips are delicate after all; so only exfoliate if you're still feeling flaky after moisturising. Gentle sugar scrubs are the way to go, and make sure you follow the scrub with a balm or hydrator enriched with nourishing ingredients. Almond oil and vitamin E are both very effective for their healing and anti-inflammatory properties. Also, drink water (duh). Pretty much the answer to everything, water will keep you moist and hydrated from the inside out.
Liked this? You'll love these! Everything You Need To Know About BB And CC Cream Trend To Try: How To Style Your Jumper Like An Influencer Your One And Only Source Into The Scandalous Lives Of Manhattan's Elite