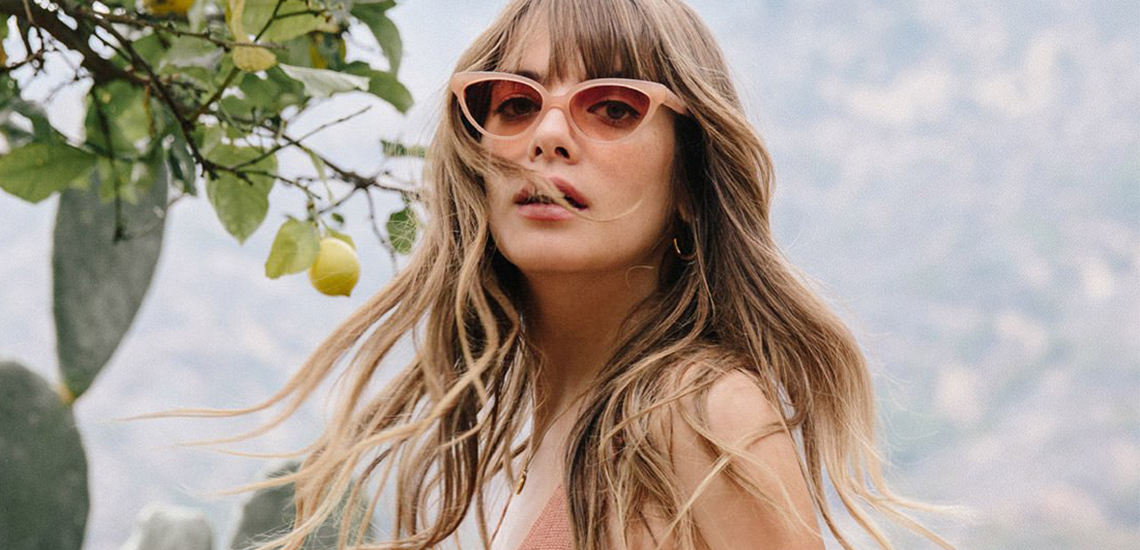 We've Found 16 Accessory Labels That Every Fashion Girl Needs To Know About
"Good design is not over designed" – Cult Gaia.
---
When it comes to fashion styling, you can never underestimate the power of some killer accessories. From statement earrings and neck scarves to skinny shades and slip-on slides, we take a look at the up-and-coming labels to watch if you're looking to up your accessories game this season.
Last year, Brissie local, Cat Henesy-Smith started her own jewellery label, Henesii, and the pieces have already become accessory staples among some of Australia's biggest social media influencers. You may be familiar with her popular feminist plate necklaces seen on Instagram, but we're obsessing over the insect-inspired earrings.
Formerly known as 66 The Label, Sixty Six has a slightly new aesthetic but their tight collection of on-trend accessories still pack a punch. Although the label were well-known for their popular captain hats, they've introduced a new range of berets that are going to be everywhere this season. As well as their hats, the new Sixty Six scarves, satchels, belt bags and mini bags are all must-have accessories in their own right. Their new website is definitely worthy of a browse.
Last month, we spoke to Brisbane-born blogger and designer, Brooke Testoni about her new luxury handbag label, Rylan and it's safe to say we're still obsessed. With a collection of five different handbags, Rylan is a brand that defines classic and effortless style and is a label for the girl who loves fashion but isn't defined by obvious branding.
You can never underestimate the importance of a good pair of everyday shoes and St. Agni is the accessory label on everyone's lips (and feet) at the moment. The Byron Bay label opened its flagship store in the iconic coastal town back in 2014 but it has only been recently that the label's simple, luxurious pieces have gained a cult following. It may be St. Agni's minimalist approach to production or that the pieces reflect a desired Australian style, but the brand has seen great success lately and we can't get enough of the homegrown label.
Australian label, Valet Studio have been making waves in the industry for their enviable earring collection. The oversized sculptural designs come in a range of colours to suit any kind of it-girl.
Byron Bay eyewear brand, Velvet Canyon combines popular frame styles from the '60s and '70s to offer a collection of timeless sunglasses. The brand was born from a mutual desire to create something beautiful and lasting. Each pair of Velvet Canyon frames has been made from the highest quality, Italian designed acetate and custom tinted frames and comes with a cruelty-free, vegan leather pouch.
After working with iconic brands such as Sportsgirl, Mimco, Kookai, Witchery, Seed and Forever New, jewellery designer Kit Cockerell decided to launch her own namesake label, Kitte in 2014. Since then, the brand has become a favourite for those looking for accessories that strike a balance between delicate and tough.
At the end of last year, Cult Gaia's ark handbag became the most coveted accessory of the season. Although many brands attempted to replicate the popular style, nothing quite compares to the quality of the original and Cult Gaia believe that luxury lies in scarcity, not price. Taking things a step further this year, Cult Gaia have released a collection of new handbag styles that follow their philosophy they've become known for: good design is not over designed.
If one thing is true, it's that the minute a celebrity or influencer adopts a trend, the rest of us seem to follow suit. Poppy Lissiman has long been an Australian favourite when it comes to bold styles and crazy colours but this year she's officially hit cult accessory status. With fans like Bella, Gigi and Kendall, rocking the Le Skinny frames on the reg, it's no surprise that Poppy Lissiman has become a worldwide accessory sensation. If you haven't already, her website is worth a visit just for the landing page!
Deadly Ponies are no strangers to a must-have accessory list but many know the New Zealand label as just a handbag label. Leather goods aside, what many don't know is that Deadly Ponies produce some seriously kick-ass scarves. Whether you tie it to your bag, around your ponytail or wear it as a top, these scarves demand the right kind of attention.
https://www.instagram.com/p/Be_Q67plpwI/
If you thought the scrunchie was dead, think again. The '80s trend is back and not just for the little ones. Scrunchie O is the Aussie label that is single-handedly bringing back the scrunchie and we're officially obsessed. If it's good enough for Kim, it's good enough for us.
Although Aussie label, Skin Footwear established itself back in 2005, it seems that many are starting to take notice of the home-grown brand. When it comes to investing in footwear, you want to know they won't just look awesome but they'll be comfy too. We're loving every new style in the leopard pony hair.
When thinking about on-trend accessories, there is no denying that petite, gold necklaces and hoops are the ultimate it-girl accessory of the moment. Lithe is a local jewellery label that always has the Lithe girl in mind, meaning their pieces are trendy, affordable and can be personalised.
It's been a long time coming for Nikkou owner and founder, Tiffany Cooper but the Gold Coast-based creative is finally launching her own concept store in Casuarina this month. Nikkou is a store that celebrates all things beautiful for women and children including custom totes and t-shirts as well as a bespoke curated selection of accessories, skincare, fashion and homewares
The Swedes sure know a thing or two about style and when it comes to eyewear, we aren't surprised that they have created the perfect formula to match a pair to every mood. With ten different colours in five classic models, Chimi is the colourful eyewear brand making sunnies fun and easy. We're loving the Ighe in Pink that Aussie blogger, Zanita can't stop wearing.
https://www.instagram.com/p/BfQwOTfAwqh/
Liked this? You'll love these!
Brooke Testoni Talks All Things Rylan
Women To Watch: All The BNE Movers And Shakers
These Are The Biggest Boot Trends For Winter