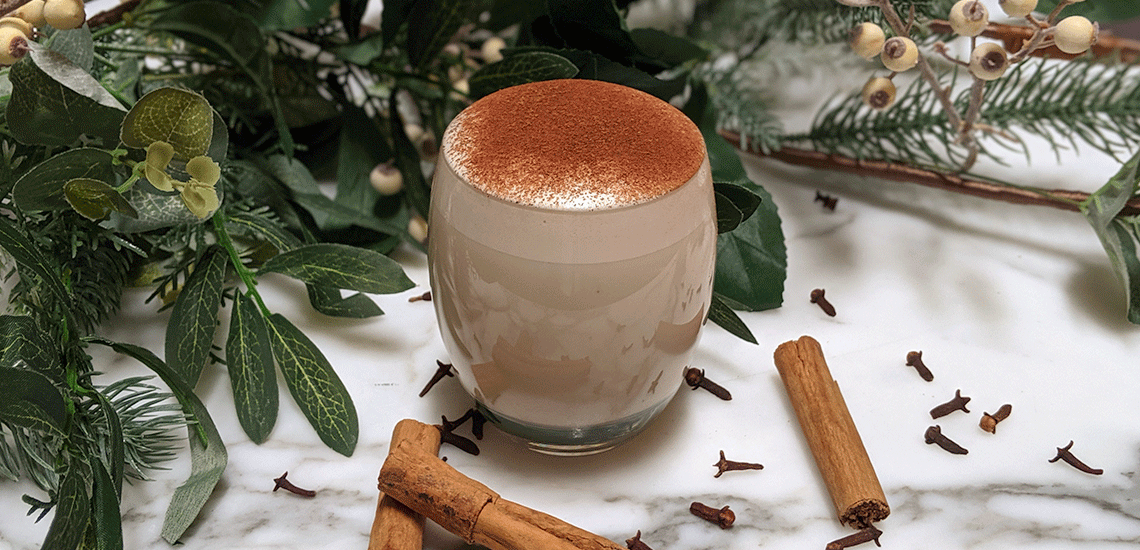 The Traditional Eggnog Recipe Without The Traditional Prep Time
It's a nod from us for the ole eggnog
By Sierra Haigh | 10th December 2019

For a classic Christmas tipple that will pack a punch of flavour, you can't go past Eggnog. We've all had our fair share of the pre-made, supermarket type, but perhaps it's time to try your hand at your very own brew. The traditional recipes often call for 12 months of preparation, but luckily, Hilton Hotel Brisbane's Executive Chef, Matthew Wood, has come through with a much shorter recipe you can do within a day and savour some time for enjoying it instead! Skip the year-long preparation without skimping on taste with this decadent recipe and get your season into swing.

Serves: Four to six

Equipment:
Stand-mixer
Digital thermometer
Hand whisk
Medium saucepan
Small saucepan
Metal sieve
Glasses (for serving)
Ingredients:
600 mL whole milk
300 mL thickened cream
2 cinnamon sticks
1 vanilla pod, split in half lengthways (or half a teaspoon of vanilla paste)
4 eggs, separated and at room temperature
100 grams of white sugar
150 mL rum
50 mL brandy
Nutmeg for garnish (fresh grated preferred, but powdered will work too)
Method:
Place the milk, cream, cinnamon, and vanilla into a medium saucepan, bringing to a gentle simmer on medium heat. Stir occasionally to avoid the mixture sticking to the pan, and never let the mixture boil.
Place the egg yolks into the stand-mixer's bowl, and whisk on high speed until the yolks are light, fluffy, and doubled in volume. 
Reduce the speed of the whisk to low, and pour a third of the warm milk mixture into the bowl. Make sure the cinnamon sticks and vanilla pods do not fall into the bowl.
Turn the mixer off and pour the egg mix into the pan containing the rest of the milk mixture. Placing the digital thermometer into the pan, bring the mixture to a simmer once more, whisking often, until the temperature reaches 80ºC.
Using a sieve, pour the mixture into a jug, then place in the fridge and allow to cool completely for about two or three hours. 
Clean the used equipment and allow to dry.
Pour the sugar into a small saucepan with cold water and use a medium heat to slowly bring the temperature of the mixture to 110ºC. 
Add the egg whites to the cleaned stand-mixer bowl, and whisk on half speed for two minutes or until soft peaks form.
While the mixer is running, carefully pour the hot sugar syrup into the mixer bowl with the egg whites. Continue to whisk until the mixture forms stiff peaks.
Turning off the stand-mixer, use a handheld whisk to stir the previous egg-and-milk mixture, brandy, and rum into the egg whites until they're fully incorporated, then place the final blend in the fridge to chill. 
Before serving, whisk once more. Pour into glasses, and garnish with freshly ground or powdered nutmeg.
Enjoy!