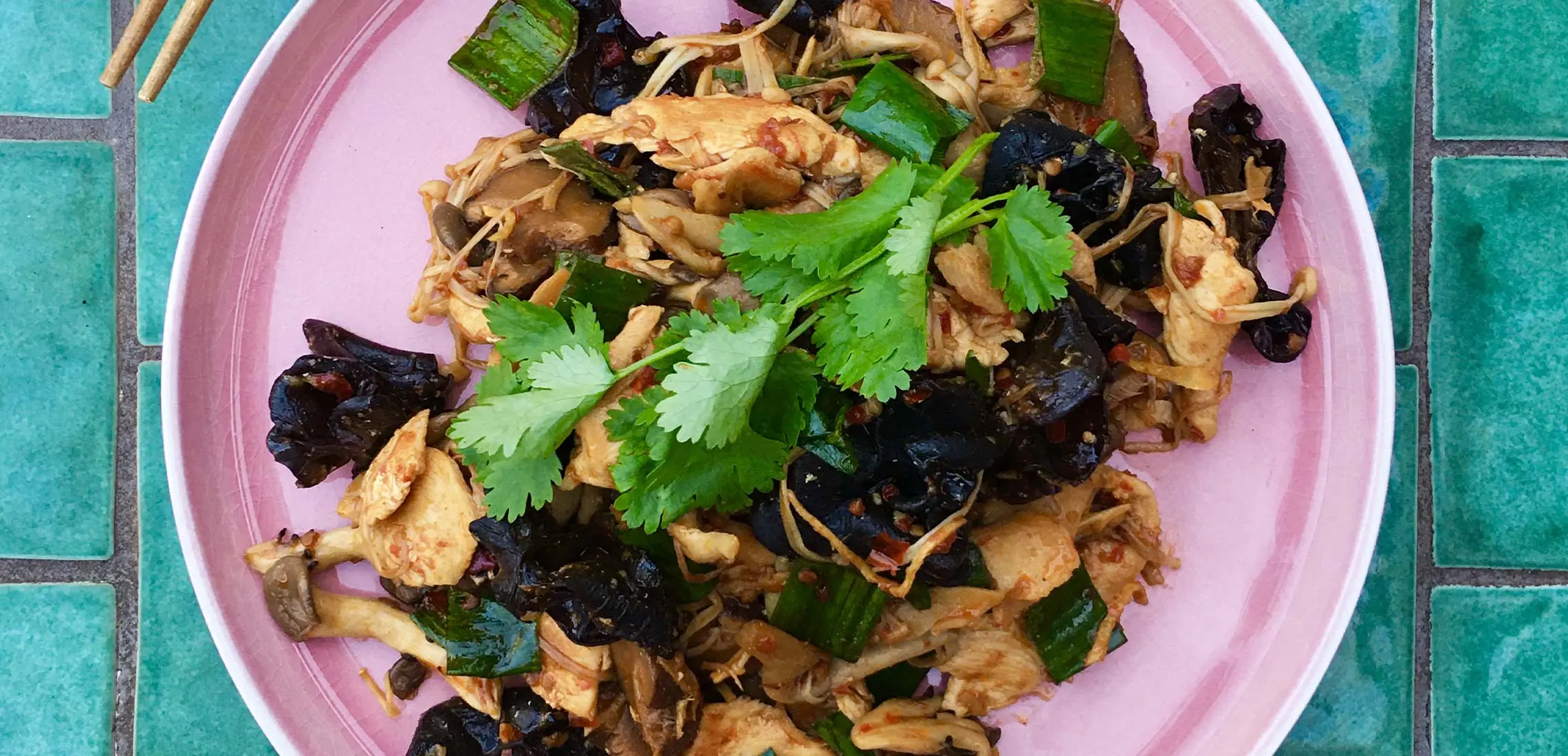 Poh's Tasty Chicken Stir-Fry Recipe
Five minutes with Poh Ling Yeow
By Guest Styler | 8th October 2020

There's no doubt that chicken is one of the most easy, delicious and versatile dishes to whip together for dinner. But are you looking to jazz up your chicken game a little more? This recipe from MasterChef favourite Poh Ling Yeow is sure to get you feeling creative, plus, we spent a hot minute with Poh in the kitchen to find out her top kitchen hacks!

Chicken and Asian Mushroom Stir-Fry with Chilli Bean Paste Recipe courtesy of Lilydale Free Range Chicken

Serves 4

Ingredients:

60ml olive or any vegetable-based oil

400g Lilydale Free Range chicken thighs, cut into bite-size pieces

3 cloves garlic, peeled, finely chopped

1/2 cup dried black fungus, covered in cool water to rehydrate, any woody bits torn off and discarded (easily found in Asian grocers)

Handful dried shiitake mushrooms, soaked in freshly boiled water for 30 minutes (see tip), sliced 3-4mm

150g enoki, shimeji or oyster mushrooms (a mix is great)

7 spring onions stalks, cut into 3cm batons

Few sprigs fresh coriander for garnish

Steamed rice for serving

Seasonings:

2 tbsp tobanjiang OR chilli bean paste

1/2 tsp caster sugar

2 tbsp Shaoxin rice wine

1/4 tsp sesame oil

1/2 tsp cornflour mixed with 1 tbsp water

Tip:

If you want to go the extra mile, instead of soaking in just plain boiling water, add one tablespoon of light soy and two teaspoons of sugar to the mushrooms and water, then simmer in a small saucepan for about five minutes with the pot lid ajar. Keep covered for another 20 minutes or until completely rehydrated.

Method:

Combine two tablespoons of the oil and garlic in a medium frypan or wok over high heat. Flick a drop of water into the pan to check that it's hot enough – it will sizzle. Add the Lilydale Free Range chicken and stir fry until cooked through and a little browned. Transfer the chicken to a plate.

Mix the seasonings together in a small bowl. Combine the remaining oil with the garlic and sauté until the garlic starts to turn golden. Add the mushrooms and stir fry until just wilted. Return the chicken to the pan then add the mushrooms, spring onions and seasoning mixture. Toss to coat everything in the sauce well. Garnish with fresh coriander and serve hot with steamed rice.
A quick bite in the kitchen with Poh Ling Yeow:
When it comes to chicken, do you prefer thigh or breast?
Definitely thigh as it is very forgiving and will always turn out succulent and tender.
Tell us more about the chilli bean paste in the stir-fry recipe, why did you choose this condiment?
It's one of my favourites to use if I feel like injecting a chilli kick into stir-fry's, soups or even as a marinade. It's got a deep intensity, as all ferments do, and is a great alternative to soy and oyster sauce.
What would you say to people who are keen to experiment with Asian flavours, where should they start?
Start with garlic, ginger, spring onions and chilli – a simple but classic Chinese combo that never fails to please.
What is a quick way to add flavour to any savoury dish?
Start with butter and or mount with butter at the end.
What's your favourite kitchen hack?
Although chicken is the protein of choice for most Australians, a lot of people don't know how easy it is to enhance their dish with this one simple hack. When cooking chicken, avoid drying out the breast by slicing the chicken into smaller medallions. After you've sliced the chicken, bash the breast with a rolling pin to create a thin, almost flat surface. This ensures the chicken cooks at the same rate and holds the quality free-range flavour.
Lilydale chicken – what makes it so great for cooking?
Well everyone knows if you start with high-quality ingredients, half your job as a cook is already taken care of. Lilydale Free Range Chicken has been raised with care by Australian farmers and is free from antibiotics, has no added hormones and no added growth promotants – producing tasty chicken!