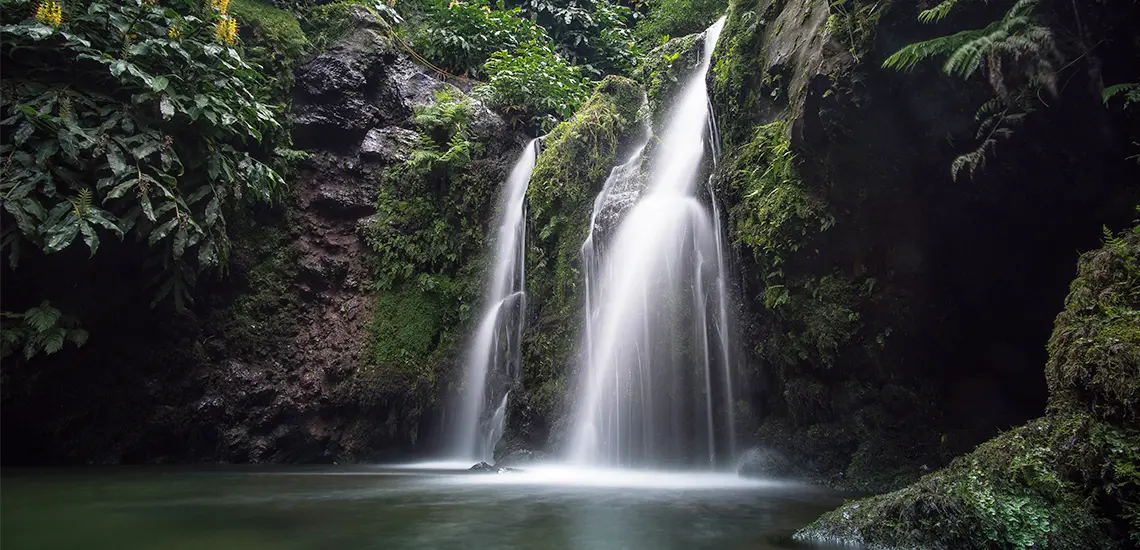 Our Favourite Waterfalls And Rainforest Trails Driving Distance From Brisbane
Fancy a fresh getaway?
By Guest Styler | 11th October 2018

It's that time of year, Stylers. We're braving the warmer weather, flaunting shorts and spaghetti strap numbers in anticipation for the hot and humid season. Thus, where better to cool down, relax and rejuvenate than beneath the towering trees, and beside freshwater creeks? Whether you're daydreaming of rainforest roaming and vine swinging, or keen to sport your latest bikini buy in an Insta-worthy waterhole, we've compiled a list of lovely locations that are sure to wake your wanderlust.
Tamborine Mountain's Rainforest Skywalk
This sky high trail takes eco-adventuring to the next level – quite literally! If you've ever dreamed of trekking through the treetops, with Aussie flora brushing at your fingertips, and the sounds of the rainforest humming blissfully in ear, look no further. Tamborine Mountain's Rainforest Skywalk stretches across 30 rich acres of raw greenery, commencing at the Eco Gallery, a cosy establishment for all your ticket purchasing needs, souvenirs, art gazing, and sweet treat snap ups. We encourage a leisurely pace through this 1.5km track, allowing yourself the time to embrace the divine nuance of natural light kissing the treetops, the rushing creek below your feet, and the melodic chirr of canopy critters.
The soar on steel bridges will be so sublime, you'll never want to come down. That is, until you crave a quality feed. At the end of your stroll, flutter over to the Birdwing Cafe for some good grub, creamy cakes, and a cup of coffee with a view. Now, that's a superb Sunday in our books.
Tamborine Mountain's Curtis Falls
In the heart of Tamborine Mountain lies Curtis Falls, an enchanting trail laced with staghorn ferns, strangler figs, and a soft stream of aqua. As you amble through the wet eucalypt forest, in search of crows nests and hollow tree trunks to crawl into, keep an eye out for the waterhole at the end of your journey. The local platypus, freshwater turtles, eels, and an array of fish life embellishes the clear pool, with a torrent of water peacefully pouring from the basalt columns above. Fun fact, these columns derive from the mountain's volcanic history, a sculpted wonder for your viewing pleasure. What a sight to see!
After this scenic stretch of 1.1km, curl up with a cup of Devonshire tea and a Schnitzel sanga at the Curtis Falls Cafe. With the cafe situated directly beside the track with a calming view of crisp forestry, your half hour venture is sure to turn into a day of delight and deep thinking.
Springbrook National Park
Be warned, Springbrook National Park is a vast wonderland of wilderness wandering and waterfalls that demand a solid day of your undivided attention. Of course, that depends on what interests you! Set in the Gold Coast hinterland, Springbrook National Park is the accumulation of one of the world's last Gondwana forests, an ancient green biome that stretched over much of the continent many millennia ago. With stunning lookouts, curious wildlife, capacious caves, and picnic hotspots at every turn, you'll find yourself marvelling madly over every detail. From the casual course of the Twin Falls circuit to the Warrie Circuit for all our fitness fanatics, the rainforest trails differ in difficulty, duration and route discoveries. Oh, and the Natural Bridge is a must for every swimming hole savant.
Tread barefoot through moss-coated caverns, framed with ferns and flecked with warm sunlight, before sinking into the cave of a skylit pool, perfect for a dip or deep dive. Fancy a bite after your bold adventuring? Stretch your legs at the Dancing Waters Cafe with a coffee and a piece of their signature Upside Down cake. If you're craving a bubbly beer and burger instead, head to the Springbrook Cafe. Fancy a hearty meal with timeless taste? Head to Rosellas for a bowl of creamy pumpkin soup. Now there's no denying it, Springbrook National Park truly has it all. Consider us impressed!
https://www.instagram.com/p/BoJY7BXAnpU/
O'Reilly's Rainforest Retreat
Famed for its renowned location in Lamington National Park, a listed World Heritage site, O'Reilly's Rainforest Retreat is but a mere 2 hours out of Brisbane and therefore, a total must see. With several activities and enthralling escapades around every track and tour, we're not sure one day of dallying will do the trick.  We're talking a borderline-batty Flying Fox, Segway safari, 4WD tours, caves of luminous cerulean, plastered with glow worms, and much more. Forgive our fervent excitement for a moment, as we impulsively book this weekend's green getaway. But wait, we've still got a few beans left to spill!
The retreat also sports classic and cosy accommodation, a day spa, and a luxe winery restaurant, lined with the rich vineyards of the Canungra Valley. It comes to no surprise that the retreat hosts any affair, from weddings to business events. Suddenly, tying the knot doesn't sound half bad!
Currumbin Rock Pools
Swinging from ropes and leaping off ledges at the Currumbin Rock Pools is the perfect way to turn back time to those good old summer days. Situated a mere 15-minute drive from Currumbin Beach, this local gem of community gatherings, picnic spots, and peaceful plunging, by both man and his favourite furry companion, is a rural yet accessible favourite. The drive itself, a scenic steer through the Currumbin Valley, is said to be well worth the while. We can only imagine. Still too timid to tippy toe your way into the creek? No worries. Laze and bake beneath the sun on the surrounding rocks. No time for prepping packed lunches for your day out? No dramas. Head to the Currumbin Community Farm Campus across the road for a savoury snack, ice-cream, coffee or cold drink. Time to load our wheels with our favourite tunes, a towel, and togs. Currumbin, here we come!
https://www.instagram.com/p/Bk93jNnAz6_/
Liked this? You'll love these! 1. Feeling The Weekend Wanderlust? These Are 5 Day Trips To Try This Summer 2. Our Favourite Waterfalls And Rainforest Trails Driving Distance From Brisbane 3. Is This Queensland's Ultimate Tropical Spa Getaway?