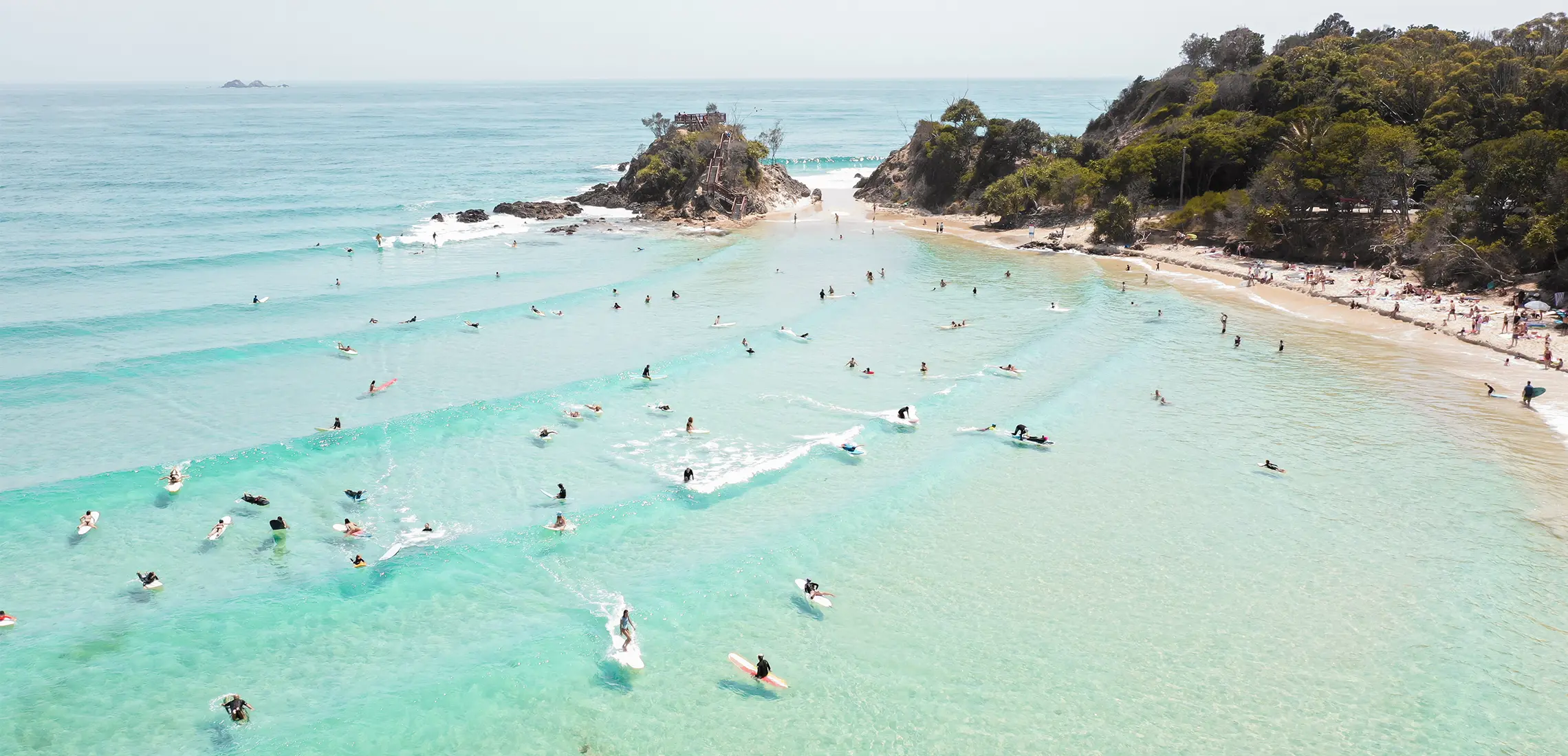 More Than Meets The Eye: The Hidden Gems Of Byron Bay And Beyond
Where to eat, shop, play, and stay
By Astrid Taemets | 28th September 2022

There's nothing quite like a trip down the M1 to the shores of Byron Bay to make you feel like you've escaped the chaos of the city for a more serene existence.

And since Northern New South Wales boasts some seriously delightful places to sip on a sunset cocktail before dinner, soak in some rays, and sleep in late on a Sunday, there's so much to love about this heaving coastal town.

Think you know Byron's hottest hangouts? Think again. Whether you consider yourself a weekend regular or are well overdue for a visit, consider the below the latest, most stylish places to eat, stay, and play in Byron Bay and beyond. 
BYRON BAY
Skip a drive into town and avoid the stand-still traffic by hitting left on your indicator at Bayshore Drive off Ewingsdale Road and head straight for the Arts and Industrial Estate. There, you'll discover a Belongil Beach village just begging to be explored. Quieter and far from the chaotic bustle of town, you'll find trendy locals hanging out in some of the area's coolest bars, restaurants, boutiques, and coffee shops. 
Where to shop
Boasting an impressive list of homewares and fashion stores, expect to do some serious damage to your credit card before you've even blinked. With St. Agni, Zulu & Zephyr, Del Rainbow, Nagnata, The Beach People, and a whole slew more of Byron-centric fashion all within walking distance, consider this a shopping district unlike any other. 
For those who prefer to peruse for homewares, Tigmi Trading is a must visit. Meaning 'my home' in Berber, this larger than life curation of rugs and objects, furniture pieces, lighting, and things you didn't know you needed (but now desperately do!), are sourced from the Atlas Mountains in Morocco to the Black Sea, and promises to take you on a worldly travel as you weave your way through the showroom. Take our word for it: it has to be experienced to truly grasp its beauty. And just around the bend is furniture favourite MCM House, with their sleek, minimalist design space and fresh and breathtaking pieces that are guaranteed to elevate any home, big or small.  
View this post on Instagram
Where to eat
Unless you've never stepped foot into Byron Bay, you'll be well versed on fan favourites like Raes, The Mez Club, The Three Blue Ducks, and Beach Byron Bay, but there's also a selection of smaller, more humble places you need to feed your gob at. In stark contrast to the scene-y vibes of some of its counterparts, Kouzina is a charming Greek paradise found in the Arts and Industrial Precinct (told ya this area has it all!). Here, it's all about community and seasonal home-style meals offered in a taverna-style restaurant complete with Nonna's gingham tablecloths and a laidback attitude. So chill in fact, that it offers BYO. 
Also located in this neck of the woods (are you sensing a theme here?) is sleek Mediterranean hangout Barrio, where smoky aromas from the woodfire over an open flame grill fill the industrial-style dining hall. Here, everything is smoked, pickled, cured, and devoured (obviously) either within the hall or in the outside shared-courtyard which is ideal for those dining with busy kiddos. Those who need their kick of caffeine in the morning will love the no-fuss attitude found at Tones, Soko Space (a warehouse owned by St. Agni founders Lara and Matt Fells – more on this below) where barefeet are not discouraged, and babychinos are a mandatory morning order. There's even a cubby house for the kidlets to practise their barista skills while you wait for your cuppa to brew.
Just around the corner, you'll find paradise at Belongil Beach Italian Food – Sydney restaurateur Maurice Terzini's (Icebergs Dining Room and Bar) everyday beach restaurant which deals in locally sourced produce that's as fresh as its beachside breeze. Showcasing the best flavours from the Northern Rivers, the trattoria champions Italian coastal classics like their Moreton Bay bug roll, fresh pasta, and more. Suitably laidback in nature, contemporary in style and family friendly, BBIF is the perfect place to watch the daylight fade with a Paloma in hand.
Where to stay
Would you be surprised if we told you some of the best places to stay can be found in the Arts and Industrial Estate? Kid you not, Apartamento Byron Bay is the comfy, clean, and calm stay you've been searching for. Owned by St. Agni founders Lara and Matt Fells, the stay is an ode to their minimal aesthetic, and sits above Soko Space which is home to their Belongil boutique, an art gallery, florist, and Tones (read more about Soko here), meaning you don't have to travel far to score some new threads (Psst! A stay here also offers you 10% off in-store!). 
View this post on Instagram
Where to play
In this neck of the woods health is wealth, and infrared sauna and studio Nimbus encompasses just that. Wind down in one of their state-of-the-art infrared saunas, cool down with an ice bath, and pick up natural skincare all in the one very aesthetically pleasing space. The health benefits you'll experience here are second to none, with the combination of hot and cold treatments sure to blow your mind, and leave you feeling revived, refreshed, and addicted to the thrill of the feeling. Find it located in the Arts and Industrial Estate – have we convinced you enough it's the place to be?
BANGALOW AND SURROUNDS
For those looking for alt places to visit in the Northern Rivers region other than Byron, you'll discover more than your fair share of charming hinterland towns, winding roads, and beachfront bites. From the historical Lismore town of Eltham, to the charming streets of Bangalow. and the shores of Ballina, prepare to do some driving as you explore what's on offer.
Where to shop
Those who love a country town boutique store will have their fill in the Northern Rivers. From the Newrybar Merchants where fashion and home living pieces from brands such as Maison Balzac and Levis can be found, to Bangalow's beloved shopping district featuring Bisque Traders, Assembly Label, and ROWIE, there's no shortage of shopping in the hinterland. 
Where to eat
A quick 15 minute trip inland from Byron Bay to Bangalow will have you arriving swiftly in their main drag. Here, you'll find some of the funkiest feeds around. Serving wood-fired pizza, pasta, and side plates alongside a mix of  Australian and Italian beer and wine, Ciao, Mate! will satisfy your tastebuds in every which way. Filled with cosy nooks of dark timber and brass trims, the space is small but oh-so welcoming and perfect for those who love casual dining. Just a coupla strides to the right, and you'll find yourself saying 'G'day' at You Beauty – a restored pub by chef Matt Stone and Mosey On In Group (Ciao, Mate! and The Eltham) with a focus on fresh produce and farm-to-table style dining. Awash with Australiana, this 70-person bar and dining room features all the nostalgia of the past: bowling club coasters, sew-on patches, a community notice board, and old rock albums. Straight up, it's hunky dory. 
Similarly, as is The Eltham Hotel – yet another restored pub under the same group of talent – only this one you can stay at. But you don't have to be a resident to enjoy the food, drink, and all 'round good pub fare times. Locals from all around come to enjoy the outside courtyard where little ones roam free while smoke whipped fish fingers, schnittys, and other modernised pub classics are inhaled to the tunes of laidback live music, and washed down with a cold frothy. 
View this post on Instagram
If you thought good Mediterranean food could only be found by the sea, think again: The Hut in Possum Creek will have you singing a different tune. Inspired by the tates of the ocean and the pleasure of eating together, these delightful share dishes are best experienced through their banquet option. From scampi to scallops, saganaki and smoked spaghettini with crab, The Hut is a must-visit for lovers of seafood. 
Speaking of the sea, those who enjoy dining with a view must visit the newly opened Ballina restaurant, Capiche. Formerly the lighthouse restaurant, Capiche is perched right on the sand and offers a sophisticated Italian menu to delight all tastebuds. From antipasto options to pasta dishes, wood-fired pizzas, and options for the little ones, enjoy the flavours of Italy in style. Extremely family-friendly and equally delicious, add this restaurant to your radar, pronto! 
View this post on Instagram
Where to stay
For the true pub experience, book a stay in one of The Eltham's five rooms, each with a different story to tell. Named 'The Pasty', 'The Rhonda', 'The Estelle', 'The Margaret', and 'The Delilah', the rooms are just as charming (if not more so) and Aussie as the hotel below. From canary yellow wallpaper to the eucalyptus velvet covered chairs, a stay here will cement your nostalgia for your country through its deliberately dated design and personality. 
Ready to hit the road? Book that annual leave and check into Australia's best hotels here.