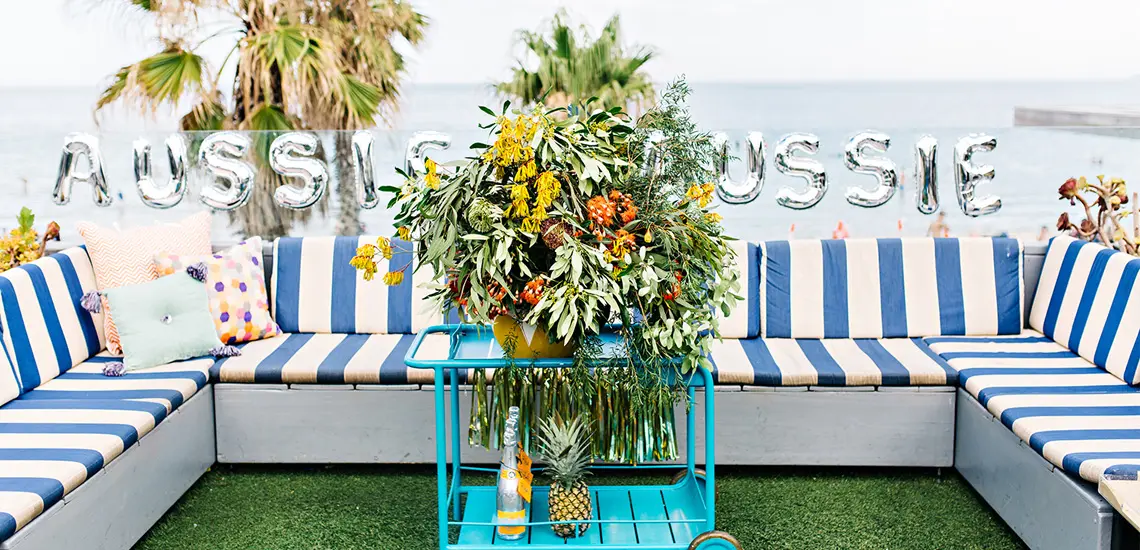 EAT, SHOP, SWIM, PLAY: How To Do The Gold Coast In 36 hours
There's never been a better time to check it out.
By Guest Styler | 12th April 2018

Aussies-alike are very good setting their jet-setting sights on far-flung, obscure destinations for holidays – often the more remote the better – and taking for granted those gems in their own backyard. And while places like the Gold Coast has had its share of ups and downs over the last few years, it's a city now firmly on the up and up (and we're not talking about high-rises).

For Brisbane-ites it's just a quick trip down the M1 to a host of places to eat, shop, swim, play and stay. And with the Commonwealth Games meaning bars and restaurants are staying open later – and with a host of events across the coast this weekend –  there's no better time to rediscover it than now.

So, grab your overnighter, pack your dressiest shorts and top up the tank in the Yaris – here's how to spend 36 hours on the Gold Coast.
DAY 1
9:00 – BRUNCH
They say breakfast is the most important meal of the day, and if you've had to get up before 8am on a Saturday to miss the traffic on the motorway, and somehow managed to avert the pull of the magnetic force field emanating from the Golden Arches on the way, then you deserve a bloody medal – and a really delicious breakfast. And with places like 42fifteen dishing up a host of hearty meals that are as good at satiating the appetite for actual food as they are for double taps on Insta, you'll be glad you held off.
This Southport faithful is the fave of many a local, but don't expect dishes that are too run of the mill here – get ready for full on flavour combos like pumpkin smash on wild seeded sourdough with goats fetta, eggs and basil pesto, and specials including the likes of Tamari glazed pork belly, poached eggs, and pineapple slaw tucked between the flaky folds of a fresh croissant.
11:30am – SHOPPING TIME
When it comes to shopping centres, you can't go past Pacific Fair at Broadbeach. With a recent refurb which includes a host of new stores, it's a mile away from the surf stores and pink façade it was known for (which would be bang on trend if they'd stuck with it anyway). If, like some, you have a tendency to only pack your daggy house clothes and thongs when you go away for the weekend, the likes of Country Road, Seed and H&M will sort you out for something a bit smarter. Expensive taste? Pac Fair is now home to luxe designer labels like Louis Vuitton and Givenchy, as well as home-grown designers like Alice McCall and Gorman.
2:00 – CHECK IN
Since you're staying the night, you'll be wanting to check in if you haven't already. A hop, skip and a jump from the famous Main Beach, QT Gold Coast is a go-to for a comfy bed, lively night at the Stingray Bar and its infamous Bazaar market-place style buffet (for dinner and breakfast). Think 50s-inspired Miami with a Queensland touch; bedrooms feature cockatoo lamps, black and white linen and cute DIY lemonade, while poolside,brightly coloured kitschy-cushions, plastic pool furniture and a swim-up cocktail bar take centre stage.
3:30 pm – GET EXPLORING
Having to put up with such glorious beach weather and getting their kit off on the reg (to go swimming, that is) means The Gold Coastians love to stay fit. Even if you're not much of an exercise fan, few things are better than getting on a bicycle and cruising the coastline for as far as the meeting of bum and bike seat allows. Hotels like QT will let you hire their hipster bikes for free up to 3 hours, but if you're after something a little more robust, or even electric, the Crooze bike hire shop can sort you out, with pedal-powered bikes starting from $20 for 1 hour up to the entire weekend for $45, and electric bikes from $30 for one hour, up to the weekend for $90.
6:30pm – DINNER
It's hard to go past the Bazaar marketplace at QT when it comes to dinner – think fresh prawns, oysters, whole baked salmon, steak cooked to order and international cuisine like paella, pizza and bao buns, and even a poke station. For dessert, it's soft serve, churros with dipping sauce, brownies, cookies – you name it. You can refill your plates as often as you like too, which is ideal if your plan for the rest of the night consists of getting knee deep in a few G&Ts.
8:30 – DRINKS
While a visit to the casino may have traditionally been more of a late night affair, the recent refurb and rebranding of Jupiter's into The Star means it's worth a visit before your vision starts to blur. The Garden Kitchen & Bar is an indoor/outdoor restaurant that's great for a casual drink with craft beer and even wine on tap. For something a little posher, the Cherry is all about cocktails and swanky VIP booths.
If you're prepared to head a little further afield, the locals will tell you Justin Lane Rooftop, with views to Burleigh Beach and a DJ from 8pm, is where it's at. Think chilled-out vibes and coastal breezes as the sun goes down.
DAY 2
Tallebudgera Creek @strex, Burleigh Hill @thefreedomstateonline, croissant via @bambam_bakehouse.
8:30 am – BREAKFAST
The Goldy loves a good breakfast, and if you're able to pull yourself away from the breakfast buffet at your hotel, Bam Bam Bakehouse is worth a stop. Order one of their infamous pastries, and you may just find it comes served with a side of celeb spotting.
10:30 – MAKE A SPLASH
You can't go home without a swim, so after checking out, it's time for a dip. There are a plethora of swimming holes, beaches and creeks to choose from for a swim at the GC for all swimming levels and requirements, whether you're after waves, somewhere to people watch or a place that's more family-friendly. Framed by Burleigh Heads national park on one side and Tallebudgera tourist park and campsite on the other, the calm yet sparkling waters of Tallebudgera Creek (i.e., creek in name, not creek in nature) is great for a relaxed spot of swimming with plenty of shade, and great should you have young kids in tow too. Spend an hour or all arvo – just make sure you re-apply the 50+.
12:00 – GRAB A BITE
While you're again spoilt for choice when it comes to food on the coast our suggestion is to not stray far from the area, with a lazy lunch in the shade from takeaway spot Tally Valley Seafood. Crumbed calamari, fish and chips, and you'll be set until sundown.
2:00pm – ICE CREAM TIME
A trip to the Goldy without indulging in ice cream is practically a jailable offence in these parts. If you're keeping it local, Scoop Gelati is your go-to for gelato or sorbet after a day in the sun. If you're willing to travel a little further down the coast (we guarantee it's worth it) Gelato Messina is the undisputed king of ice cream and is open until 9pm during the weekend, and 9.30pm on the weekend. The hardest bit is finding the fine balance between wanting to try everything, and looking like a greedy guts. Will it be two scoops, or three? (One is never an option).
3:30pm – HEAD FOR THE HILL
As the heat of the day starts to drop, locals all head for the hills – Burleigh Hill that is. Take a platter, a picnic blanket and a couple of cold drinks (alcohol-free, of course) and settle in for a couple of hours of people watching and dog watching overlooking the headland. The spot fills up quickly, so if your crew is big, get there early to nab yourself a suitable spot.
6:30pm – HEAD HOME
Pack up your picnic, farewell your friends and get yourself going on the motorway back to Brissy – with just a quick detour via Yatala pies.
Liked this? You'll love these! What's on at the GC this weekend 9 Gold Coast bars you wont want to miss Gold Coast restaurants that are well worth the trip
Feature image: The Star Gold Coast