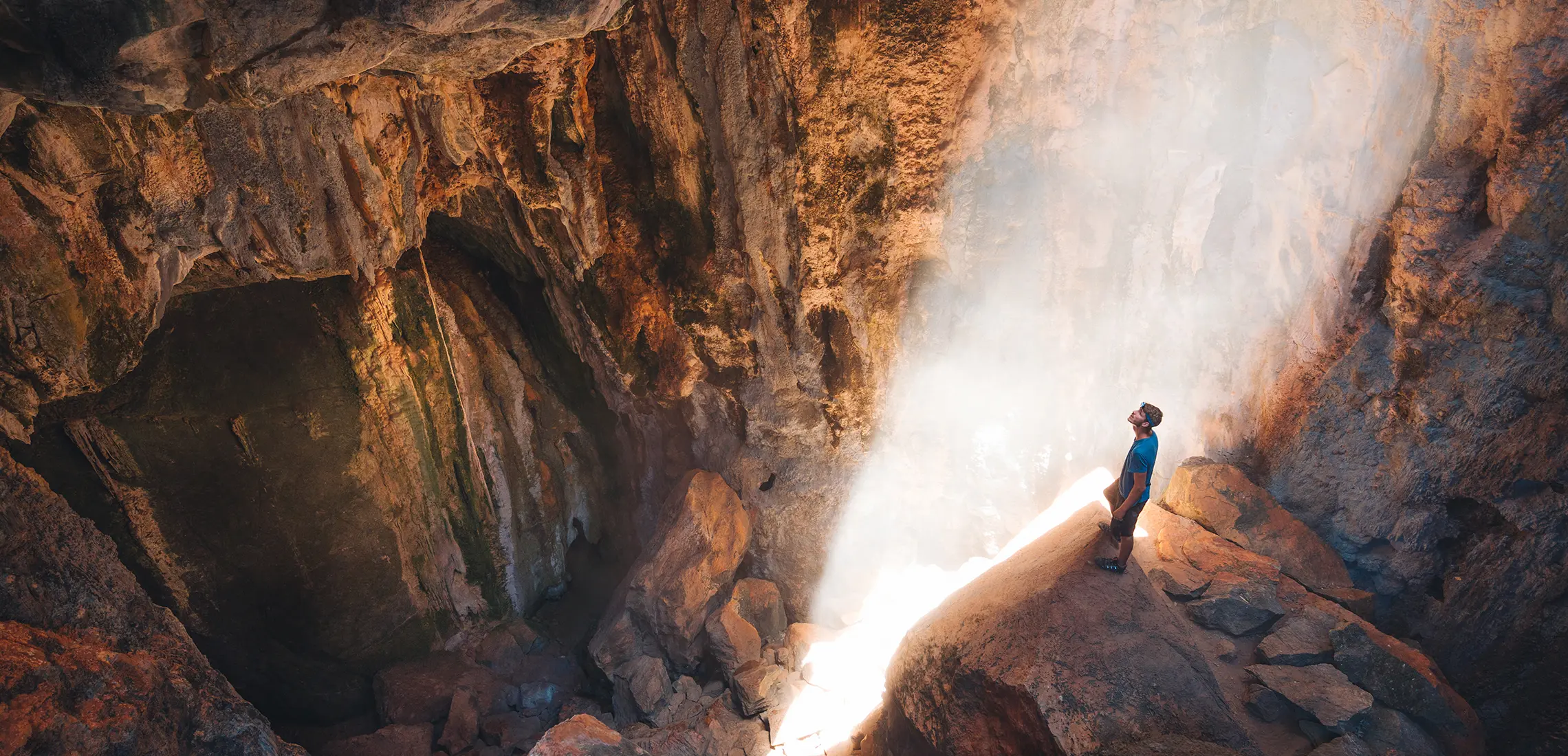 10 Caves You Need To Visit Around Brisbane And Beyond
Explorer mode: on
By Guest Styler | 24th March 2022

Found in various shapes and sizes, hidden underground or in bushland, there is nothing like the exquisite work of Mother Nature and her caves to take your breath away.

If you are looking for new and exciting ways to spend your weekend, look no further. We have found ten epic caves to visit around Brisbane and further afield.

Turns out, not only are these naturally occurring (or sometimes man-made) wonders fab to visit in their own right, but they also all have something unique to offer. Unleash the adventurer within, and explore these natural wonders.
Kweebani Caves | Lamington National Park, Gold Coast
Not only is Lamington National Park just a hop, skip, and a jump away from the River City, it is one of the most stunning locations on our list. Starting on Binna Burra Road (near the Lamington Teahouse), the Caves Circuit hiking track winds for five kilometers up through the Kweebani Caves and the Gondwana Rainforest. This bush walk is packed full of delicately balanced flora and fauna, impressive rock formations, and offers amazing views over the Coomera Valley.
This purpose-built cave on the Cedar Creek Estate, Mount Tamborine offers a fascinating glow-worm tour and an opportunity to see the elusive creatures up-close. Not to be confused with fireflies, glow-worms aren't actually worms either, they're the larvae of a species of gnat that emits a bioluminescent light to attract its prey. But we won't give too much away—you will find out more on the tour! After your cave visit, pop into the cellar door for a vino or two before exploring the wonders of Mount Tamborine.
A cave with a waterfall inside? If there's one thing closest to heaven, then the Natural Bridge in Springbrook National Park is it! A quick trek to this site and you'll discover the cave forms over the waterfall like (you guessed it!) a bridge. The walk is only short, so you don't have to worry about putting on hiking boots for this one.
Cathedral Cave | Capricorn Caves, Central Queensland
Unlike many caves that require a hike or walking lots of stairs to get a good look inside, the Capricorn Caves have a flat walkway and are wheelchair accessible. The one-hour cave tour runs eight times a day, plus they offer caving for the more adventurous. With cabins and camping on-site and underground opera recitals, private functions, and even cave weddings, this is truly a wonder to experience.
Donna Cave | Chillagoe-Mungana Caves, Tropical North Queensland
Three-hours drive from Cairns, the Chillagoe-Mungana Caves in Far North Queensland have spectacular limestone structures and well-preserved Indigenous art. Register for a one-hour ranger-led cave tour of the Donna Cave and see spectacular rock formations, including one in the form of Madonna.
Enchanted Cave | Blue Mountains, New South Wales
If your partner is the type of person who says, "we need to get outside more, get back to nature", and you are more of a, "can we just drink wine in the spa again", type'a gal—have we got the solution for you! Located in the Blue Mountains, the Enchanted Cave is a secluded love nest for two. Carved into the side of the mountain, this accommodation offers panoramic views across the valley and is about as close to nature as you can get without actually going outside, thanks to the floor-to-ceiling glass doors that make your rocky abode airy and full of light. Spend a weekend away with your S.O. taking in the great outdoors from your luxury cave pad, complete with a queen bed, cosy fireplace, full kitchen, and private spa.
Caves Road | Margaret River, Western Australia
Formed over millions of years, the impressive caves under the Margaret River wine region in Western Australia are well worth the visit. The 100-kilometre stretch of Caves Road not only features world-class vineyards, but multiple caves to visit, too! From the humongous Jewel Cave with its impressive crystalline stalactites and a fossil of the now extinct Tasmanian tiger, to the Ngilgi Cave, which offers fascinating tours about the Aboriginal legend of Ngilgi, the good spirit, and Wolgine, and the evil spirit, there's so much history embedded here. Additionally, Mammoth Cave offers self-guided audio tours which are wheelchair accessible and combine the impressive cave with a walk through of the marri forest.
Craving more adventure? Tick off every experience on our ultimate Queensland bucket list here.