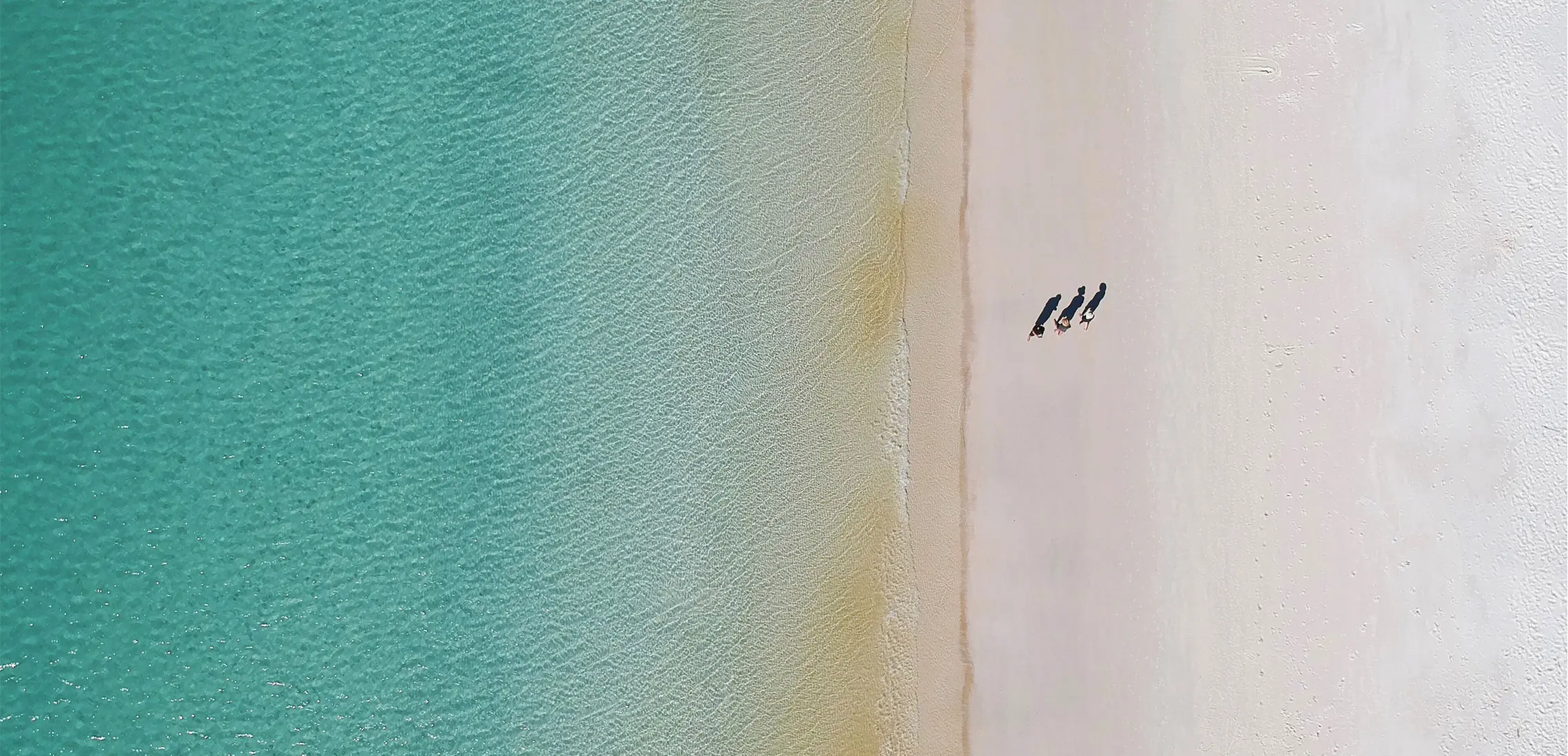 Adventurers, This Is Your Ultimate Queensland Bucket List
There's a paradise here and a paradise there
By Dinushka Gunasekara | 21st December 2021

As the Australian land of royalty (hey, it is in our name), Queensland lives up to the title with our abundance of divine destinations, natural wonders and World Heritage-listed sites around every corner. And now that restrictions have eased to welcome Queenslanders all around Queensland, there's never been a better chance to make sure you've experienced it all. From the world's largest sand island to 1890s rainforest railways, here's every location you must visit in our glorious Sunshine State.
Great Barrier Reef
As the only living thing on Earth visible from space, we're pretty lucky that we don't need to take a rocket to see one of the world's most breathtaking natural gifts. The Great Barrier Reef is both the largest coral reef in existence and one of the seven wonders of the natural world, so not only is it a must-have on every Queensland bucket list, but it's secured a spot on our global bucket list too. With over 3000 individual reef systems and a vast abundance of marine life swimming in between, take your pick on how you soak it in. Whether you opt for snorkelling, scuba diving, helicopter tours or glass-bottomed boat rides, pictures will never do your experience justice, so don't live through the lens!
Daintree National Park
Lush is an understatement when it comes to this triumph of natural wonder. As the world's oldest rainforest at 180 million-years-old, the Daintree is home to soaring mountains, jaw-dropping valleys and a rich array of flora and fauna found nowhere else. Within the World Heritage-listed site also lies Mossman Gorge, which holds a rare opportunity to gain insight into the truly special connection between our Indigenous people and the natural environment. Take a Dream Time walk led by a local Indigenous guide to be immersed in history, culture and enough spectacular scenery to last a few lifetimes.
Tangalooma
A visit to nature's theme park will have your time spent sand tobogganing, snorkelling through the Tangalooma Wrecks amongst schools of fish and hand feeding wild bottlenose dolphins in between maxin' relaxin'. The gem of Moreton Island – one of Australia's largest sand islands – may only be a 75-minute catamaran cruise from Brisbane but serves as a truly remarkable escape. With plenty of tours and activities on offer to suit all thrill or chill seekers as well as iconic sunsets wrapping up every day, be prepared to book a second, third and fourth visit.
Whitsunday Islands
This majestic collection of 74 islands is practically pulled out of picture-perfect, paradise dreams. With five islands home to breathtaking resorts while the rest are uninhabited, unspoilt and glorious, boaters, divers, campers and loungers all have something to celebrate here. Plus, there's no bias; the Whitsundays holds what's often objectively considered the world's finest beach – the award-winning Whitehaven Beach. Pristine white silica sand gives way to crystal-clear aqua waters over seven kilometres of nature parading its best. Whether you explore by step or sail, beauty and bliss are a given.
Noosa Heads
A feast for your stomach and soul, Noosa Heads brings together natural serenity with award-winning restaurants to deliver the best of a coastal holiday. From rushing rivers, rocky headlands, national parks and hidden bays, there's plenty of nature on show. The calming Main Beach is one of the only north-facing beaches on the east coast of Australia and the World Surfing Reserve rolls out outstanding waves on the daily. When you're craving something more concrete, a wander down Hastings Street will treat you to pedestrian-friendly thoroughfare and alfresco dining, or the world-famous Eumundi Markets will have you going home with plenty more than you arrived with.
Gold Coast
It's an obvious suggestion and that's why it made the list – the golden playground has so much to offer! Exhilarating rides, extraordinary views and exotic animals call the Gold Coast home, as well as Queensland's very own glitter strip. Foodies can munch on the delicious and sun-soaked culinary scene in between trips to the buzzing beaches and bustling streets. The Gold Coast is where luxury meets laidback and each day is more rejuvenating than the next.
Lamington National Park
Beauty, charm and rugged wilderness take shelter beneath a lush canopy of historic greenery in what's fondly known as 'Queensland's National Park'. The World Heritage-listed park is part of the Gondwana Rainforests, making it a key player in the most extensive subtropical rainforest in the world. Waterfalls cascade around every corner and more than 160 kilometres of walking trails wait to be trekked between the Antarctic Beech, while wildflowers and rare wildlife stand upon the soil. With 22,000 hectares of varying forest types, lace up your most reliable walking shoes and don't forget your glasses because views are aplenty.
Magnetic Island
Its allure is in its name – Magnetic Island is the thriving island paradise that will keep you coming back for more. Famous for holding Northern Australia's largest koala population, unleash your wild side at the island's Bungalow Bay Koala Sanctuary or take a stroll through WWII history and gorgeous ocean vistas at the popular Forts Walk. Exploring the island is best done by beachside horse riding, sea planes or jet ski tours, while meals are often lightly seasoned with sea salt air when you're always this close to the ocean.
Cape York Peninsula
A tough but valuable journey is all it takes to reach the northernmost point of the Australian continent. The Cape York Peninsula is the largest remaining untamed wilderness on the planet and will have you getting off the beaten track on an adventure you'll never forget. While homework beforehand is necessary, the planning, research and 4WD are well worth the chance to experience World Heritage-listed and historic landscapes from another era.
Fraser Island
The world's largest sand island stretches for 123 kilometres within our shores, bordered by vast and uninterrupted sweeps of glittering ocean. Rainforests sprout from sand dunes and strikingly coloured sand cliffs will amaze in this World Heritage-listed site. A visit to the crowd favourite Lake McKenzie is a must for its pure white silica sand and crystal-clear waters, while the famous Maheno Shipwreck, which washed ashore during a cyclone in 1935, holds rich pockets of Australian history in its caverns.
Kuranda
See a rainforest from a different angle with the help of this picturesque and quirky mountain village. A go-to escape since the early 1900s, the best way to get to Kuranda from Cairns involves taking a ride through history. The Kuranda Scenic Railway is a train from the 1890s that runs on the edge of the rainforest through 15 striking, hand-cut tunnels and across 37 stunning bridges. Or, board the Skyrail Rainforest Cableway to soar above the canopy of the Barron Gorge National Park. The town itself is filled to the brim with character and charm, and its hippie influences from the '60s and '70s will leave you at peace to this day.
Capricorn Caves
This living laboratory of limestone caves has history carved into its walls. Boasting stunning rock formations, endangered wildlife and fossils of creatures from times past, this 400 million-year-old cave system is particularly renowned for its unique location on the Tropic of Capricorn. There's no need to pull out the cables and headlamps, however, because there are tours available for all abilities taking you from the summit to the breathtaking caverns below.
How many have you ticked off?