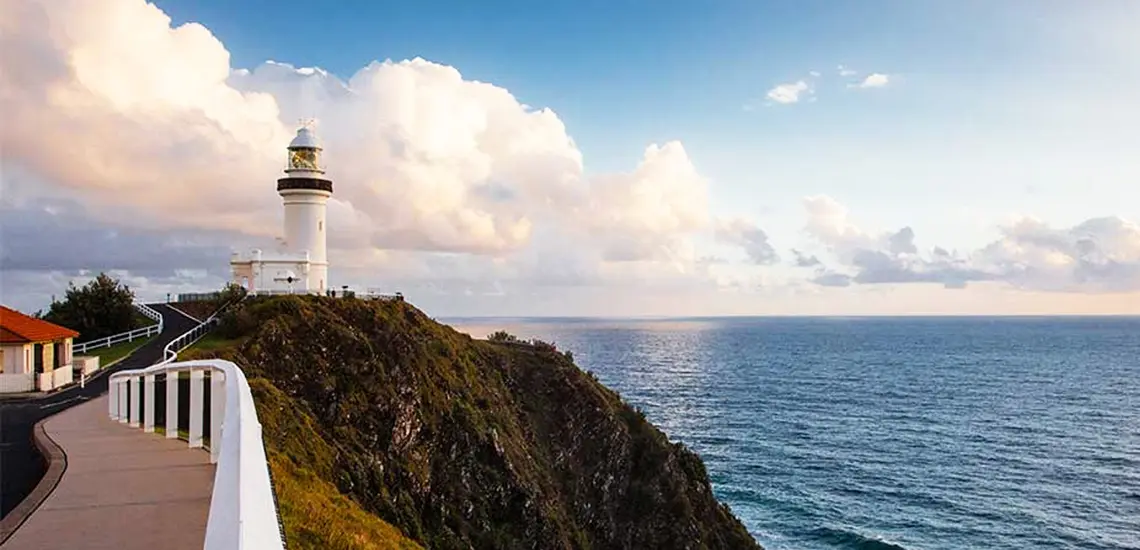 This Is The Ultimate Brisbane To Byron Bay Road Trip Itinerary
From B to B, baby.
By Clare Lacey | 19th September 2019

The trip to Byron is a regular one for many of us Brisbanites and we thought it's about time we open our eyes to what's on offer along the way, rather than skrrt skrrt'ing straight to the bay. Fuel up, grab your girls and some tunes 'cus we've got the ultimate Brisbane to Byron road trip mapped out for you! A road trip shouldn't be all about the final destination, sometimes half the fun is discovering hidden gems and making memories along the way. So, we've narrowed down the best places to stop to make your next road trip unforgettable. From the beach to the hinterland and everything in between, these stops between Brisbane and Byron are not to be missed!

Fuel your journey with an early stop at Brisbane's iconic pastry destination located only 30 minutes from the CBD. Considered a local landmark, Yatala Pies has been feeding hungry Brisbanites for more than 130 years. Whether you opt for the traditional meat pie with mushy peas or indulge your sweet tooth with a famous custard tart, you'll be left full and happy ready to conquer the journey ahead of you! Hot tip: don't forget to grab a snack for the road on your way out, 'cus there's nothing worse than those mid-trip munchies!

Jump back in the car and venture a further 40 minutes down the highway after your pie-stop till you reach the glorious hinterland of Mt Tamborine. Stop for a quick look around the Glow Worm Caves, then enjoy a cheese tasting at Witches Chase Cheese Factory or explore the rainforest from new heights with a Rainforest Skywalk scaling 30 metres above the valley below. Or, simply stretch your legs with a stroll along the famous Gallery Walk, where over 60 boutiques, cottages, cafes and art galleries are open for your perusal. Get a reputation as the best designated driver around and take your friends to the Tamborine Mountain Distillery for samples of world-class liqueurs and spirits. Or, if you're the type to chase waterfalls make your way down to Cedar Creek Falls and lose yourself among the serenity. Spend a few hours immersing yourself in nature surrounded by spectacular cascades, waterfalls, rock pools and take a quick dip in one of the natural swimming holes.
Beach Towns
If you opt for the coastal route from Mt Tamborine, you'll get an unrivalled view of the glorious coastline and pass through a number of the best beach towns the Gold Coast has to offer. Stop at one (or a couple) to get your daily dose of saltwater and beach air. Make your way to Burleigh Heads, only 50 minutes from Mt Tamborine, for a quick picnic and dip in the ocean before driving a further 20 minutes down the highway where you'll come to end of the GC and the border town of Coolangatta. Exuding old-school beachside charm, Coolangatta is the part of the coast where things slow down and you can enjoy a milkshake in an old school tumbler and catch a wave without the surrounding crowds. Then, cross the border into NSW and drive 30 minutes to the quiet coastal town of Pottsville. With a population of only 2000 people you're almost guaranteed to get a private beach experience with kilometres of coastline entirely to yourself (warning: skinny dip at your own risk!).
Alternatively, opt for an hour-long inland drive from Mt Tamborine and make your way to Springbrook National Park. Follow the easy 1km hiking circuit to the renowned Natural Bridge waterfall or challenge yourself to a more arduous trail and take on the 4km Twin Falls track. Either way, leave your worries behind you and spend a few hours losing yourself among the palms and treeferns truly appreciating the beauty of nature. A stop at Springbrook Natural Park will undoubtedly leave you feeling renewed and refreshed and excited for the rest of your journey!
Make a quick pit-stop at Mullumbimby to visit the Crystal Castle and Shambhala Gardens. Embrace the peaceful energy as you enter the mystical gardens and see the world's biggest crystals, visit the enchanted cave and walk the reflexology path. Or, visit the only stupa in the Southern Hemisphere and take advantage of the positive benefits said to come from walking clockwise around it! Enjoy a locally sourced, organic coffee and some afternoon tea at the Lotus Café while taking in the breathtaking views before setting off for Bryon Bay only 30 minutes away.