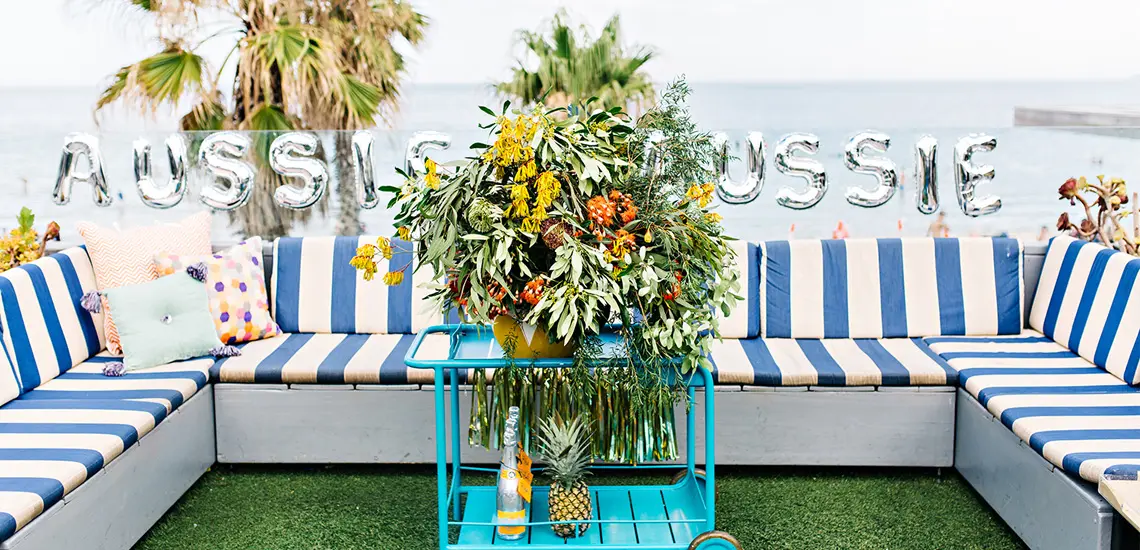 Where To Eat, Drink & Relax This Long-Weekend In Brisbane
"Never let a 3-day weekend go to waste." -Old Australian proverb
By Guest Styler | 22nd January 2019

We love Australia. We're blessed with endless beaches, sporting heroes such as the great Sir Donald Bradman, and some of the most glorious weather around. And, although our politicians might be infuriating at times, at least there's no orange man in a bad toupee threatening to nuke the rest of the world. So, all in all, it's pretty good down under!

If you're not heading to a backyard bash this long weekend, we've got you covered with a bunch of events around town to help you celebrate the extra day off work. Here's what's open this Australia Day long-weekend in Brisbane!
Saturday, 26th January
Brews, seafood, celebrations. Check, check, check! Mercado is hosting a special Seafood Buffet with including King Prawns, Mussels, Oysters, Calamari, Baby Octopus, Battered and Crumbed Fish alongside a host of delicious accompaniments.
In true A&C style, they'll be hosting a house party worth the hangover. Enjoy classic Aussie tunes, live DJ, sausage sizzle, ice cold beer, and free entry. Cheers!
For something a little different, head to Green Beacon in celebration of their sixth anniversary, with the inaugural Green Beacon Brewing Co's Daylight Lockdown. Sit back with the exclusive early-bird release of their infamous Milkshake IPA as some of Brisbane's best street artists close down the space and transform it into an open-air gallery, breathing life into a beautiful, hidden-location one last time before it disappears completely. The T-shirt Mill will be onsite, live printing shirts as the same designs go up on the walls around you with all proceeds going back to support the local community. For a day of art, sunshine, community, and beer, secure a ticket now via a $5 donation to Micah Projects.
Sunday, 27th January
X Cargo | Fortitude Valley
Fortitude Valley-newcomers X-Cargo is holding a Triple J Hottest 100 countdown party, complete with Aussie BBQ, plenty of room for relaxing, free entry, and a live broadcast of the Triple J Hottest 100 countdown.
Following an epic response in 2018, Covent Garden will be taking a cue from Triple J and hosting their own tipsy countdown – Ginuary 2009 Hottest 100 Australian & New Zealand Gins! From 11 am, they'll broadcast theTriple J Hottest 100 countdown while also counting down the best Australian and New Zealand craft gins, as voted by you.
Want a Hottest 100 listening party that packs a punch? Welcome To Bowen Hills will be offering heaps of specials all day long, such as: ? Songs 100 to 70: Grab a burger and a pint for just 12 bucks! ? Songs 70-20: Pay what you feel for a beer! Grab a pint from our Karma Keg and all proceeds will go to Lifeline. ? Songs 20-1: A Goose Island Hoppy Hour! Grab a pizza and a beer for only 10 dollary-doos.
If you're a little more boozy-brunch than backyard bash, Rogue Bistro's pop-up brunch is sure to delight. Choose from the Good Ol' Brunch (main, mocktail & cold brew) or the Boozy Brunch (main, cold brew, 3-hour drinks package) options and prepare to indulge in a stellar breakfast menu.
Just want somewhere chill to enjoy the Countdown? Triffid is your go-to. With the Hottest 100 Countdown spinning, free sausage sizzle, acoustic performances, and beers beers beers, it's the perfect way to enjoy some tunes and time with friends.
If you're a northsider who has no desire to head into the city, swing by local faves, All Inn Brewing. Of course, they'll be spinning the Hottest 100 countdown, but they will also have fresh beers, tasty food truck fare, and live music until late. It's a free event, and as they are right on the train line, you can leave the car at home and worry about the hangover later!
Fluffy | Fortitude Valley
"YAS ?? QUEEN ?? SLAAAAAY ??" – You, if you hit up Fluffy's Glamwatch Beach Party! As the first instalment of GLAM for 2019, they'll be kicking things off with an epic Baywatch-themed party. When a dangerous crime wave hits the beach, the legendary Vollie LaVont leads her elite squad of lifeguards on a mission to prove that you don't have to wear a badge to save the bay. Joined by a squad of hotshot Starlet Finalist recruits they ditch the surf and go deep undercover to take down a ruthless businesswoman whose devious plans threaten the future of the bay.
All Weekend
If you like your margarita with a classic Aussie twist, we've found your weekend hangout. El Camino Cantina's classic margarita is being given an Australia Day Tim Tam twist! The Tim Tam Rita includes tequila and caramel liqueur and comes topped with a caramel Tim Tam biscuit. Obviously, we'll be grabbing the 24oz option.
Munich Brauhaus, The Bavarian and The Bavarian Beerhaüs are kicking off the Australia Day long weekend with happy hour from 4pm to 6pm. and $1 chicken wings! Swing by The Bavarian Beerhaüs for a selection of free royal snacks, including buffalo wings, loaded fries and mini dagwood dogs. A limited-edition Australia Day loaded schnitzel is also available all weekend for $25, featuring a classic chicken schnitty smothered, covered and loaded with authentic Aussie toppings of beetroot, pineapple, bacon, egg and cheese. Yes, please!
The LBH legends are turning up all weekend with one helluva house party. With free entry all weekend, live music every day, a Hottest 100 party, and special Monday recovery sesh, this is how you do a long weekend.
With DJs on Saturday, the Hottest 100 on Sunday, recovery drinks on Monday, cricket all weekend, and heaps of specials on food and bevs, Sixes & Sevens has your long-weekend debauchery sorted.
As one of Brisbane's favourite pubs, we're not surprised that the folks at The O' are turning things up all weekend. On Saturday you can expect meat pie eating competitions and a tap takeover from Newstead Brewing Co. The festivities will continue on Sunday with the Triple J Hottest 100 countdown, $10 pizza all day, and music late into the night.
If you're not about to let three days of uninterrupted-chillin' get away from you, then make sure to swing by the Regatta Hotel. Kick off Australia Day Eve on Friday with live rockabilly tunes, or dance the night away with their live DJ. Head in all weekend for a sizzling backyard in The Courtyard from midday.
Liked this? You'll love these! The Best Bars That Opened In Brisbane In 2018 New Bars & Restaurants To Check Out In January 10 Swimming Holes Around Brisbane To Cool Off In