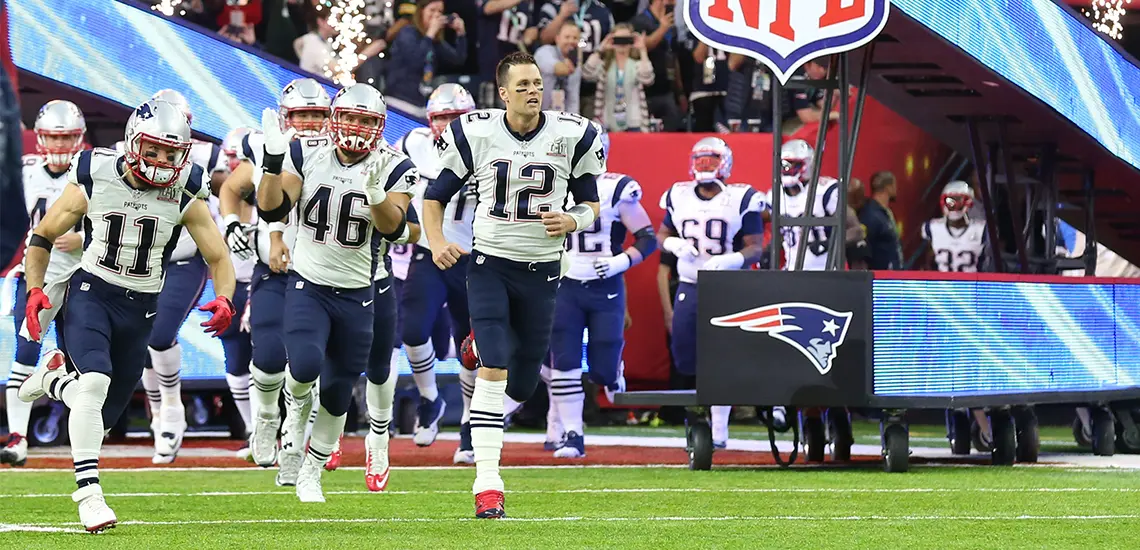 7 Of The Best Places To Watch The Super Bowl In Brisbane In 2019!
Touchdown!
By Guest Styler | 30th January 2019

The New England Patriots still playing in February can only mean one thing: it's Super Bowl time. Super Bowl fever has been embraced by Australians in recent years, and we've seen some of our favourite local venues get well into finals spirit. In two weeks, the New England Patriots are about to take on their third straight Super Bowl against the Los Angeles Rams. So, to get you pumped, we've rounded up some of the best places in Brisbane to down some coldies while watching the awesome halftime entertainment and multi-million dollar advertisements on the big screen. PSA: for this year's halftime entertainment, Maroon 5 will be joined by rappers Travis Scott and Big Boi. So, gather your group and starting planning on where you'll be spending Super Bowl day on February 4!

If you are looking to experience watching the Super Bowl on the largest screen in the Southern Hemisphere, then you need to head to Eagle Farm Racecourse. We aren't joking about the epic screen – it's 44 metres long and 11 metres high! On the day, the venue will be serving authentic American-style wings, burgers and beers to curb all your cravings. You can register for free general admission and VIP packages here Time: From 8.00 am

At Sporting Globe Chermside, you will be able to enjoy some brekky burgers and Budweiser while watching the game from one of 50 screens. While events packages have sold out, walk ins are completely welcome to reel in the atmosphere from the bar. On the day you will even hear all the weekly playoff insights from former AFL and NFL player, Ben Graham. Plus, you will have the chance to go into the draw to win an awesome NFL experience including flights and accommodation! Time: From 8.00 am

Super Bowl Day at Story Bridge Hotel is sure to be one epic day! If flowing frozen margaritas and DIY hotdog stations are more your style, head across to Story Bridge to reel in all the Super Bowl fanfare. Gather the group together because on the day, you can even play some Super Bowl bingo. Time: From 9am.

Does eating a kilo of wings while drinking a bucket of Budweisers sound like your idea of heaven? Well, The Defiant Duck might just be your ideal Super Bowl venue because for $35, you can do just that. On the day, The Duck will be hosting a competition to win a Carnival Cruise too! Lock in your table here. Time: From 10 am

Last year at The Fox Hotel was a sell-out, and this year is sure to be no different! Watch all the action from the 6-metre screen while enjoying burgers and beers surrounded by crazy sports fanatics. Entry to this event is free, but be sure to reserve your spot. Time: From 8.30 am

Sneak out of the office for some Super Bowl action and impossible-to-resist lunch specials at Pineapple Hotel! For just $11, you will be able to score yourself a delicious lunch while enjoying all the football atmosphere has to offer. This deal is not one to be missed so schedule in your booking pronto. Time: From 9 am

If you have a group of 8 or more people, Fat Angel's Super Bowl 19 Party is for you! For $25 per person, you'll be able to score yourself a delicious American-style feast and have the chance to win prizes and giveaways all day long. Bookings for this event are essential, so hop to it! Time: From 9.30 am

Liked this? You'll love these! We've Discovered Brisbane's Best Sports Bars You Must Check Out The Best Bars That Opened In Brisbane In 2018 Brisbane's First Inner-City Micro-Winery Is Coming To Town!