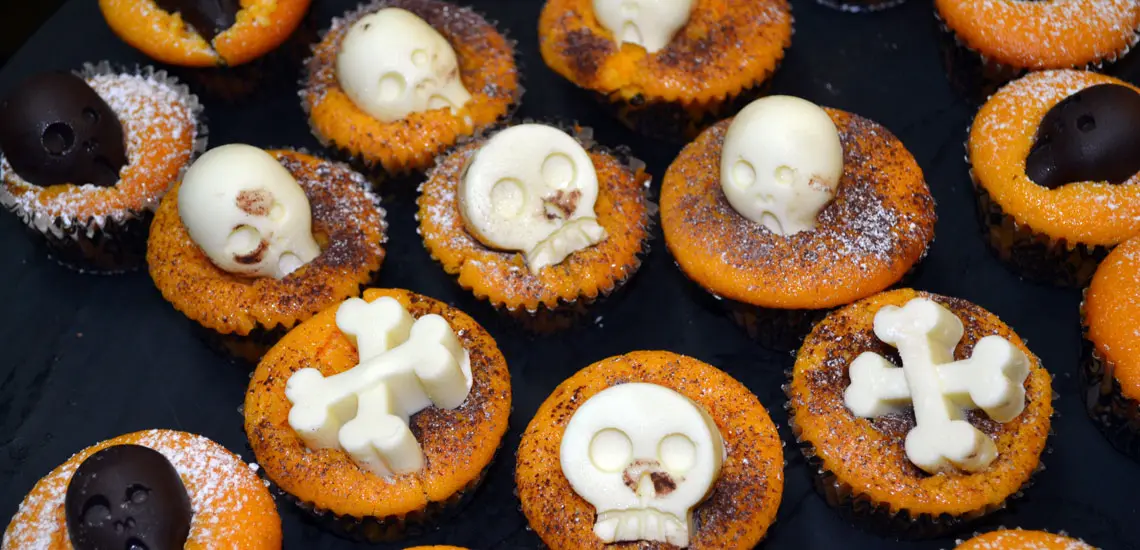 Brisbane's best Halloween Events 2015
Get ready to have a killer time at one of these fright nights.
By Guest Styler | 26th October 2015

Image: Stamford Plaza Halloween High Tea

It's creepy and it's kooky, and altogether ooky: it's Halloween! Although it's not traditionally an Aussie occasion, there are still loads of places that want to get their freak on, dress up and have a spooky old time. We've gathered our fave parties events for 2015, for boys and ghouls, young and old.
1. Halloween High Tea, Stamford Plaza
Stamford Plaza are putting on a wickedly delicious high tea to celebrate the scariest date on the calendar. Their ghastly themed gathering will feature such spooky treats as brain jelly, spiderweb pumpkin pie, worm trifle, Lucifer's sandwiches and cheddar eyeballs. And for the adults, there are the delightful-sounding body swamp jelly shots and severed head sangria. Prizes will be awarded for scariest and funniest costumes. RSVP is essential. Where: Stamford Plaza, Brisbane When: Saturday, Oct 31, 2015 (1st session 4pm-6pm, 2nd session 7pm-9pm) www.stamford.com.au
2. Brisbane Ghost Tours
This Halloween, get in touch with the spirits beyond for a real scare fest. Learn frightening real-life tales of Brisbane's seedy underbelly and of the alleged spirits that haunt the sites from your spooky tour guide. Choose from the "Haunted Brisbane" trail, Toowong Cemetery, Nundah Cemetery, South Brisbane Cemetery or Boggo Road Jail. Bookings are a must. Where: All around Brisbane When: Oct 25-31 brisbaneghosttours.com.au
3. Haunted Hotel Party, Limes Hotel
What's more terrifying than a haunted hotel? Pretty much nothing (we've seen The Shining, so we know). Limes Hotel are raising the dead for their Halloween weekend party, spread over both Friday and Saturday nights. Think cauldron cocktails, deadly shots and beyond-the-grave barkeeps. 
Prizes will be awarded for best dressed. Where: Limes Haunted Hotel, Fortitude Valley When: Friday, Oct 30 & Saturday, Oct 31 www.facebook.com/events/1686090888291136/
4. Halloween Party 2015, Shadow Lounge
What if we told you this Halloween party came with the chance to win a black diamond worth $6000? You'd wanna be there, right? Yeah, us too. Well, better get your costume sorted because this amazing prize will go to the best dressed party person of the night. Shadow Lounge have plenty of entertainment including some of Brisbane's best DJs. There will also be trick or treat competitions, and patrons have been told to keep their cameras handy… we're intrigued! Where: Shadow Lounge, Eagle Street, Brisbane When: Saturday, Oct 31 www.facebook.com/Shadow-Lounge-155781247776853/?ref=ts
5. Halloween movie specials, New Globe
Kristian Fletcher is the king of all things cult in Brisbane so you know his Halloween movie offerings at the New Globe are going to be B-Grade-tastic. The spooky screenings will include a Halloween Triple Treat on Thursday, October 29. Featuring short horror films Arcade and Skypemare, the night will culminate in glorious 80s trash with Killer Workout, a flick where things get murderous at a local gym. Where: New Globe Theatre, Fortitude Valley When: Thurs, Oct 29 www.facebook.com/events/1638834676393469/
6. Tales From the Crypt Halloween, Greaser Bar
Following success of their Rockabilly Halloween party last year, Greaser Bar is looking to back it up in 2015. This year the theme is Tales from the Crypt and things are gonna get spooky. Being an American-style venue, you just know these guys are going to go hard for this All-American traditional event. Their killer music line-up includes The Strums, Regular Gonzalez and The Wet Fish, and they're also set to impress with fortune tellers, photo booths, and prizes for best dressed. They also say they have other "surprises" they want to keep on the down low. Oh, and this event is totally FREE. Where: Greaser Bar, Fortitude Valley When: Saturday, Oct 31 www.facebook.com/events/695754600523972/
7. Halloween Ball, Fluffy at Family Nightclub
Fluffy is gearing up to host Queensland's biggest Halloween event with their annual spooky ball. Details are skint on this one, with all their event listings saying "Save the date, details coming soon". Mysterious! Where: Fluffy, Fortitude Valley When: Sunday, Nov 1 www.facebook.com/events/979617628727389
8. Zombie Walk
This year marks the 10th anniversary of the Zombie Walk and they're gearing up to take over Roma Street Parklands once more. Celebrate all things undead with the theme "Day of the Dead". Once you've stumbled clumsily around the walk circuit, get down and boogie like there's no tomorrow at the festival afterwards. Featuring both live music and a DJ, the Zombie Walk after party will also have makeup artists, markets, a licenced area for drinkies and plenty of finger food. There are prizes for best dressed, so you might wanna get your makeup professionally applied and then enter the "Splatter Tent". The Zombie Walk has raised more than $100k for the Brain Foundation of Australia. Where: Roma Street Parklands When: Sunday, Nov 1 from 2pm brisbanezombiewalk.com

9. Manly Harbour Village Halloween Street Party
Got little ones and want to celebrate the calendar's spookiest holiday? Then check out the Manly Harbour Village Halloween Street party for alcohol-free, family-friendly fun. Get chills as the whole precinct transforms and dresses for the occasion! Filled with entertainment, market stalls, a carved pumpkin competition, a free movie in the park, a fireworks display and a street parade culminating in the crowning of the best dressed adult and child. 

If family fun isn't really your style, they also have the Brews+Beats car park party at the Manly Hotel, perfect for chilling while indulging in a few bevvies. When: Saturday, Oct 31 from 11am Where: Manly Harbour Village manlyharbourvillage.com
Worth the drive:
Movie World Fright Night
If you're a fan of frights then Movie World is the place to be leading up to Halloween. Their wildly successful Fright Nights return for 2015 with all new mazes, terrifying scare precincts, panic room experiences, live music, a horror film festival and a whole host of interactive scares. When: Friday and Saturday nights through October. Where: Movie World, Oxenford frightnights.com.au
Screamworld
This Halloween, bring the whole family to Screamworld for a night of fun that's haunting but not daunting for the younger ones. On October 31st from 6.30pm to 10pm, Dreamworld will be transformed with pumpkins and trickery for families and little ones to roam under the night sky. There will be fun trick or treating activities, or you can get chills and thrills by jumping on family-friendly rides in the dark. For those feeling a little braver, there's Zombie Evilution – the night of the dead's creepiest walk-through attraction. Then, as the evening wraps up, get ready for a laser light spectacular. When: Saturday, Oct 31 from 6pm 
Where: Dreamworld, Coomera www.dreamworld.com.au/whats-on/screamworld