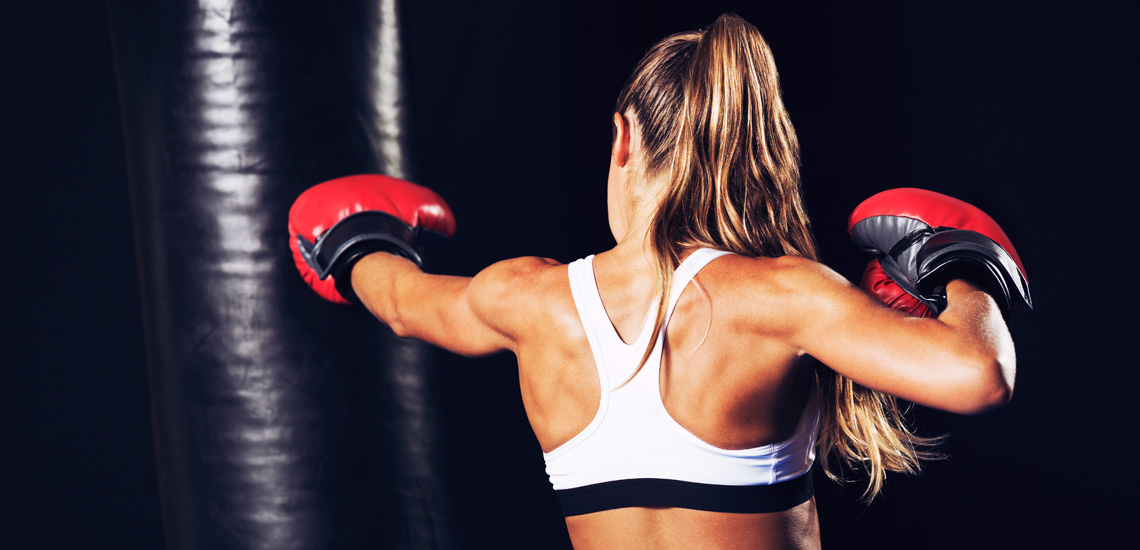 The Brisbane Self-Defence Classes You Need to Know About
These fitness classes could save your life.
---
We've all been there – we've walked faster, clutched our handbags tighter, pretended to talk on the phone or tightly gripped our keys between our knuckles because something about the area or the people around us just made our skin crawl.
How often have you heard someone say "You throw/run/fight like a girl"? Unfortunately, our society stereotypes women as being weak and unable to defend themselves. We feel it's time to turn that stereotype on its head and prove that women can be powerful too.
Taking a self-defence class doesn't just have to be about protecting yourself or learning how to take down an attacker with some impressive new moves. It's also an awesome way to sweat it out and have fun with friends!
If you want to feel confident and strong, a self-defence class is your ticket to faster, fiercer reflexes. Grab your girlfriends and head to these kick-ass classes, 'cause girls are tough too!
The professional martial arts trainers here are experts in teaching practical ways for women to ward off an assailant. You'll learn the self-defence skills to use in real-life situations as well as protective behaviours and strategies to help avoid unpleasant and dangerous situations in the first place.
These guys also offer a free trial class so there's no excuse not to give it a go! Call 3107 1929 or complete the form on the website.
Sweat Systems offers a fun, practical course to teach you the ABCs of self-defence and self-awareness in crisis situations. You'll also learn verbal boundaries and easy-to-remember skills that all ages and all levels of mobility can use safely and effectively.
"Krav Maga" is a Hebrew term meaning "contact combat". It was originally developed for the military, special forces, and police units. Sounds pretty tough, hey?
"Stay Away!" is a women-only self-empowerment and self-defence program open to people aged 15 years and older. You'll learn exactly when, where and how to instantly defeat 80 per cent of problems a woman will ever face! With a description like that, we're ready to become masters of Krav Maga and whip out some fierce moves.
Primal teaches Krav Maga-style classes in a mixed gender environment so you can build confidence in dealing with male assailants and real-life problems. Primal also runs a special women's self-defence seminar every few months for female-only fun!
In every class you'll learn how to overcome fear, increase your power, and deal with physically stronger attackers in a comfortable and supportive class atmosphere.
The women's class at Martial Arts Brisbane is designed for women who don't want to learn a full martial art, but still want to know how to defend themselves (a.k.a kick butt) should the need arise. During the classes you'll talk about self-defence principles and then put them to practice with a black belt partner. You also find out where to strike for maximum impact. (We may not be experts, but we think we know a sore spot.)
These classes run on the last Friday of every month and it costs just $15 to learn some seriously valuable stuff.
Kodomon Karate-Do provides a welcome environment for women and girls to learn self-defence techniques and principles. It's also designed to help you get your sweat on for the added benefits of fitness training and development of self-confidence. We're seriously digging the notion that female students can practise with men in the classes on a fair and equal footing to create a more realistic environment.
Know of any other great self-defence classes? Let us know!
If you liked this, you'll like these
15 Inspiring Ted Talks For Women
How To Negotiate A Pay Rise Today