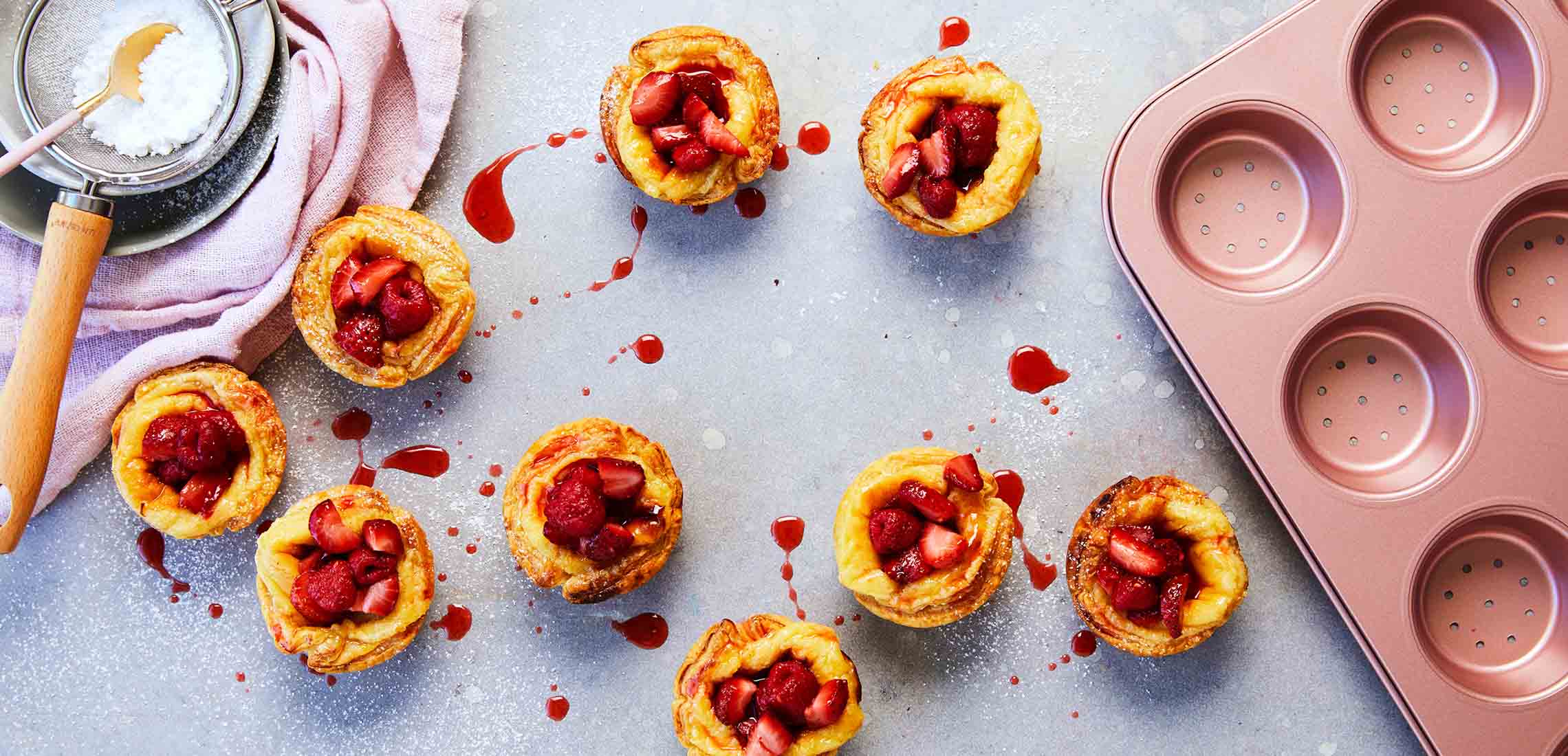 Mouth-Watering Portuguese Tarts
Calling all sweetie pies
---
Layers of delicate pastry with a delicious creamy filling make these Portuguese tarts with roasted berries a melt-in-your mouth affair, courtesy of Wiltshire. It's the sweet treat that will have you coming back for more and more and more.
Prep time: 30 minutes
Cooking time: 25 minutes + chilling
Serves: 12
Ingredients
For the tarts:
5 egg yolks
½ cup (110g) caster sugar plus 2 tsp extra for pastry
3 tsp plain flour, plus extra to dust
3 tsp corn flour
1 ⅓ cups (330ml) milk
⅓ cup (80ml) pure (thin) cream
Finely grated zest of 1 lemon
1 ½ tsp vanilla bean paste
50g unsalted butter, melted
2 sheets frozen all-butter puff pastry, thawed
Baby mint leaves and icing sugar to serve
For the roasted berries:
250g strawberries, hulled
Juice of ½ lemon
¼ cup honey
125g raspberries
200g mixed berries
Method
To make filling, place egg yolks, sugar, and flours in a large saucepan. Whisk until smooth and combined. Add milk, cream, lemon zest and vanilla and whisk to combine. Place over medium heat and cook, whisking constantly, for 10 minutes or until thickened with the consistency of thickened cream. Strain through a fine sieve into a heatproof bowl and cover directly with plastic wrap. Chill completely.
Preheat oven to 220°C (fan-forced) and place a baking tray on the bottom of the oven and an oven rack towards the top. Brush perforated 12 cup mini quiche and tart pan with some of the melted butter.
Working with one piece of pastry at a time, place pastry on a clean work surface lightly dusted with flour and cut into four even squares. Brush lightly with butter and scatter with one teaspoon of the extra sugar. Stack pastry squares directly on top of one another, making sure the last piece is flipped to give a clean pastry top. Then use a lightly floured rolling pin to roll out to a 20x30cm piece. Cut into six square pieces and use to line six pan holes. Brush with butter and repeat with remaining piece of puff pastry. Freeze for 20 minutes or until pastry is firm and cold.
Trim and neaten pastry, leaving some overhang with a sharp knife. Divide custard mixture between cases and bake, towards the top of the oven, for 20 minutes or until pastry is golden and custard has puffed slightly. Use a blow torch to brûlée the tops. Cool tarts in pan for 10 minutes.
Meanwhile, for the roasted berries, place strawberries and lemon juice in a shallow roasting tray and drizzle with honey. Roast for five minutes or until warmed through then stir through remaining berries.
Serve tarts topped with roasted berries, baby mint leaves and dust with icing sugar.