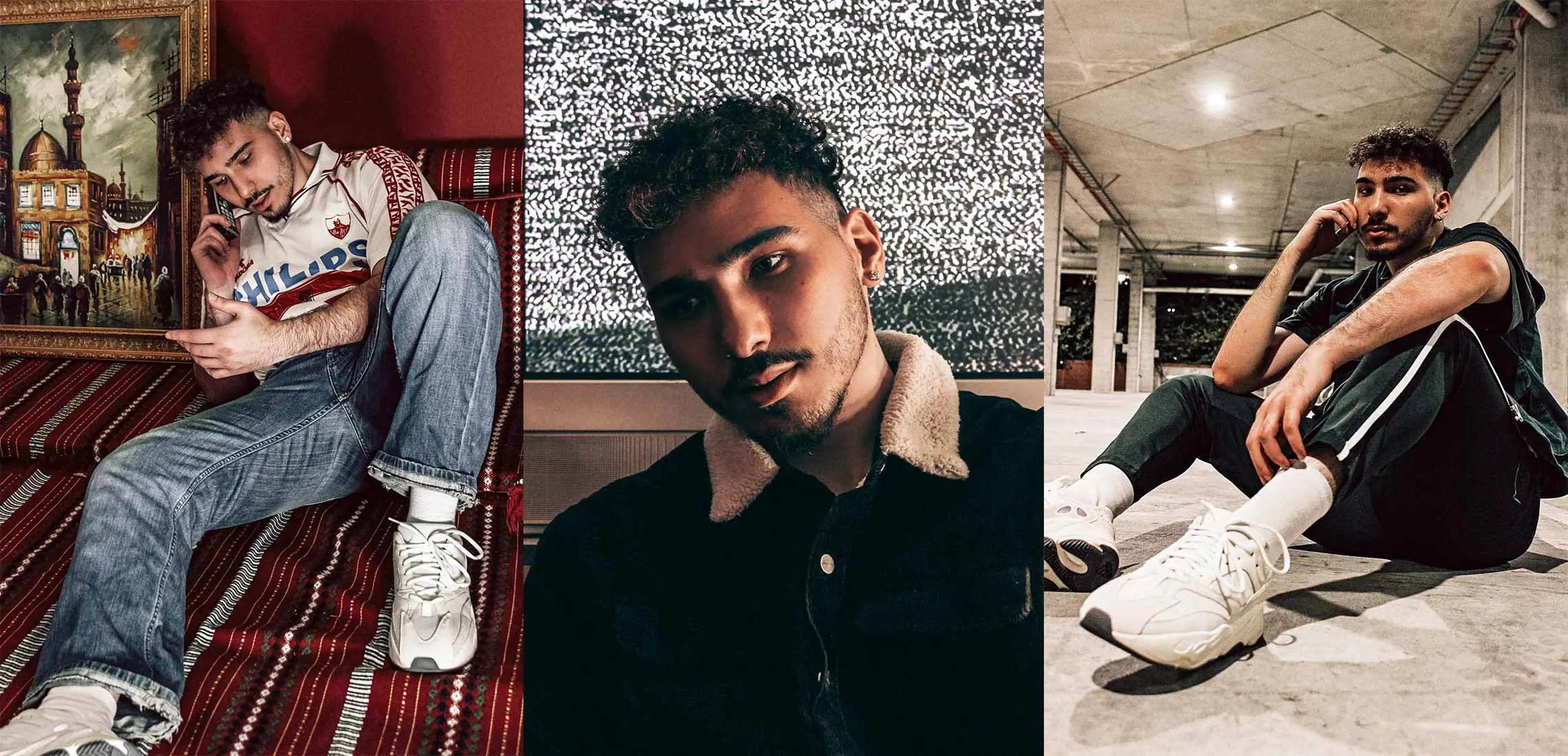 The Tunes Of Sami Afuni 
We're reading between the lyrics
By Guest Styler | 10th September 2020

2014 was the aim of the game, but it turned out 2016 was more his tune. For Sami Afuni, it's been one feat after the other. From two X Factor experiences, living in Kuwait and taking inspiration from Toronto's music scene, Sami's been grinding in the dark, but it's all about to be put on full beam. We're here for it and you will be too if you read on.

What was the inspo behind your latest track, 'If You Don't Mind'?

I started playing with the idea of If You Don't Mind back in 2017 after someone told me to pretty much sell out my culture and moralities for a bit of hype. I take pride in the fact that I'm of Middle Eastern and North African descent, that I've lived overseas, that I'm Australian born and obviously a citizen – it makes me who I am; everything that happened in my life made me who I am today, so I will never sell out on that. I think people often make decisions for short-term success even if it's at the expense of their own moral compass, rather than looking at the long term and sticking to what brought them to where they are and that's what inspired the track. It explains my journey, morality and ethics that I've showed along the way.

Favourite line from the track?

"Even when I got down I was up to something." It reminds me that even on bad days, or when things aren't going right, I need to stay focused, productive and zoned in. The 'down' is also in reference to me returning to Australia at 14 – I was up to something, on to my next move.

The music video is pretty epic. Tell us a bit about the filming experience…

It was a wonderful experience working on the music video with such talented people! Luke Mayze has directed films such as "Forever First Love" which will be in theatres soon. The Cinematographer – Alec Schulz – is one of the best in Queensland; he's worked on big projects such as Aquaman, Thor, and Pirates of the Caribbean. I was also blessed to have talented actors with me on set like Tyson Harrington, Tori Webb, Harrison Giuseppe D'Allura Claire Kavanagh and Courtney Friedrichs.

Describe your sound…

It constantly evolves. I don't like to limit myself to a certain genre, but what I truly love to create is vibey music. Almost like car or elevator type music in a sense.

What inspired you to get into music?

I was around music from a very young age as both my sisters sang, and my brother played just about every instrument! Both of my parents were into music and sang too, plus my cousin Rami Afuni, is a producer in New York. He's worked with artists like Miley Cyrus, Lady Gaga, and Akon. And then, there's my brother-in-law, Omar Ibouten, who is also a producer. With this, I was blessed enough to have a good team around me that allowed me to develop and make the most out of my situation. Omar was the one to first get me off my feet with music, when he recorded and produced my first mix tape "Baby is Born" in 2014. Prior to that I was more involved with playing the drums, performing at school shows and different events. I started off with rap but then started taking singing lessons in 2016 to improve my range.

Tell us a bit about living in Kuwait when you were younger – how has that experience shaped you?

Living in Kuwait was a wonderful experience and I hold many beautiful memories about the place. Even though I'm not from there, I see the country as one of my homes and many of the closest people in my life are still living there. It has definitely played a massive part in my life and is a big part of my identity for sure, starting with my accent. I went to an American system school in Kuwait, which meant over the years, I developed somewhat of an American accent. Kuwait is a beautiful country with wonderful people I would definitely recommend for anyone to visit.

Who would you say have been your biggest musical influences?

Drake and Majid Jordan. I also find inspiration in so many other artists, but it changes day to day. Wait – let me open my Spotify. Ok here we go, Pop Smoke, Rosalia, Wegz, Willow Smith and RIN. Five different genres, four different languages – the last five artists I've listened to. Madness.

Who would be your dream collab then?

Majid Jordan. Majid is an amazing vocalist and Jordan is an outstanding beat maker. The moments they capture through their music is unreal and every song is relatable.

Earlier, we asked what your favourite line is from your own song. What about someone else's track?

"Your love makes sense to me, but my life gets in the way" (Free, by Majid Jordan). This is such a powerful line that I can relate to. Whether it's with an occupation, a decision, a girl, a place to live or whatever, I always think about the different paths I could take. So many things have made sense to me, and I would have loved to pursue those options, but life and what I needed to do, got in the way.

https://www.instagram.com/p/CBkW-9pgCcW/

So, what's the plan for the big picture?

At the end of the day, I just want to create art. The plan is to continue developing and to stay patient throughout the process. There is no end age in the acting or music industry, so I know that sooner rather than later, my time will come.

And until then, what's coming up for Sami Afuni?

Expect to see more art from me – whether that's music, acting or art in general. I'm currently working on a number of exciting projects, so expect a lot more productivity in the near future. And, I plan to continue that productivity. Just know that I'm always up to something!