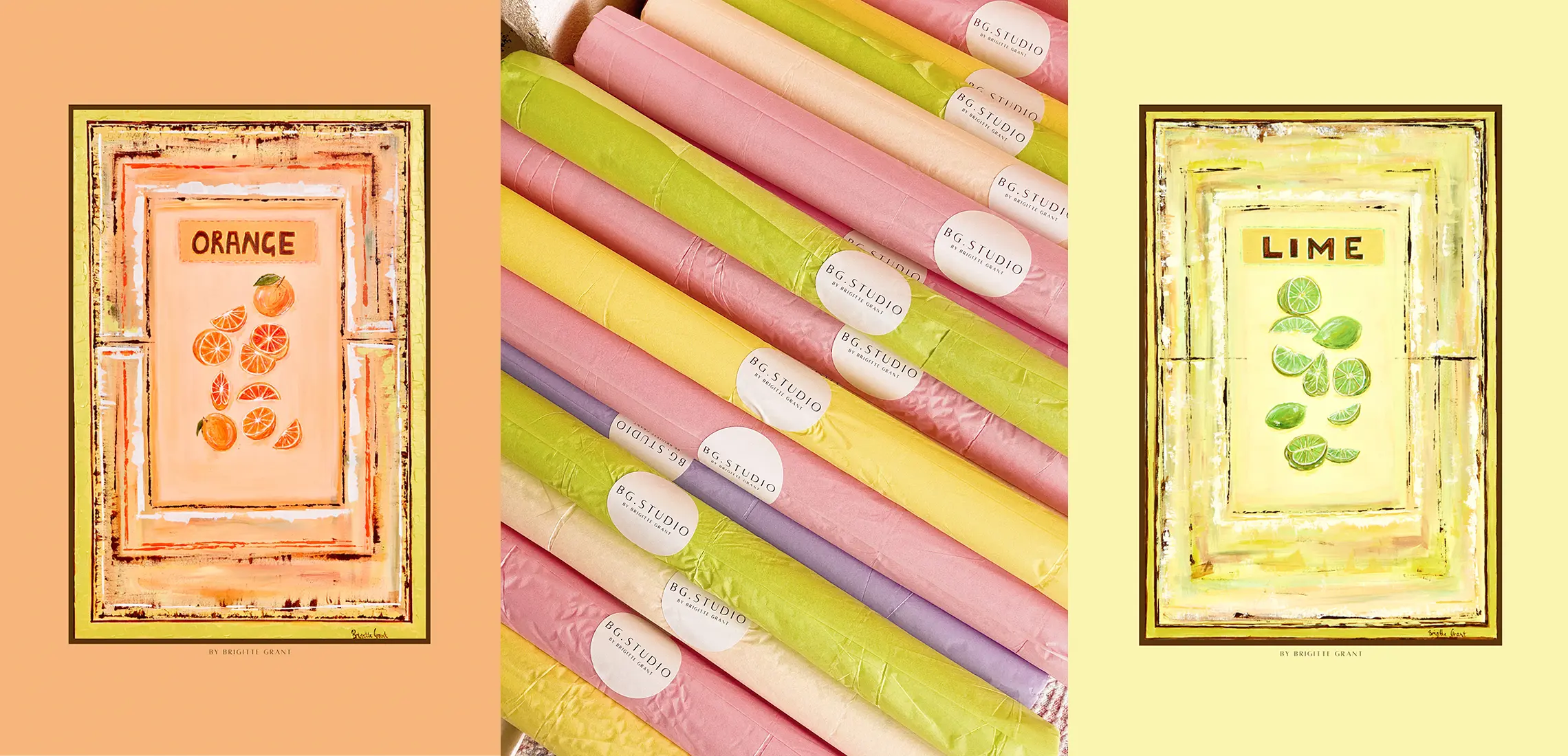 Got Paint? Our Exclusive Chat With BG.STUDIO
Citrus or sweet?
By Guest Styler | 2nd June 2021

From failing in art school to a fruitful series that's both sweet and sour, Brigitte Grant is the latest artist to grace the walls of Style HQ (now brimming with local artists we know and love like Narjia Browlie!). Born from lockdown leisure, BG.STUDIO began and flourished at a time when businesses were struggling most. One year later, she's using her coastal roots to inspire as many people as possible with paintings and prints that pop!
Hi Brigitte, thanks for chatting with us at Style. Tell us, where are you and what are you doing right now?
Hey Style! Thanks for having me. I'm actually writing this while on my way to Sydney. I am going on a quick road trip with my friend who is moving there this week.
How long have you been painting for?
Not very long at all, probably about a year now. My brand BG.STUDIO started in September 2020 – it's still a baby!
Where are you based?
I'm currently based on the Sunshine Coast – it's where I have grown up. The Coast doesn't take itself too seriously and that's exactly why I love living here (for now anyway).
Where did your art journey begin?
This is a funny story. I actually failed art at school! But in saying that, I have always considered myself a very creative person and when COVID hit, I began painting just to pass the time. I really enjoyed doing this and eventually started posting photos of the finished art on my personal Instagram stories. I was surprised at how many people loved my style of painting and had people reaching out to me to purchase my art and create custom pieces. My hairdresser was the first to convince me to sell one to her. She then recommended starting an Instagram page and that's when @BG.STUDIO__ started!
What inspired your European fine line strokes?
I really love art that doesn't take itself too seriously. I find that the European style reflected in some of my pieces represents the simple things in life. Though all my pieces have a specific attention to detail, I like to make sure all objects I paint become realistic. With this in mind, I also like to combine a pop art style, making sure colour is at the forefront. My latest series, The Fruit Series, is a good representation of this by taking something so simple such as a peach or an orange, and turning it into a bright, colourful piece.
If one of your paintings could hang on any wall in the world, which would it be?
I think my main goal would actually be to get my paintings hanging on as many walls as possible. I love creating art and am super happy people love it as much as I do. I would be over the moon if I could just have original art pieces hanging in spaces all over the world I love seeing it everywhere and how everyone styles them. It inspires me to create more!
Three tips to styling your paintings within a home?
1.    A good frame (essential) 2.    Make the painting pop with a statement piece (a rug, vase, flowers) 3.    Don't be afraid to add more colour
Your style has changed pretty dramatically since your first IG uploads, what caused this change?
I think it was the fact I had only just started my painting journey. I didn't really have a style yet, I just liked creating pretty things!
I still like to think I don't have a certain style as I really do like creating all different styles, depending on what mood I am in and what inspires me at the time.
I also wasn't expecting the amount of attraction my art has gained in such a short amount of time, so while I've had a bit of a style change throughout my journey, it wasn't hard for me to find my strengths and I wasn't afraid to try new things. I think I will keep doing this for a while.
Where do you see yourself in ten years?
Honestly, if you had told me a year ago I would be selling paintings and prints to people all over the world, I would have laughed in disbelief, but here we are! I would love to continue to paint and create but in saying that who knows – anything is possible apparently!
Quickfire questions:
Favourite fruit? Mango! Bucket list travel destination? Mallorca in Spain! What colours are you obsessed with right now? Green and deep blue at the moment Playlist to paint to? BG.STUDIO on Spotify (think: old school hits) Interior must-have? A great couch!