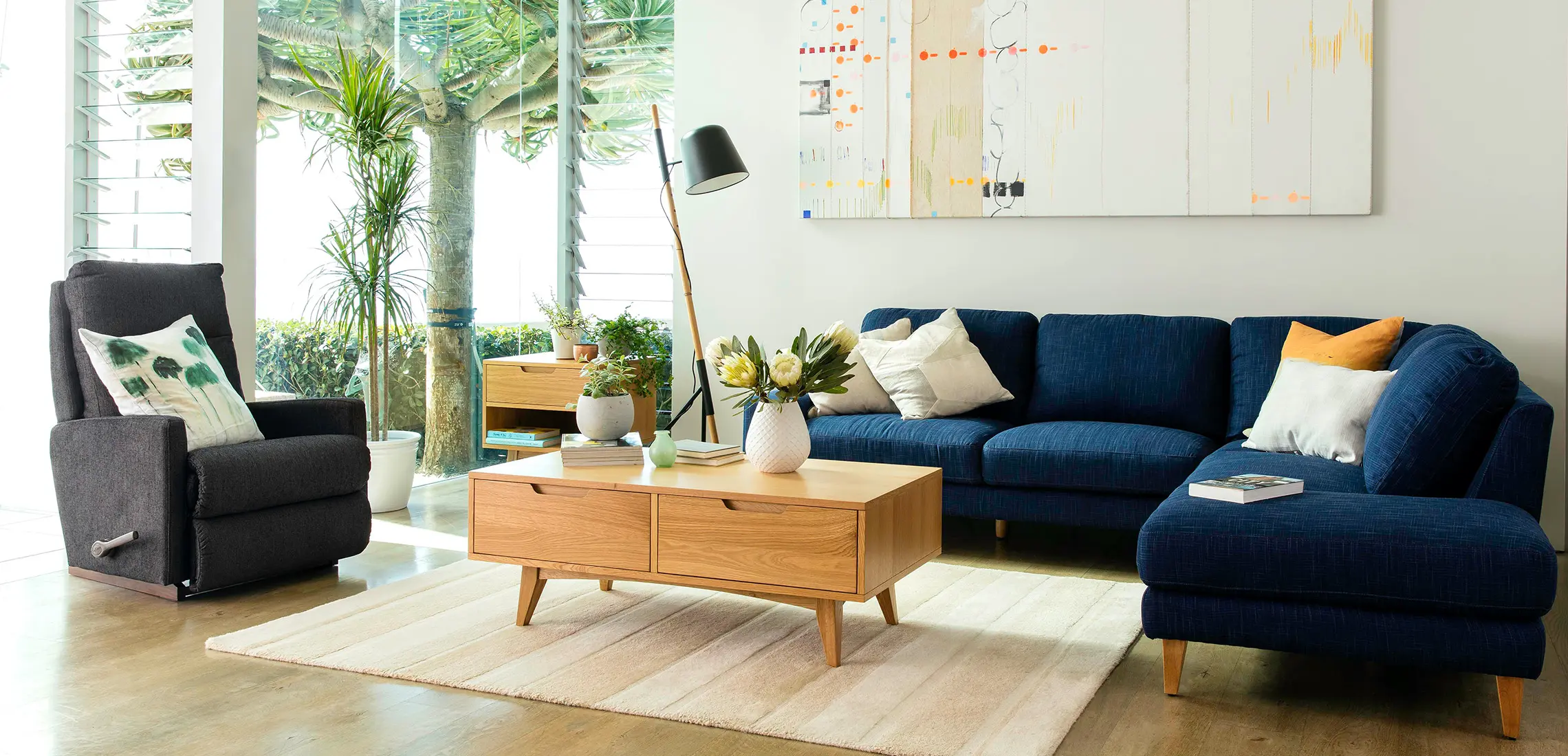 9 Living Room Essentials You Need To Make Your House A Home
Kick back, we've got you!
By Dinushka Gunasekara | 2nd June 2021

Just a quick note: This post is sponsored. To prevent a paywall or annoying pop-up ads, we sometimes need to publish sponsored content but we only promote brands that we think are doing great things and our readers will love!

Living room, sitting room, family room, or – if you're a household of fancy pants – even the parlour; whatever you call the space, it's likely your favourite place in the house. Made to be lounged in, we want to make sure it's a completely stress-free zone with our living room essentials checklist:
A Comfy Couch
The entire aim of a living room is to kick back, so a quality and stylish couch is an absolute must. Get the best of both words with a La-Z-Boy – adored worldwide for a reason. Whether you opt for their suave sofas, deluxe armchairs, or turn comfort up to the max with their iconic recliners, there's an option for all aesthetics and budgets.
A Practical Coffee Table
The milk to your couch's honey, a coffee table not only serves as the focal point of the room, but the dwelling for all sorts of knick-knacks. As the central surface area, it subtly brings the whole living room together.
Accessible Side Tables
This is the easiest way to add more surface area to the room and help those sitting on the ends of the couch avoid the awkward shuffle and reach. Even if it's just a home for your TV remote, make sure you choose a height that comfortably fits with the couch.
A Statement Rug
It may be on the ground, but a rug is not bottom of the barrel when it comes to executing your living room style. With its sheer size and scale, it can change the whole aesthetic to whatever you want it to be.
Mood Lighting
Light it up or down with the right pairing of overhead lighting and table lamps. A chandelier is effective and eye-catching, while a lamp doubles as décor and a practical choice when you need targeted lighting.
Plush Pillows
Chuck in a touch of character (and back support) with a throw pillow, or two, or three. Just make sure you don't go too overboard – people do need a place to sit!
A Talking Point
Whether it's a lush plant, quirky sculpture, or browse-worthy coffee table books, your living room needs an accent piece to show off your personality. Bonus points if it can also serve as an icebreaker for your guests to ask, 'Where'd you get this from?"
Wall Art
A bare wall can not only look drab, but it can also make a room feel heavy. Hang up a framed picture or decoration to break up the blank space and bring the living room together.
A Vibey Entertainment System
As one of the most leisurely rooms in the house, you must keep it ready for all occasions. A great TV is essential for Sunday arvo binge sessions, while a high-quality sound system will have everybody grooving, any time.