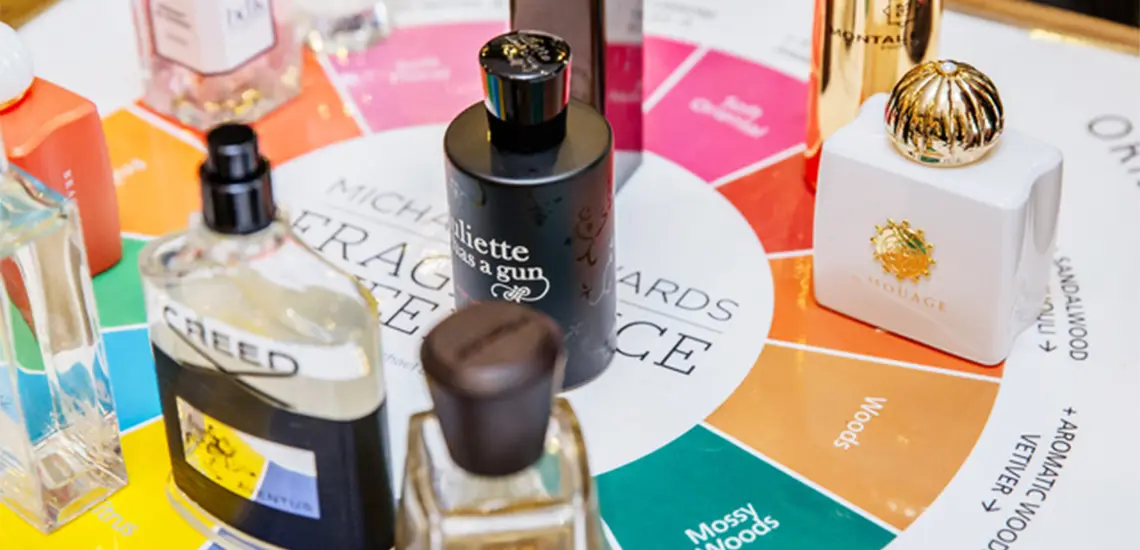 Where You Can Find The World's Best Perfumes Right Here In Brisbane
Sip champagne and take (a fragrant) note.
By Tracy Sinclair | 4th April 2019

I had the most fascinating experience recently, at a perfume masterclass – sounds indulgent I know, and it was. Like most people, I love perfume and can't resist a perfume tester. I even remember the first perfume I ever bought – it was Rive Gauche by YSL. It cost me a fortune as a 16 year old, but I felt so sophisticated wearing it. When I smell it now it takes me back to catching the train to work in Auckland. It was my daily spray of luxury.

So I was super excited to be in the beautiful Parisian-inspired, Libertine Parfumerie, surrounded by the highest quality scents from the world's finest perfume houses. (I already knew Libertine as this is where I was introduced to Creed Himalaya, a male fragrance, but a favourite of mine for years). It's an elegant boutique with rows of luxurious bottles lining the walls and overflowing vases of flowers, just off James Street, although it would be perfectly at home in the streets of Saint-Germain-des-Prés.

We're welcomed with a glass of champagne by boutique Manager Gai and Michael Marzano, National Educator for Libertine, as we take a seat at a table in the middle of this lovely boutique. There's a printed Fragrance Wheel (a bit like a pie graph) at each setting. The fragrance wheel we learn, was developed by acclaimed fragrance Author, Michael Edwards (Fragrances of The World 2017) and essentially it segments perfume by type. You will have heard of woody, oriental, floral, green – this is how fragrance is categorised and once you get to know your favourite type, it makes it easier to hone in on perfumes you might like. But today is about having an open mind, and trying all the notes. I can't wait.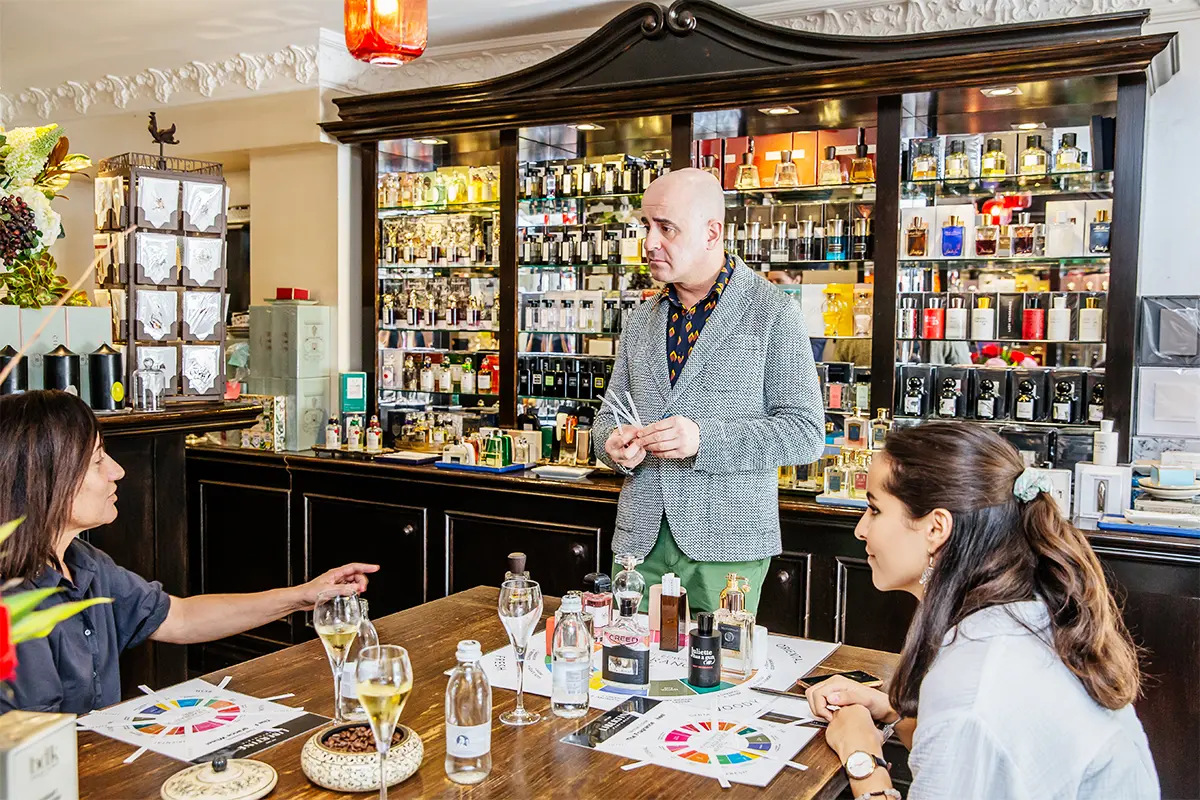 In front of Michael, is another fragrance wheel, however his has roughly 12 perfumes, one on every segment – tantalising bottles of luxury, ready for us to sample.
And this is where it gets so, so interesting. As Michael works his way around the wheel, he explains each fragrance in detail, sprays it onto a test strip and hands us each a strip. We smell it, and place the strip on the wheel in its right spot, so that we can come back to our favourites later and try them on our skin.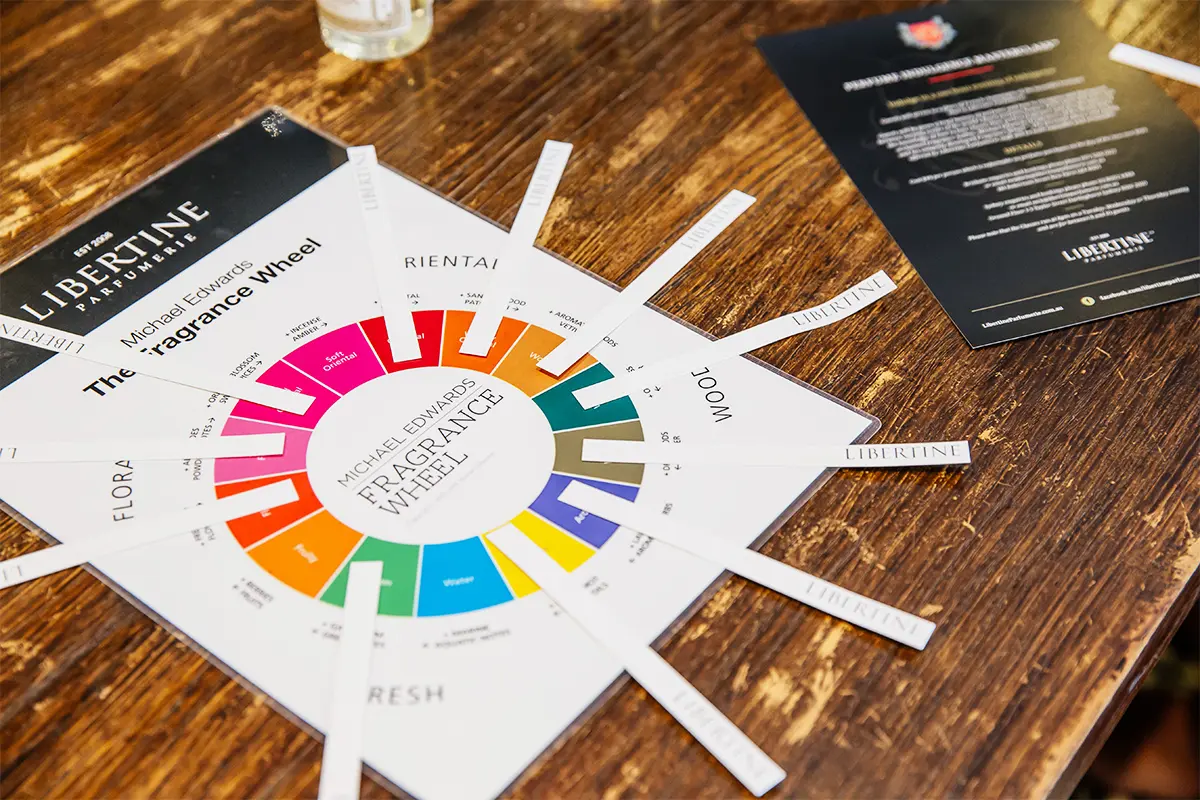 We're in awe of Michael's knowledge of each perfume, "Grace Kelly wore Gin Fizz by Lubin (founded in 1798), which was named for the popular drink of the day. It's a delicate soft floral with powdery notes of bergamot and also juniper, which is found in gin".
He also shares the ingredients of each perfume "Green is a perfume note that became popular in the 70's, think Chanel No. 19 and the original Private Collection by Estee Lauder. They were the first two fragrances to use this ingredient, called galbanum, which is a long grass from Iran".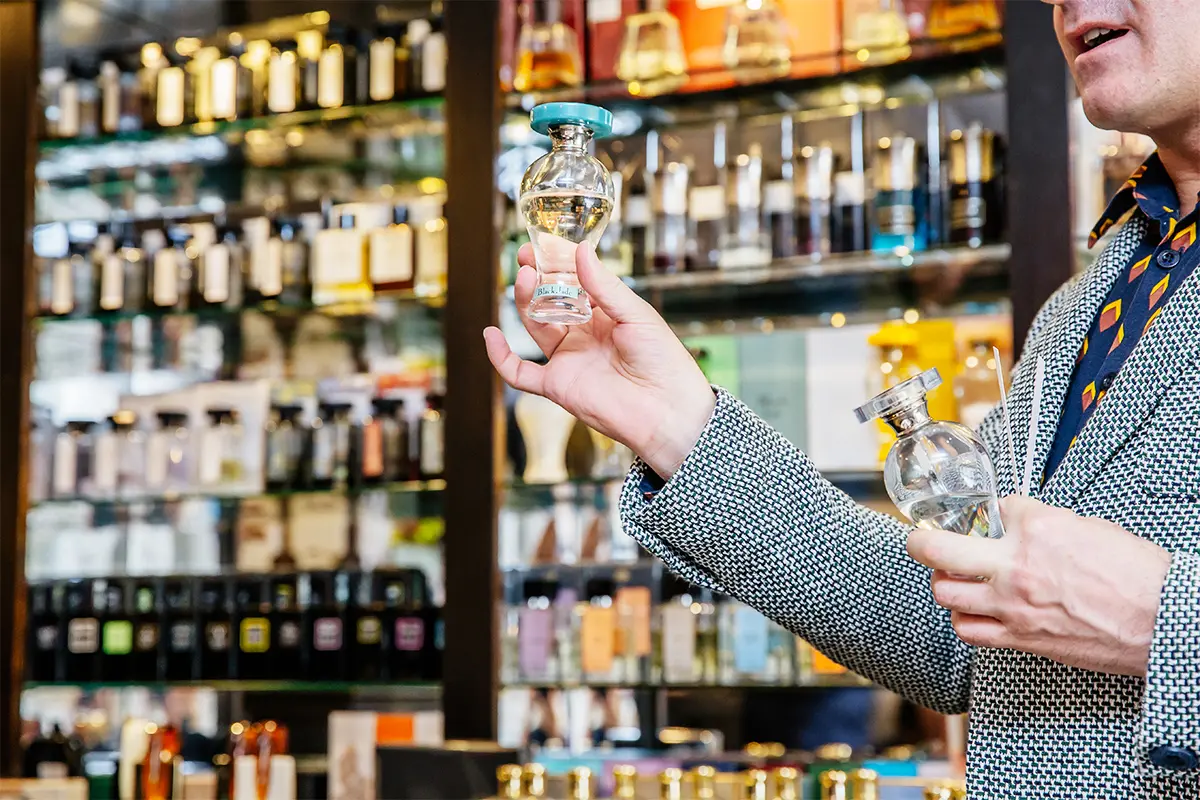 Or detail about the perfume houses, "Amouage are handmade luxurious fragrances and come from the Kingdom of Oman and the brand is owned by the Sultan of Oman. French master perfumers create these fragrances for him. You'll get 18 to 20 hours on your skin, because Amouage fragrances have 40% essential oils, as opposed to synthetics".
Tuberose, bergamot, patchouli, jasmine, oud, tonka bean, orange blossom and ylang ylang fill the air as we sip on champagne and imagine exotic faraway places. It's intoxicating.
I could listen to Michael for hours, however the class is coming to an end so now it's time to choose our fragrance. I was convinced that I liked Gin Fizz, however on my skin Gai empathically says 'No, it's too wishy washy on you. You need something that makes a statement". I love the individualised advice and of course, Gai's right and I happily go with her suggestion – Amouage Honour Woman. It's 'me' and it's divine.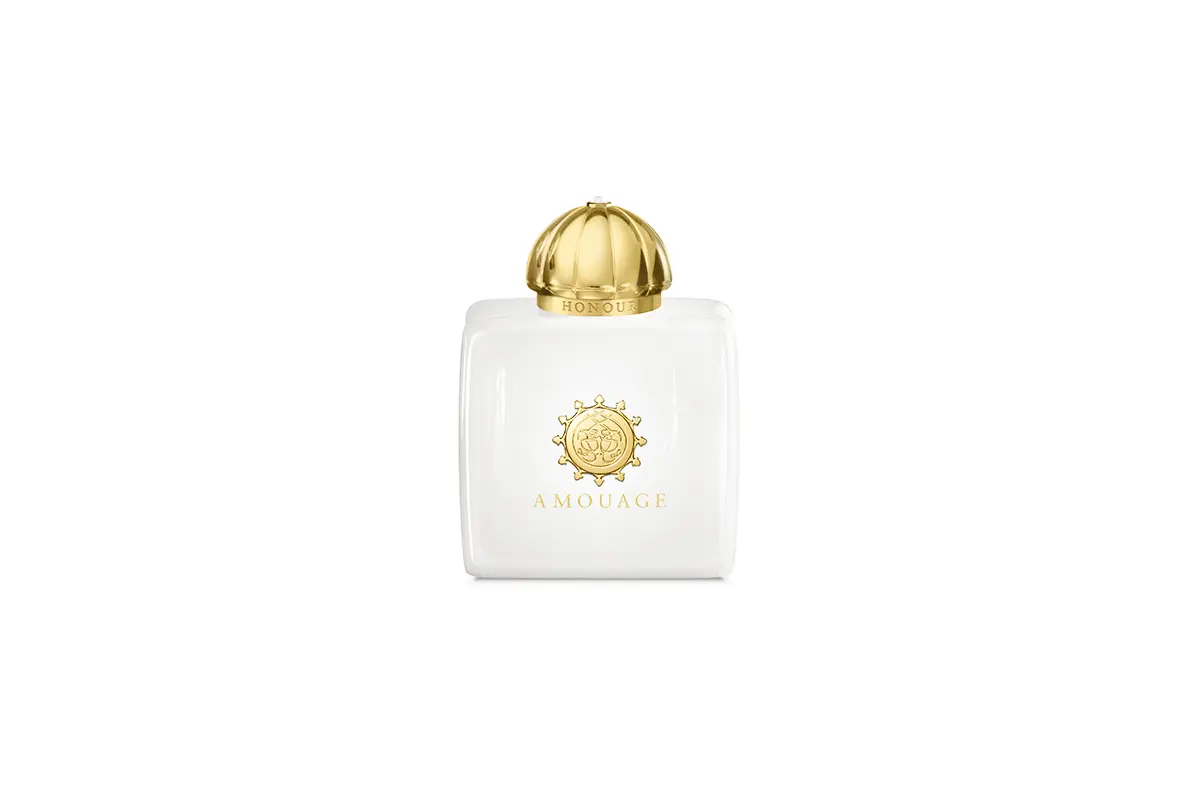 What I loved about this masterclass is the history lesson and the opportunity to explore new scents – it's ideal for an intimate group of friends, colleagues or clients. They take bookings of 8-10 guests and the cost is $49 per person which is redeemable on perfume purchases on the day of the class over $199.
As Estee Lauder said "Perfume is like a new dress, it makes you quite simply marvellous". The Libertine Parfumerie Perfume Indulgence Masterclass is simply marvellous and a must-do if you adore fragrance.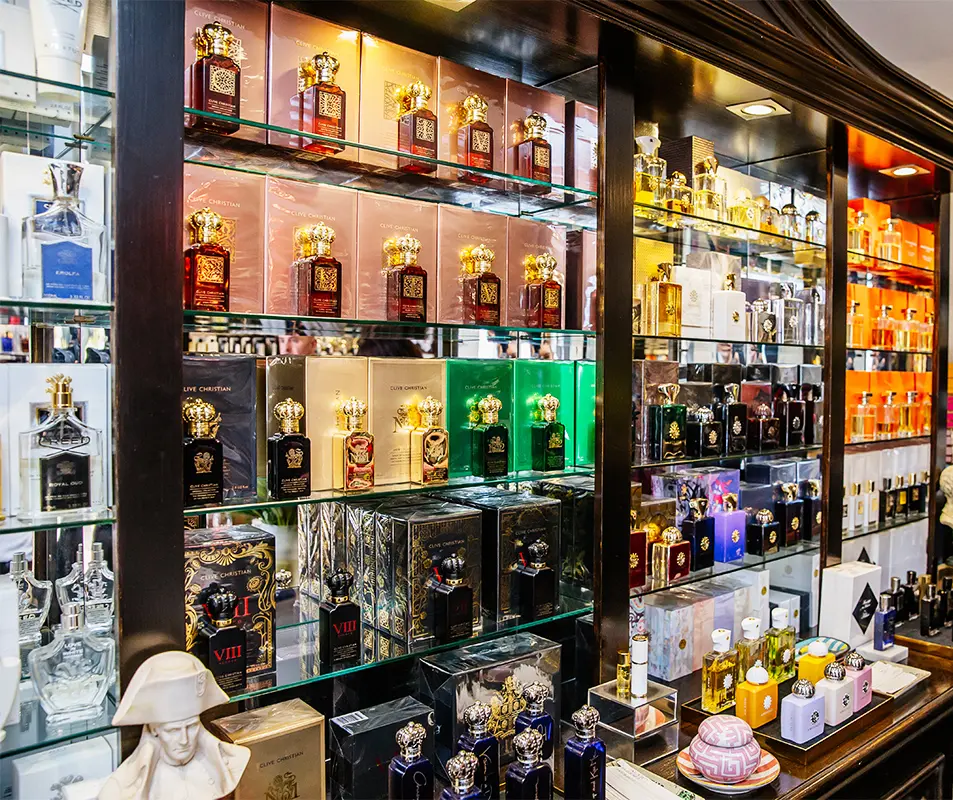 Libertine Parfumerie is at 181 Robertson Street, New Farm and also in Darlinghurst, Sydney Phone (07) 3216 0122 for Brisbane bookings, or (02) 8002 4488 for Sydney bookings. You can also email newfarm@libertineparfumerie.com.au.
My Masterclass Takeaways:
Lubin – most luxurious brand in the world.
Michael Marzano's favourite fragrance is Amouage Bracken Woman.
Fragrances don't change – our bodies change, so if your perfume smells different, that's why. Try something new!
Queensland men prefer woody masculine fragrances that make a statement and reaffirm masculinity. Righto mate!
Creed Himalaya has gunpowder notes in it – which explains why I like it – it's dynamite!
In Saudi Arabia, men wear rose-based fragrances, because rose in Islam is a mystic flower that has religious and spiritual connections. For a long time, Paris by YSL was the number one seller in that market.
Fresh woods and florals are good for daytime in a warm climate, but can also take you into night.
Wear your fragrance on your inner elbow, wrist, behind the knees, on the upper and lower abdomen, back of the neck. You'll smell it on yourself more!
Liked this? You'll love these! 1. Hide Your Credit Card Because We've Found 13 Fragrances You Need 2. Styler's Picks: Our 5 Favourite Cosy Candles For Autumn 3. 6 Of Our Favourite Brisbane Boutique Jewellers