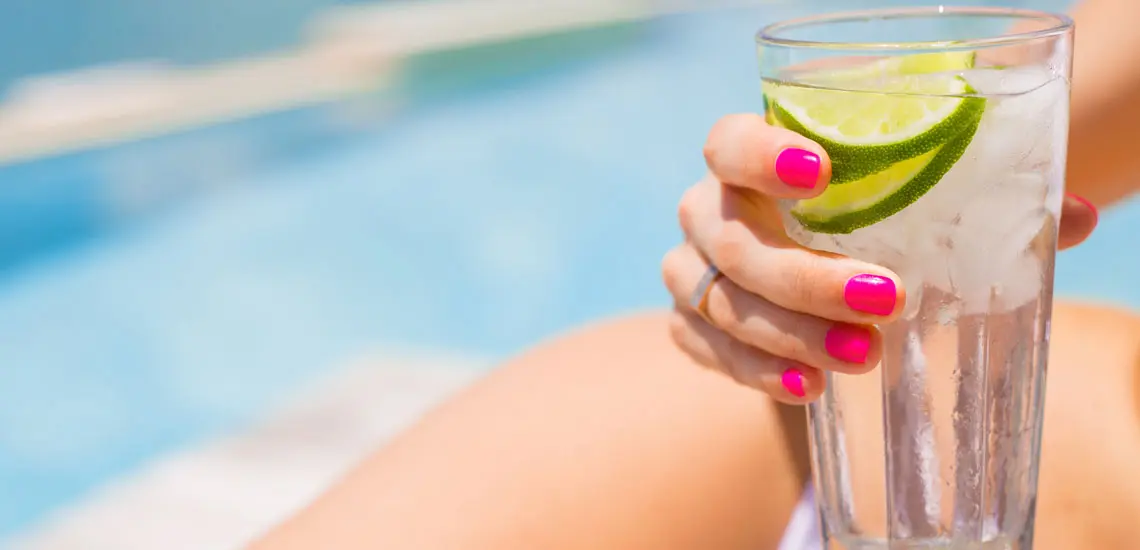 How To Beat The Heat In Brisbane
Brisbane is sweltering, but we know how to stay cool when it's just too darn hot.
By Brittney Deguara | 21st November 2015

'Tis the season: birds are singing, jacarandas are blooming and stepping outside is like getting hit in the face with an oven. The summer heat has well and truly arrived. And because we're just really nice guys and gals here at Style, we've come up with a few solutions to help you keep cool. So peel yourself off that couch and swim to the edge of your sweat puddle, because you'll be itching to try these cool ideas.
1. Ice, ice baby
Get your skates on and glide like Steven Bradbury (or fall like everyone else around Steven Bradbury). Either way, you'll be rewarded… like Steven Bradbury. Ice World is THE place to cool down; it's literally a world of ice. "As you enter the rink, you'll escape the intense Queensland heat and instantly feel refreshed and revitalised!" their website proclaims. We are SO SOLD.
You'll be the coolest cat on the (ice) block with their cheap sessions and great tunes. Sessions start from $11 with $1 skate hire.
Ice World Open seven days a week; times vary across venues 1179 Beaudesert Rd, Acacia Ridge & 2304 Sandgate Road, Boondall
2. Seek refuge in a cinema
Comfy seats? Check. Lollies and frozen Coke? Check. A giant screen playing a great movie (or any movie really, we don't care)? Check. Air-con? CHECK! The cinemas have everything we need to cure our heatstroke and save us from melting under the sun's evil rays.
WARNING: Remember to grab a big icy drink to accompany your popcorn. You're going to needed it when the dehydration and chapped lips hit. (Trust us, we've been there before).
And before you fret about it breaking the bank, we have the best tricks for cheap movie tix in town.
3. Strike Out
Run along to Wintergarden's one-stop-shop for fun and action. Strike Bowling in the CBD is more than just a bowling alley; it has 12 bowling lanes, a 30-person laser tag arena, multiple pool tables, a private karaoke room and three escape puzzle rooms made from the same stuff as your nightmares (or dreams if you go in for that kind of scary Sherlock whodunnit thing).
Enjoy a round of bowling from $14, laser tag from $12 and karaoke for $80 per hour. They also have a special deal offering unlimited activities from 5pm daily for $25!
Strike Bowling Open seven days a week, 10am 'til late Level 1, Wintergarden, Queen St Mall 1300 787 453
4. Eat! (But only cold stuff)
Bite into a giant waffle cone filled with your favourite flavours of ice-cream, gelato or sorbet from one of the best Brisbane joints for icy frozen confection. There are so many delicious flavours stocked in all of the different stores we collated for our definitive list, that we're salivating just thinking about it.
5. Let the force be with you
Book a session at Laserforce in Woolloongabba, because who doesn't love a bit of friendly competition on a hot day? Run around and eliminate your opponents one by one in an amazing, dry ice machined, air-conditioned atmosphere. But remember to keep a cool head… After all, you still wanna be friends with your mates after you shoot their puny, weak butts into submission.
Play a round from $11 or get a gang together and book a group of 10 from $8 per person.
Laser Force Open Fri to Sat 9am-10pm & Sun to Thu 9am-8pm 55 Ipswich Rd, Woolloongabba P 3891 1031
6. Fan yourself
http://giphy.com/gifs/hot-funny-cartoon-fBEDuhnVCiP16
Forget about those old handheld fans your grandma takes to church; go out and buy yourself and industrial size warehouse fan, strap yourself to the couch and prepare for the sweet blast of cool air to (hopefully not) blow you away. Or buy a portable air-conditioner. Or set up a paddling pool in your lounge. Or shut all your curtains and vow never to go outside until summer has let Brisbane out of it's devlishly hot clutches. See you in February!
7. Pool party!
If you're not lucky enough to have a refreshing, giant tub of water in your own backyard, chances are there is a swimming hole pretty close to your own backyard. There are 20 public pools around the Brisbane area, including Spring Hill, Chermside, Morningside, Paddington, Jindalee, Manly, Newmarket and Fortitude Valley. SO. MANY. POOLS. Some Brisbane City Council pools even have waterslides or kids' play areas (it counts if you're a kid at heart, right?). If  you want a more historic, and kind of fancier experience, dive into Spring Hill's heritage-listed bath, built in 1886.
All pools are open early morning through to the late afternoon, which means all-day swimming! Here's the full list of public pools and opening hours.
8. Make friends
Suss out which friends have air-conditioners in their house and see what they're doing in a super casual "OMG I've been meaning to catch up with you for SOOOOOO long," kind of way. Invite yourself over for an iced-coffee in the morning and DO NOT MOVE until dinnertime.
If they're rude and ask you to leave, then they're obviously not true friends. You should probably sit down together for a long chat about where your friendship is heading. Do this immediately. In their house. Next to their air-con.
9. Beach yourself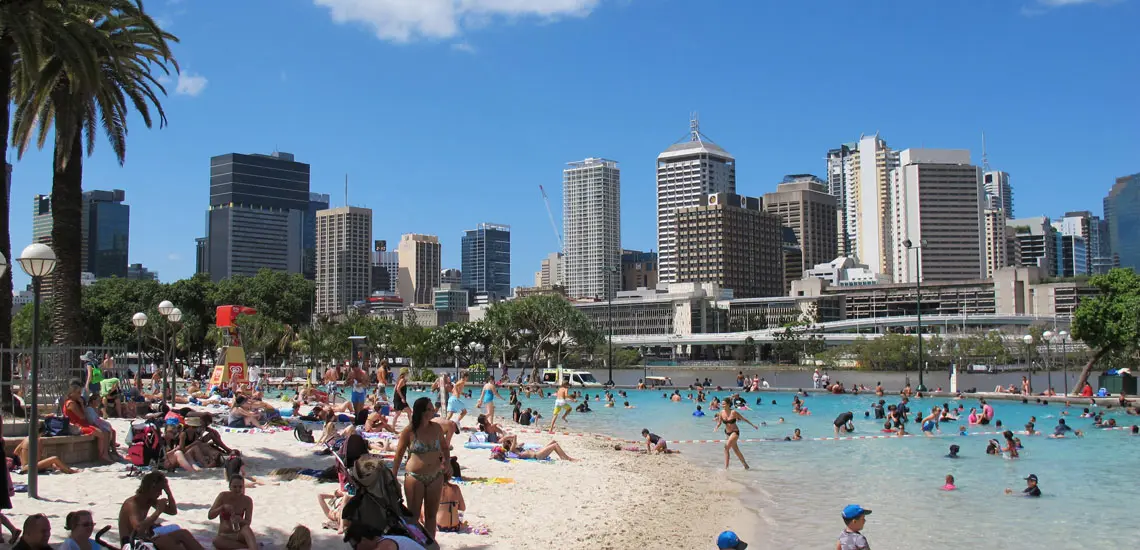 Ahhh South Bank, our old friend. Brave the crowds at South Bank's Streets Beach when you desperately need to cool off. Along with being the only city beach in Australia, it's FREE! Wade in the waters of the man-made beach to cool off before and after enjoying the delicious eats on offer around South Bank.
For those who want to enjoy the beach scene without bobbing between waves or flailing around in the breaks, this is the top pick for you. For those who like the other things, head outta Brisbane and get thee to a real beach!
South Bank Streets Beach Stanley Street, South Bank Parklands, South Brisbane
10. Get slushed
Remember BYO Cup Day when everyone dug out their giant Tupperware containers and wheelbarrows and filled it with litres and litres of slushed-up lolly water? We wish it were happening now, too. But in the absence of a giant trough of the frozen stuff, get yourself a regular Slurpee or Frozen Coke to beat those summer blues. Or, if you're REALLY craving a refreshing thrill, have someone help you cool off, Glee-style.
11. Freeze yourself
If all else fails, you're gonna need to go big and hire a mobile cold room. You heard us. Just pretend you're having a function and you need to keep all of your beverages cold, when you really intend to sit in there all day. Oh come on, there's no rules that say you have to put food and drink in a cold room and not sit in it to escape the evil, eyeball-melting Brisbane heat. Let it go, let it go and become one with the wind and sky. After all, the cold never bothered you anyway.