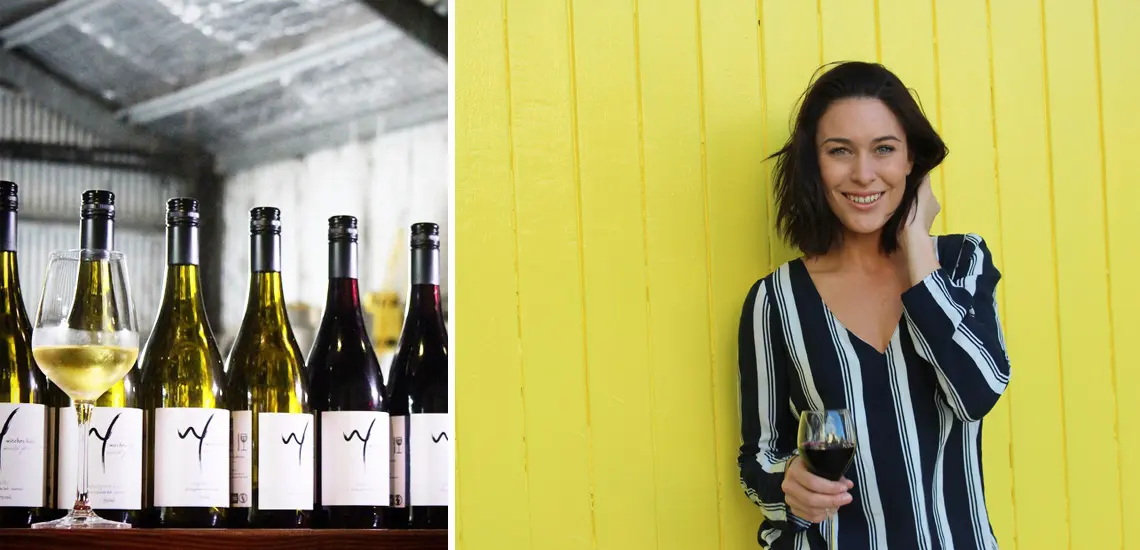 From travel addict to wine tour trader
The glass is always half full for the Brisbane business owner of Tash Maree Travel wine tours.
By Guest Styler | 19th August 2015

While we may be on the search for Brisbane's next big idea as part of our Style + Substance campaign, it's never a struggle to find amazing business people who have already established their dream careers, like Natasha Hansen; the founder of Tash Maree Travel.

After working in a variety of non-conventional jobs in Europe, Natasha Hansen knew readjusting into the 9 to 5 mindset was not for her. So, she decided to use her experiences abroad to build her own business back home with the creation of Tash Maree Travel; a bespoke tour company offering wine tours in and around Brisbane.
Q: Tell me a bit about how you got into the travel industry – and why wine tours?
I was bitten by the travel bug at an early age. It had always been my dream to travel, explore and experience all kinds of cultures: so I did. I have lived in such places as Bulgaria; working on the snowy slopes of Borovets to keep my stay. I roughed it for six months in a tent at a picturesque surf camp in the Basque Country in Northern Spain, taking photos and creating holiday photo packages for guests to make $15 euro. I joined a 'Rolling Circus' with a company called Stoke Travel, and we traveled Europe in a bus bringing entertainment to each city to promote the word of Stoke Travel. It sounds like it's all fun and games – however, it was hard work with little pay! But, if it meant I could prolong my dream holiday, I was in!
Returning back to Brisbane two years later, I was not ready to get back into the 9 to 5 grind. I had my nose to the grindstone, brainstorming all sorts of ideas to create a job to suit the lifestyle I had become accustomed to.
Tash Maree Travel started off as an adventure tour company, targeting backpackers and showing off all the hidden gems of South East Queensland; something I wish I had available to me when I was traveling OS.
One thing I didn't consider was the fact that backpackers don't have money – I certainly didn't have a dollar to spare when travelling. So it was back to the drawing board. I remembered a rewarding time back at surf camp, when I would guide non-profit wine tasting tours in my downtime. I would walk our guests down to the local wine makers vineyard where he would showcase his wines, give us a shot of grappa and send us on our way… This was probably a turning point for me when I realized that everyone loves wine – the grappa – not so much!
Q) What does your typical day involve?
Not one day is the same in my world, and that's what I love about it! Each day I meet people from different cities, each with their own story to tell, each with their own style and humor. It's a real eye opener.
Q) What do you love most about your job?
Sharing appreciation for good food and wine. I work with a bunch of enthusiastic food and wine lovers (much like myself). I'm grateful to witness the passion and care that goes into creating quality food and wine that gets served on my tours and to be exposed to some of the best food and wine in Queensland.
Secondly… All this great food and wine attracts a certain kind of crowd; people who are celebrating a special moment in their life, people who are deserving of a day of relaxation, or group gatherings with friends and family.  To be a part of these occasions and to have the opportunity to provide a day of fun and relaxation to my tour groups is a gratifying feeling and that is what I love most about my job.
Q) What's your favourite travel destination?
Calanques De Cassis, (South France) & the Sahara Desert (Morocco) at sunrise. Just. Magical!
Q) What's next on your bucket list?
The list is endless, I'd love to ferment my own wine start to finish. I'd love to ride a segway. But there's one in particular on the list that I think is pretty cool: I would like to be in a position where I can provide hands-on help with The Global Village Housing team in Cambodia to build shelter for a family who have suffered from a natural disaster or struggle with poverty.
I believe this organisation isn't just a vacation to visit third world countries to remind yourself to be grateful; this organisation gives you the opportunity to meet the family and work with them to build something they can call a home. To provide them with a job and help make their lives that little bit better… and you never know, they might just make your life that little bit better too.
Q) What's your business mantra?
Wine Not! Why not go outside of your comfort zone and try new things? Why not follow your dreams? Why not give it go…
Q) Who or what inspires you?
I am inspired by the many young entrepreneurs who have taken the initiative to start their own business and have been a huge success. A lot of people see a young female and find it hard to believe she can be a sole trader. Hearing about all these success stories from young entrepreneurs gives me the motivation and courage to keep going and prove to people that starting your own business, although hard, is certainly possible! I also cannot forget my friends and family who encourage and support me through all my crazy ideas. Their positive attitudes provide me with the confidence to do what I do.
Q) What gets you through your day?
Receiving rewarding feedback from my amazing customers. What a wonderful feeling it s to run a business that makes people smile… It beats receiving paperwork!
And cheese – cheese gets me through the day.
Q) The biggest misconception about me/my job is….
There is no right or wrong with what is good wine, it's a personal preference, which is why tasting a variety of wines is so great! Whether a wine connoisseur or a wine lover in the making – there's something for everyone. Everybody is different, so it's up to you to find your flavour and make your own judgement about what's a good wine for you.
Q) If I wasn't in wine tours, I'd be…
Probably a lot less stressed (laughs). No, I wouldn't change it for the world. If I wasn't working in the wine industry, I'm not sure what I would be doing.
Q) On the weekends you'll find me…
If I'm not up a mountain running wine tours, you'll find me playing music with my partner (trying to at least), catching up with friends and family, on the hunt for delicious eateries around Brisbane, or making my way to the beach/hinterlands for some R&R.
Tash Maree Travel www.tashmareetravel.com