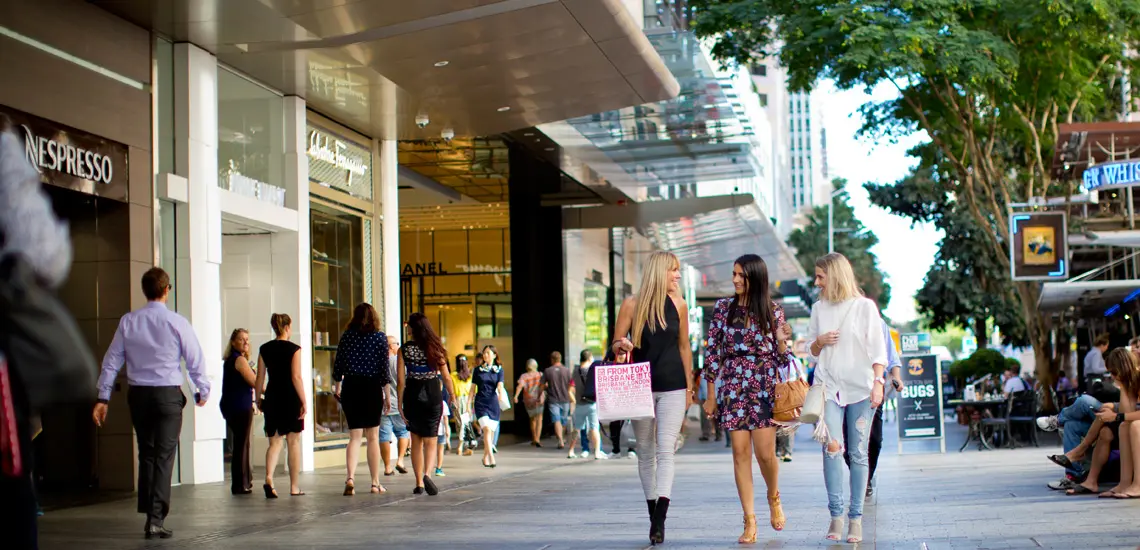 Where to Find Brisbane's Best Shopping
Rediscover the Brisbane shopping experience.
By Guest Styler | 23rd February 2017

From the eternal search for the perfect tee to the thrill of finding a designer sale, we love discovering the many shopping gems still hidden in this city.

With a little help from the first issue of Brisbane City's retail guide, Shop, we uncover all there is to know about finding Brisbane's best shopping experiences.
BEST-DRESSED GUESTS
Shortly after the thrill of receiving an invitation to a wedding, birthday or seasonal soiree subsides, there's a rush of anxiety and the looming question, "But what am I going to wear?"
If you want an outfit that turns heads for all the right reasons, stress less and go for a stroll through QueensPlaza, where you're sure to find the perfect ensemble for any occasion. Start at Zimmermann, Carla Zampatti and Review – the places Aussie fashion dreams are made of. Then step into Wintergarden and head to Sheike for your best chance of finding a show-stopping outfit.
For a large dose of labels all under the same roof, it's true what they say – there's no other store like David Jones. There's even a free in-house styling service so you can find the ultimate outfit and accessories with expert advice.
Of course, when attending any special event your date's outfit should complement yours. Whether you enjoy shopping with them or you prefer taking the reins, make a pit stop at MJ Bale, Roger David and Politix. But sophistication doesn't end there: Saba is a Style favourite for unique and stylish men's and women's fashion and accessories.
STYLE SAVVY
There is an unrivalled mix of independent boutiques and big-name retailers scattered throughout the Brisbane shopping district. Each one offers shoppers a collection of fashion and accessories, and some will be home to products and garments that you won't find anywhere else.
Retailers such as Topshop, Country Road and Seed Heritage will have experienced CBD shoppers swooning over the latest international and local trends. But stores like Scotch & Soda on Elizabeth Street and G-Star Raw on Adelaide Street have a unique offering that puts them in a league of their own.
For on-trend women's fashion at a price point that's too good to ignore, big-name international stores including Forever21 and H&M are your go-to. Don't forget independent and locally-owned Verge Girl on Adelaide Street for the best in young women's fashion and the ideal outfit for your next #OOTD Instagram post.
Lads looking to step up their street-cred with a fresh pair of sneakers or crisp new threads should look to Laced on Adelaide Street, where they'll find the latest apparel from international labels such as Carhartt and North Face, as well as other popular Aussie brands including Grand Scheme and Bowery Supply Co.
We all like to rock the freshest new trends, and at the new and improved General Pants Co. in The Myer Centre and Glue Store on the top floor of Topshop, you can't go wrong. These are the ultimate one-stop shops for you and your partner, and with drops of new gear daily, you are guaranteed to walk away with the latest in street fashion.
Rodd & Gunn, Topman and Tarocash are the ideal destinations for any guy with a relaxed lifestyle who takes pride in their appearance and wants to exude effortless style.
COOL KICKS
When it comes to the perfect pair of heels or kicks to match your ensemble, it's tempting to head straight to the well-known footwear stores such as Nine West, Windsor Smith, Wittner and Jo Mercer to find your perfect match.
But if you still can't find what you're looking for, our top tip is to search the clothing stores. Retailers such as Zara, Witchery and French Connection will stock a limited collection of styles, so if you find your match at one of these stores you're less likely to see someone else wearing the same style.
For the latest drops of exclusive sneakers from some of the biggest international brands (think Adidas, Nike and Puma), be sure to pop into Hype DC, Culture Kings and Universal. Remember, these places generally stock limited collections, so if you find your dream shoe there's no time for second-guessing!
Liked this You'll Love these! 1. Brisbane's Best Picnic Spots 2. 57 Things Brisbanites Say 3. Free Things to Do in Brisbane