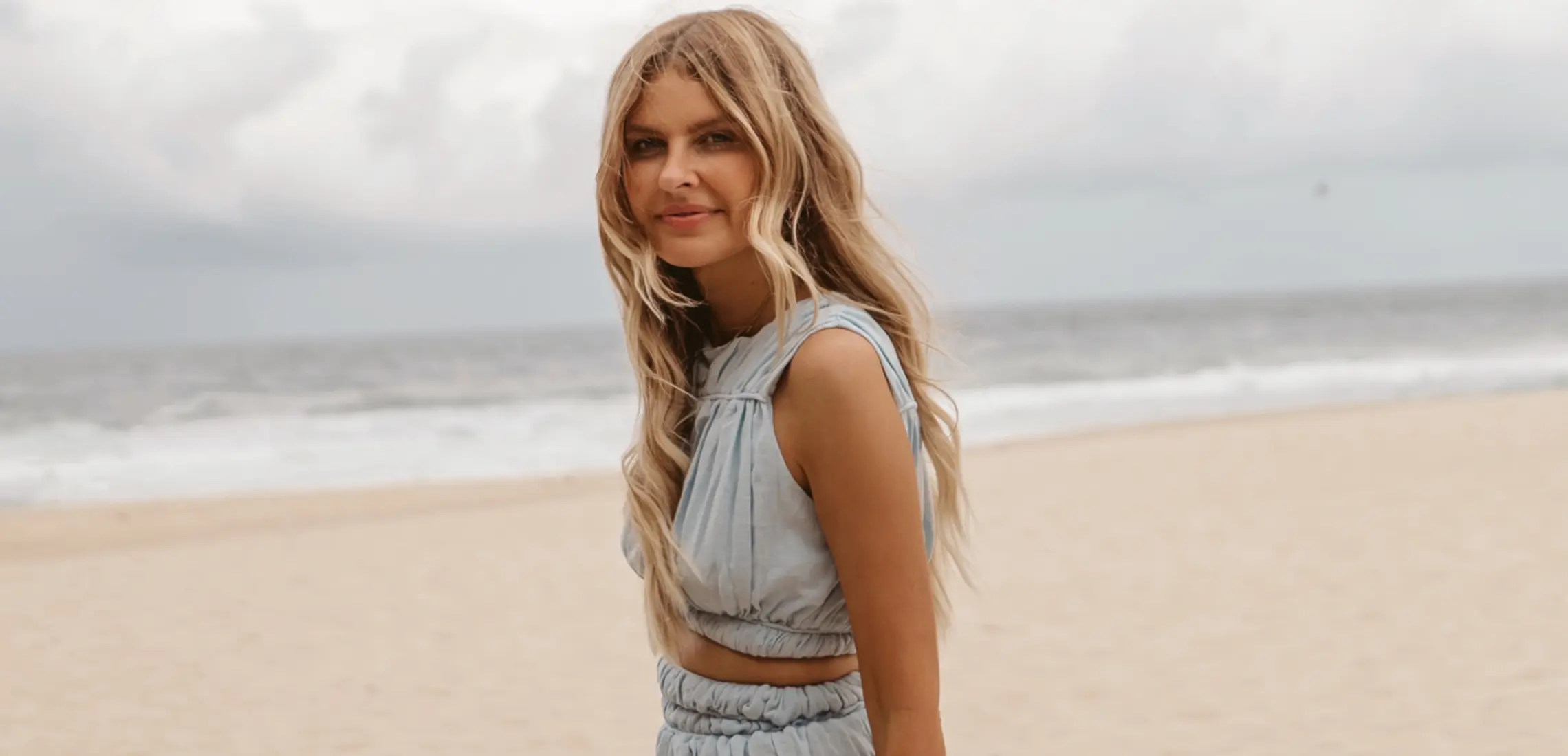 Five Minutes With Australian Influencer, Elle Ferguson
Aussie beauty, personified
By Astrid Taemets | 2nd March 2022

If you're a lover of all things fashion, beauty, and lifestyle, chances are you've heard of Elle Ferguson.

With over 680,000 dedicated followers on the 'gram, this Bondi-based influencer is at the top of her game, delivering fresh content daily and sharing styling, beauty, and fitness tips, always with a smile.

Here's five minutes with the successful Aussie beauty about making it in the influencer biz, and her fave picks from Brissy-based fashion brand, Girl and the Sun.
Hi Elle! Tell us, what does a typical day look like for you?
Elle: For me, no two days are ever the same, but that's why I love what I do! There are a few things I ensure I always do each day, and they include running for an hour on my treadmill, taking my dog for a walk, answering emails, running Elle Effect, and creating content.
How would you describe the journey of your career, and what advice would you give to anyone wanting to follow a similar career path?
E: My career journey has been hard work, but you get out what you put in. When I think about it, everything that I have done has gotten me to this stage in my career, because I never gave up. I never took 'no' or 'you can't do that' as the answer. My advice would be to just start, stop thinking about it, and just do it. Be inspired by opportunities that come your way. See your peers as people that can lift you higher, not someone you need to compete against. Knowledge is power, so never stop learning, and always be kind. The people you meet on the way up will be the ones you meet on the way down.
What has been your biggest career 'pinch me' moment so far?
E: I feel as though I've been lucky enough to have many of these at different stages of my career. I remember when I received my first invitation to Australian Fashion Week with my name on it – I still have the invite. That was a real pinch me moment. Then, there would be landing my cover on Cosmopolitan Australia, launching Elle Effect, and being personally invited to Kim Kardashian's house for the launch of KKW Beauty in California. I am extremely grateful for every moment.
What are some of the biggest challenges you've faced and had to overcome?
E: People seem to judge a book by its cover. I have continually had to prove myself over and over again in this industry.
What are some tips on creating beautiful content?
E: I think consistency is key. You need to stay consistent with your content, and like your own content. Don't try to be someone else. Find your own vibe, whether that's location, colour, or themes.
How would you describe your personal style?
E: Eclectic.
What is one item of clothing you cannot live without?
E: Denim shorts.
What's the one investment piece you'd recommend to someone looking to elevate their wardrobe?
E: A fabulous handbag that will last year after year.
Sneakers, heels, or flats?
E: Heels or barefoot – the two extremes.
What are your fave pieces from the Girl and the Sun's Zahara collection, and where will you be wearing them?
E: I love the Colette top and Ember maxi skirt – it's just so fresh, and I love the hint of skin where the top meets the skirt. I imagine wearing this to a beautiful long lunch. The Bambi maxi dress is another fave – I love the romance of the sleeve and would wear this on a day date with my fiancé, Joel. As for something to wear going out, the Harmony top would be a go-to. I love the shape and colour of this top, and I'd pair it with a super high heel, statement earring, and clutch bag. Lastly, the Sundown Top in beige – I love oversized shirting, especially in summer. This is something I would wear over my swimmers to the beach.
What are your top three essential beauty products?
E: Elle Effect The Tan, Elle Effect The Wash, and ghd Curling Wand.
What's the secret to getting your signature waves?
E: Dry shampoo is your best friend. Always curl away from your face, brush them out, and sometimes day two is better than day one.
What's next in store for Elle Ferguson?
E: Super exciting things with Elle Effect are in the world, and I cannot wait to travel overseas again.
Want more fashion in your life? Update your wardrobe with 2022's MVP wardrobe staple here.