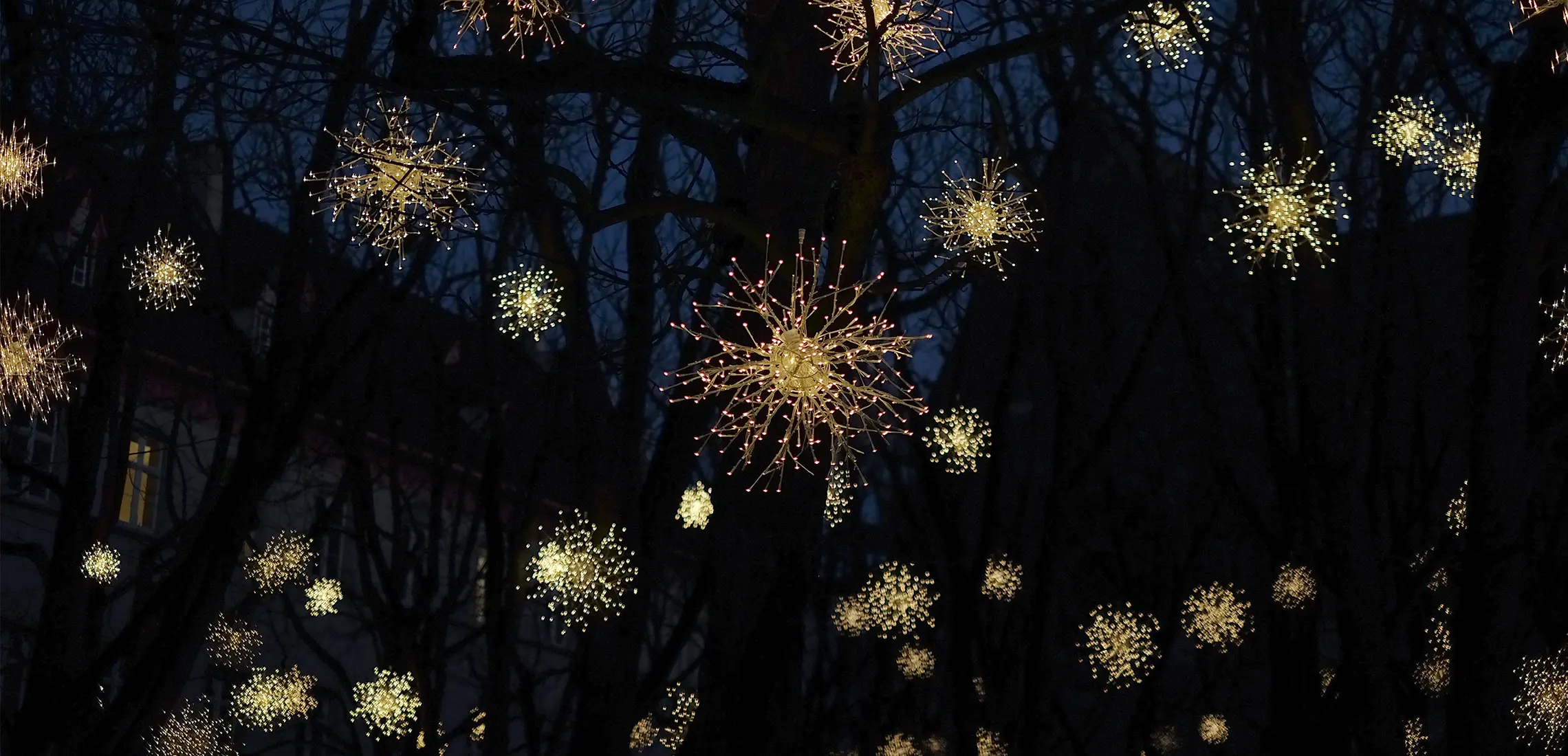 Bright Lights, Big Vibes: Get Lit With Brisbane's Best Christmas Light Displays
Merry and bright
By Guest Styler | 14th December 2022

Okay, Brisbane – it's that time of year again. Bublé is a-blasting, mince pies are a-cooking, and a myriad of Christmas lights are a-twinkling throughout our beautiful River City. 

It's safe to say we never disappoint when it comes to the festive spirit, as Brisbane puts on its best and brightest Christmas light displays for the final month of the year. 

Whether you're looking for lights close to home or are happy to take a drive that's well worth it, we've discovered all the best Christmas light displays in Brisbane and beyond. Consider this your very own twinkle to-do list!  

It's a fan-favourite amongst the Christmas-loving as this interactive, animated display illuminates the historical City Hall. Running every 15 minutes from 7:30 pm every night until Christmas Eve, a quick stop past this festive foray is a must. Plus, take a gander at the 22-metre-high Christmas tree in the middle of King George Square while you're there. Get all the info here. 
Westlake and Sinnamon Park
'Tis the season to sparkle and no one knows this better than these merry westsiders. Both Everard Street in Westlake and Hawke Place in Sinnamon Park are winners of Christmas light competitions, so you're guaranteed a LED fuelled treat with a drive here! 
Nemarra Street, Wynnum West
These guys are renowned for displaying a giant inflatable Santa that stands as the centrepiece of this vividly lit-up neighbourhood. Even Mr. Claus himself is sure to spot this guy! 
Minimine Street and Chisholm Street, Stafford
Northsiders rejoice as these beautifully bedazzled streets in Stafford are bringing some extra cheer this Christmas. Bringing in families from all around Brisbane, these guys know how to bring it with their yuletide displays.
Government House, Paddington
Another historical Brisbane building that takes on a Christmassy façade, the Government House and gardens within the Fernberg Estate will be made gloriously festive for onlookers to enjoy. This year's display evokes a bush Christmas theme, with emus, wombats, and kangaroos roaming the lawns, and even a huntsman spider! Visitors are also welcome inside Government House to have a photo alongside the grandly decorated Christmas Tree. Entry is free and tickets and pre-bookings are not required.
Kaiser Drive, Windaroo
A short drive to the 'burbs is well worth it to see these masters of Christmas lighting in their element! You'll wish it could be Christmas every day, as everything from interactive displays, smoke and snow machines, as well as lasers and projections can be expected!
Bedarra Crescent, Burpengary East
If you've ever wondered what a house would look like if every inch was covered in festive, fluorescent lighting, a quick trip here and you'll find the answer! Charge up your phone and get snap-happy as you traipse through this dreamy display. Be sure to commemorate your experience with their onsite photo booth. 
101 Kempsie Road, Upper Mount Gravatt
These guys have been doing elaborate displays for over 15 years and were even a finalist in the 97.3fm Christmas light competition. With an ode to our Australian wildlife, this display feels uniquely close to home with an extra dollop of Christmas cheer!