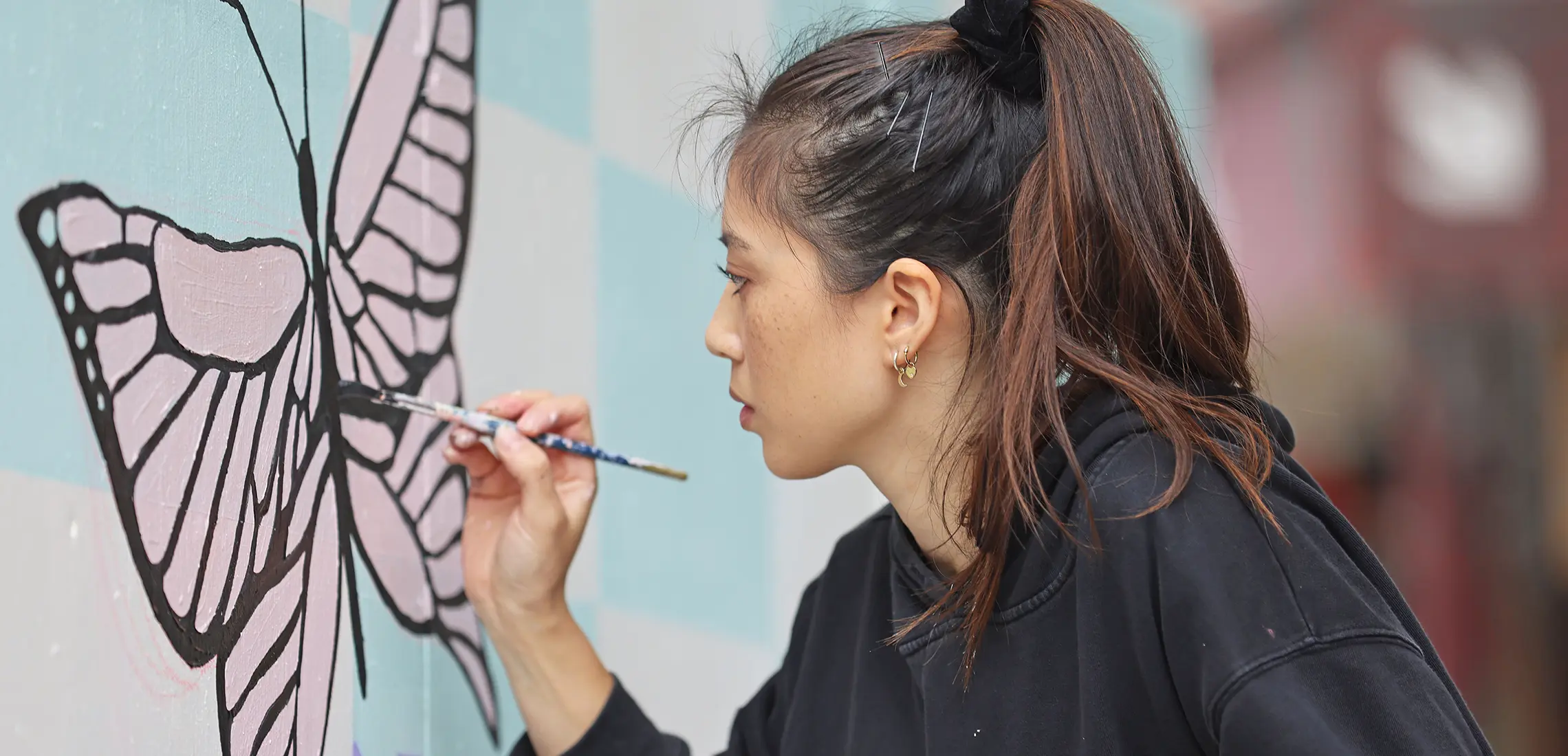 We Talk Tablescapes And Treehouses With Calligraphy Queen, Chloe Joy
Brush up
By Dinushka Gunasekara | 20th May 2022

Remember the joy you felt when you got your pen licence? Well for Brisbane-based artist Chloe Joy, that excitement is built into her everyday as she creates the most delightful event stationery, calligraphy, and abstract art. Having just painted an epic mural as part of Brisbane Street Art Festival, we chatted to the artist about her favourite letters, her treehouse home, and her foolproof solution to beating a creativity block.
Hey Chloe! Tell us about your journey as an artist…
I wasn't someone who grew up 'creative'; I assumed that because I couldn't sketch faces like my brother, I wasn't creative. But I would always set up 'shops' around our house and was drawn to colours, especially in nature (growing up in Melbourne, a bright blue sky was such a treat)!
How did you end up in the world of calligraphy?
I started playing around with brush lettering/calligraphy back in 2015 when Etsy Prints were all the rage! I got obsessed with lettering and couldn't believe how much fun I was having just playing around with the alphabet. In 2017, a friend asked me to do her wedding stationery. It was at the end of 2018 that I decided to start a website and see what could become of it. I quit my school job at the end of 2021 and am focussed on art and calligraphy this year, while still teaching piano on the side.
What has been the most memorable event you've provided your personalisation services for?
The Dissh 2021 A/W launch held at Sophie Bell's (@peppahart) incredible home was such a fun experience. To work with other women running successful creative businesses was a huge eye-opener to how far you could take something you love and turn it into a career. Watching Courtney Jack of Joy Creative, Gretel from House of Harvey, and Sarah Amey of Florals and Co was so inspiring.
What trends have you noticed in event stationery recently?
Definitely lots of bright colours and bold wavy patterns, which I love! My aunty recently sent me photos of cards I'd made while growing up and they actually have the squiggles and wave borders on them; it's so true that old styles always make a comeback. I'm also loving all the different applications like painting on shells, candles, lemons – you're really able to let your stationery reflect personality these days.
What are your favourite colour pairings to use in event styling?
It really depends on the event but I always love a neutral beige/cream shade as a backdrop with pops of colour – pastel blue, pink, and purple are my go-tos.
Besides stationery, what are the decorative pieces you think every tablescape needs?
Candles and fruit add so much character and mood to a tablescape, especially if you are on a budget. A lush floral arrangement is always such a special touch, too.
What's your favourite letter of the alphabet to write?
Capital L and B – so many different ways to add in your own flare.
Tell us more about your piece for the Brisbane Street Art Festival…
I was reflecting on how we throw around the word 'love', as it's something that we all experience differently. I believe that when we begin to believe that we are loved beyond measure by God, it sets us free and gives us boldness to become who we truly are. This is illustrated by the butterflies I painted. If a caterpillar saw itself in the mirror, do you think it would ever believe it could become a butterfly? No. But it doesn't matter; it's in its DNA.
What inspires your abstract art?
The sky and ocean, patterns, fashion, and colour. I'm very tactile – always touching things to sense the texture and looking people up and down to see what they're wearing (not to be mistaken with checking you out haha). My most recent collection 'Dawn' was inspired by the sunrise. I was learning the art of discipline and the endless rewards from waking up before the world.
Tell us more about the Zoe Foundation – why is it important to you?
Zoe Foundation AU prevents child trafficking, rescues children from slavery, and brings restoration to child trafficking survivors and at-risk orphans in Thailand. It was founded by David and Andrea Cross, who moved their family from comfortable Melbourne to Thailand to begin the journey of rescuing children from slavery and placing them in families. I am deeply moved by the stories of miraculous restoration and a brand new start for these precious children.
How do you overcome a creativity block?
Through consistency. I used to rely on inspiration but it was too sporadic. Painting almost daily has taught me so much about discipline and building the muscle memory so that even if you're tired, something will show up on the canvas! I was also told once, 'there are no bad ideas – get them all out and edit later'. The important thing is that you just put the brush/pen to paper!
In your opinion, where is the most beautiful place in Brisbane?
Honestly it takes a lot for me to leave my house: it's an incredibly spacey, five-storey treehouse in Northside Brisbane! We get to watch the sun rise and set over Brisbane – it's so peaceful. I also always leave Kangaroo Point in awe of the city-meets-nature views.
It's a sunny Sunday afternoon, where will we find you?
Sunshine Coast, where Currimundi Lake meets the ocean
What's your best piece of advice for aspiring artists?
If I've learnt anything: if you don't see an opportunity, create it! Go after the dreams in your heart, don't settle for mere talk.
Hungry for more art? Check out the delicious posters feeding those in need here.