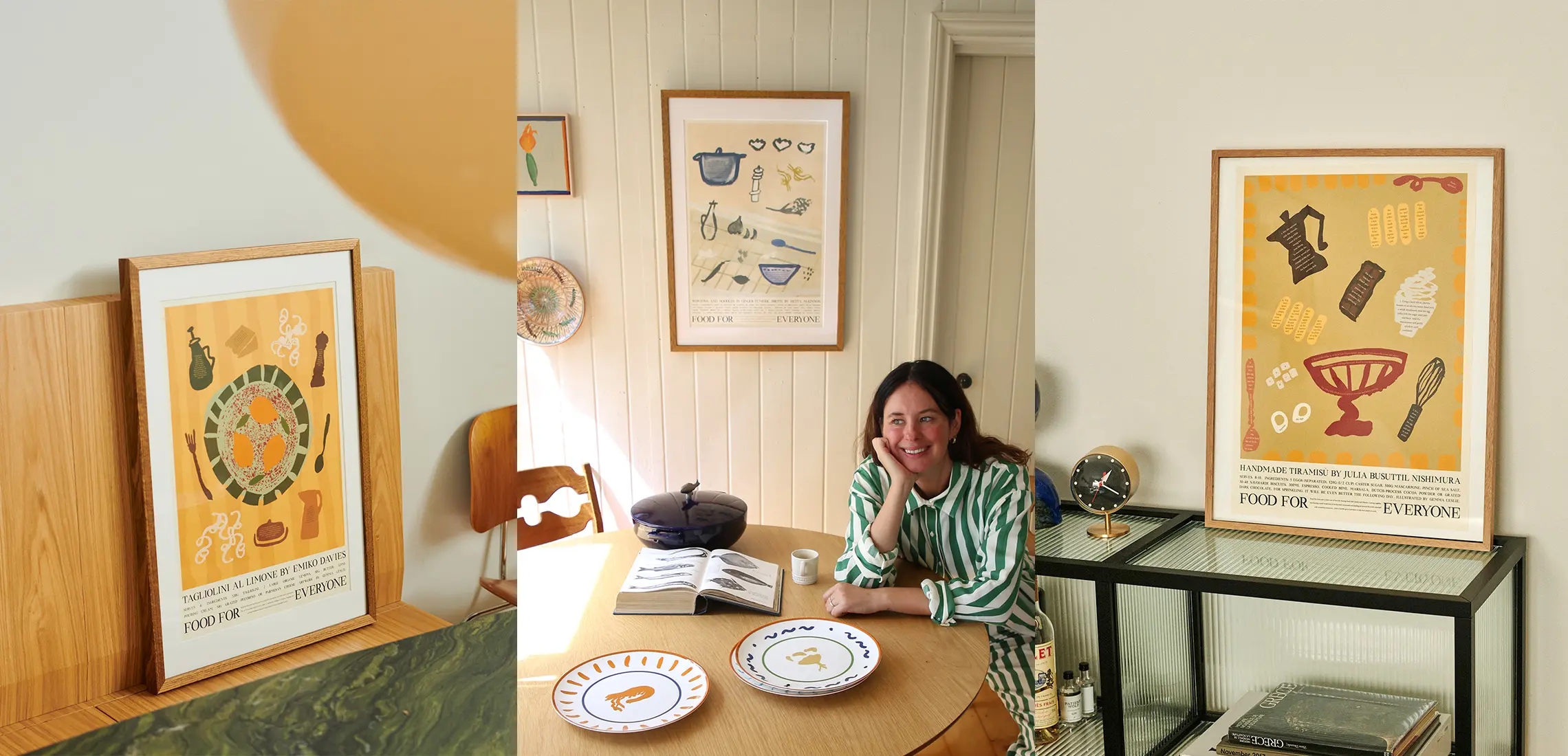 These Delicious Posters Are A Treat For Your Eyes And Feed Those In Need
An acquired taste
By Dinushka Gunasekara | 10th May 2022

Recipes are usually kept in tattered journals or scribbled in the Notes app on your phone, but Gemma Leslie's social enterprise, Food For Everyone, serves them up into art that meets action. Her cute-as-pie graphic designs printed on recycled coffee cups are made to be devoured on your wall while showcasing beloved recipes from the nation's chefs and restaurateurs. But your eyes aren't the only ones with a feast – these posters are also feeding those in need.
What inspired Food For Everyone?
A longing for connection. At the peak of the pandemic what I missed most was having my friends and family over, which would almost always revolve around food. There is nothing more joyous to me than sitting at a table with full bellies and full hearts surrounded by the people I love. It was a longing for this exact feeling that inspired Food For Everyone. My recipe posters were designed to capture the joy of food and bring it into people's homes during a time when it wasn't possible.
Who was the first person you collaborated with?
Julia Busuttil Nishimura – she's always been supportive of me and community projects, so I thought I'd ask her! Her recipe for tiramisù is one I use all the time, and a dessert staple for so many people. It was a no-brainer really.
Talk us through the design process of the posters…
I'm a graphic designer by trade and have a deep appreciation for traditional typography. The overarching format of the posters and typeface are inspired by vintage newspapers. The idea of a recipe poster was always simmering in the back of my mind. In terms of the process, I take some time to sit with each recipe and sometimes even cook them first to get a full understanding of the ingredients. I paint each ingredient by hand, then digitally upload them where I play with colour and arrangement. I love colour – I can't hold back, which is evident across the entire collection!
How do you choose who you collaborate with?
For the first collection, I simply called on some foodie friends whose cooking I love and asked them to contribute recipes that they love. After launching the first set of posters, the support from the community was incredible and propelled me to work with some of Australia's leading talent in hospitality like Andrew McConnell, Kay-Lene Tan, Lennox Hastie, and Simon Gloftis. I want to collaborate with people who have contributed to Australia's incredible food culture, and this comes from everywhere—home-cooks, chefs, restaurateurs, cookbook authors, and food writers—and capture the recipes that are meaningful to them.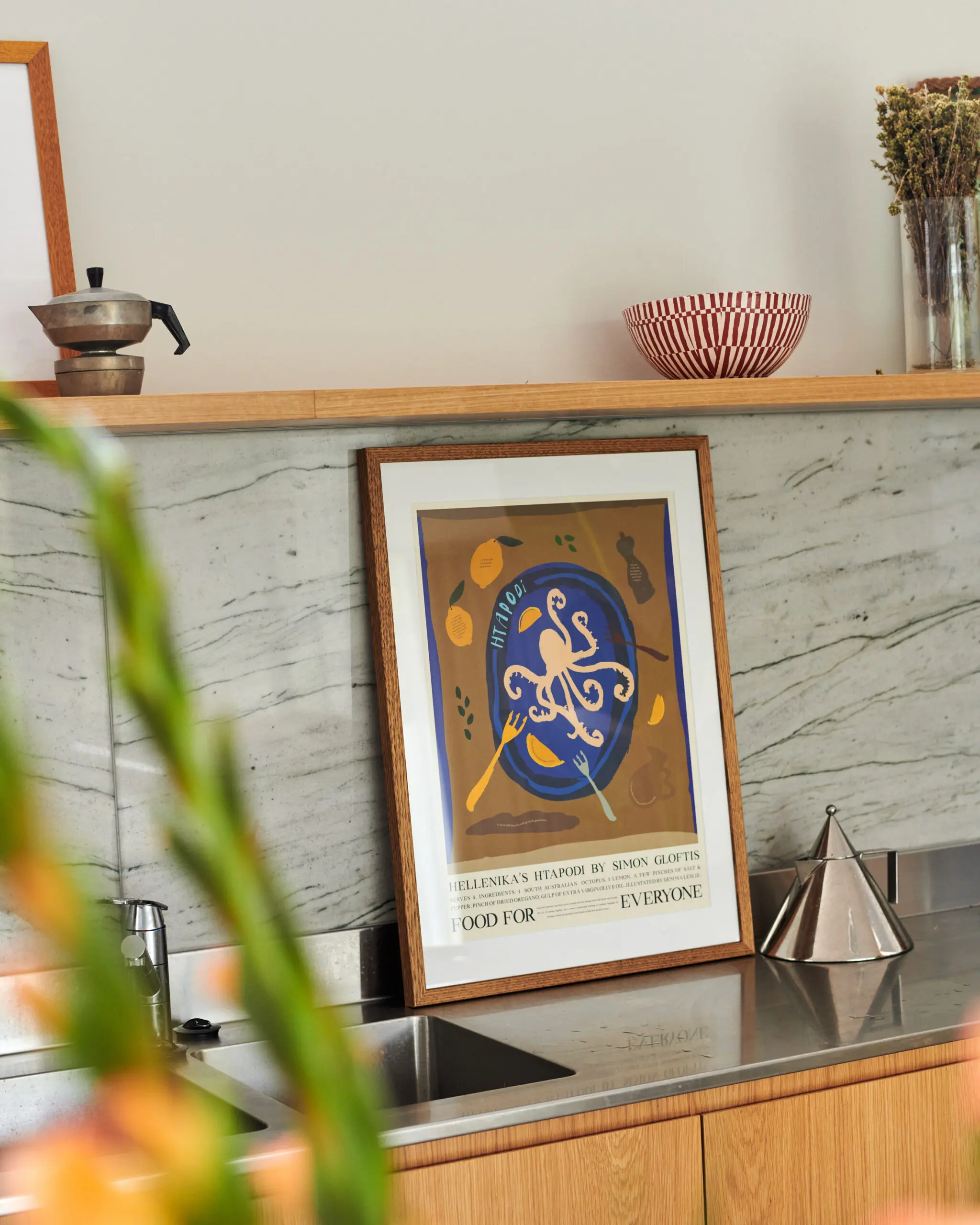 Beyond survival, what does food mean to you?
My life revolves around food well beyond the necessity of it. It's this beautiful thing that is universally understood and a place for connection. Food is so deeply entrenched in culture, so it provides a window in which to explore and learn.
Why is tackling food insecurity important to you?
Food is a fundamental right, and something that no one should have to forgo. The unpredictability of the pandemic really showed how food insecurity can affect people from all walks of life, especially when paired with the rising cost of living. I hope that Food For Everyone helps to break down the stigma often associated with seeking food relief by creating a sense of community. There is no shame in asking for help, and there is a seat at the table for everyone.
Welcome to Brissy, by the way! What do you love about Brisbane?
Thank you! I love GOMA – the building itself in the string of other brutalist buildings along South Bank and, of course, the art inside. I also love the streets lined with flowering trees like jacarandas and poincianas. For food, I love Julius Pizzeria in Fish Lane. And the Inala market is a wondrous place – it's always buzzing with energy from the beautiful people and colourful produce.