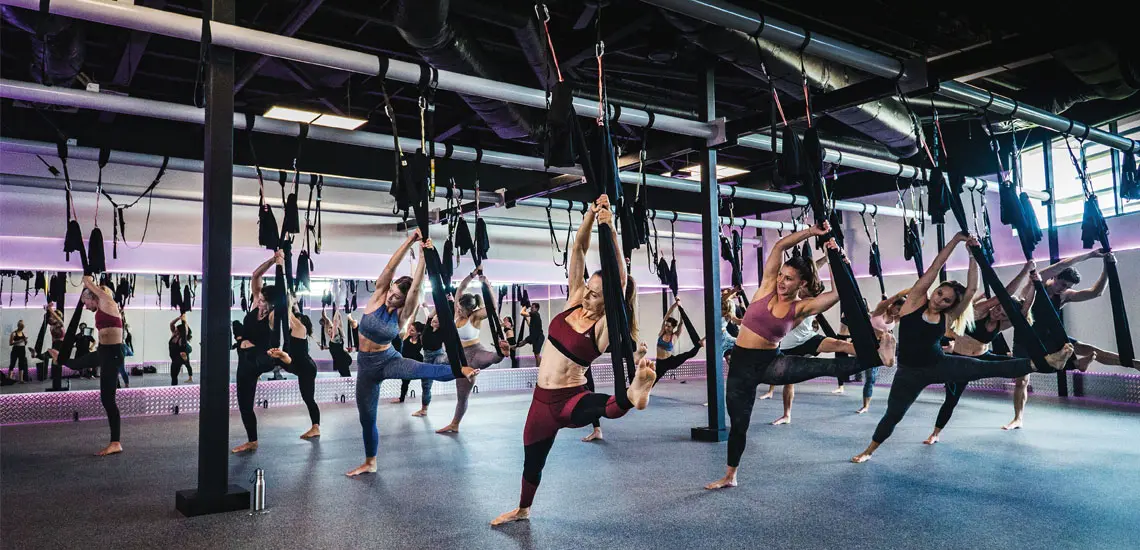 Our Guide To Brisbane's Best Yoga Studios: 2018 Edit
Stretch it out!
By Natalie Brown | 31st May 2018

Gone are the days when yoga was thought of as little more than a hippy practice. With the stress of always being on, in demand and multi-tasking, never has it been more important for us to slow down and take a little time to reconnect.

One great way to do this, while also building strength, is through yoga, hosting a range of benefits from clarity of thought and ease of sleeping to reduced stress and anxiety – something we all definitely need!

Brisbane is brimming with studios and classes for everyone from beginners to the most experienced of yogis – so whether you're looking for an excuse to try out a class or get back into it, here's our round-up of the best!

myDrishti is a family-owner yoga studio that has adopted a holistic, traditional approach to yoga. Focusing on breath work, physical asana and philosophical & metaphysical practices, their team of dedicated instructors are passionate about equipping their students with techniques they can apply to their everyday life as well. They are particularly passionate about cultivating a warm and welcoming environment where everyone – from newbies to gurus – can feel comfortably at home. With a diverse range of specialty classes on offer (such as glow-in-the-dark yoga, Valentine's Day classes, and workshop sessions), you are sure to find a class that is the perfect fit for you. To really nurture an environment where students can immerse themselves completely, they make sure to add special additional touches – these include a pot of complimentary brewed tea, mats laid out upon arrival, and organic lavender eye pillows! The team make a point to ensure that everyone who enters their studio experiences the sense of community and they achieve this by forming a personal bond with their students and ensuring you never feel lost in the crowd. They understand that your time in their studio is a respite from your day-to-day hustle, and as such ensure they foster a sanctuary that helps you live your life better every single day.

Designed to re-energise and redefine the fitness class as we know it, Total Fusion offers a world where body and mind can align. Their range of yoga-based classes combine traditional and new movement techniques across a range of styles, including vinyasa and aerial, in both hot and cool studios at Chermside, Mt Gravatt and Newstead. Their fully-equipped, state-of-the-art temperature-controlled studios also feature health food bars, supplying fresh meals on demand. And with bone broth stations and kombucha on tap, it's the perfect place to enjoy a complete wellness experience.

The haven that is yoga has formed part of the backbone of Pure Health Clubs since their inception. Pure believe yoga creates a space within the body physically and also with the mind, heart and soul and allows for ease of movement and a balance of strength and flexibility. Participants are encouraged to dive into the vast array of class styles offered, in order to find the right fit for them – meaning it's the perfect place to give yoga a try if you're a first-timer.
Stretch Yoga | Brisbane City and Holland Park
Looking for a yoga studio that feels like home? Stretch offers a space to connect with yourself and move your body in a way that feels amazing, with the goal of making yoga friendlier and more accessible. Offering over 70 classes per week in 6 distinct styles, sessions are filled with killer tunes, taught by some of Brisbane's best yoga teachers and hosted in beautifully designed and super relaxing spaces. And because it's all about living life in balance, they also offer Yin & Gin Fridays, where you can end your week with an Ink Gin cocktail, chilled out yoga class and nibbles. Sign us up!
With some of Australia's most respected teachers, Raw Power Yoga has been entrusted in looking after some of the country's leading professional athletes. Their modern approach to the traditions and philosophies of yoga and distinct community feel creates a space of acceptance and respect to all. With Raw Yin, Raw Power and Raw Alignment among the styles offered, classes are the ideal combination of athleticism and play, and are both challenging and fun. If it's good enough for the Broncos, it's good enough for us.
https://www.instagram.com/p/8wGyKfKsMl/
SoHo Yoga | Fortitude Valley and Newmarket
Meaning "soul home", SoHo's serene, boutique yoga spaces are the perfect place to roll out your mat and enjoy a little well-deserved breathing space. Their two light-filled studios are relaxing environments, where everyone feels welcome, and anyone can take time out to nurture the soul. Their highly qualified instructors lead all levels of practice and encourage participants to make time to relax, recharge and restore the body, mind and spirit.
As one of Brisbane's largest providers of yoga and Pilates classes, Rebalance offer the opportunity to switch off from the business of our lives with classes for all ability levels. With nine studios around Brisbane, they offer everything from Rebalance Yoga – designed to tone, length and strengthen your body while rebalancing and reconnecting your mind, to Ignite Yoga – conducted in a heated room of 30 degrees Celsius, and Warrior Yoga – a 60 minute class appropriate for beginners and more experienced students alike that systematically works the entire body.
Harlow's purpose is to empower you to practice one hour of self-care per day. Offering three kinds of hot yoga classes, they make the concept easy to achieve. Their Powerful yoga class allows you to move through all the poses, giving you a workout inside and out and is designed for all levels of expertise. Movement is slowed right down in another so that you have the chance to align your body and breathe. With their warm and welcoming space, Harlow is the perfect spot to stay toasty while you work out during the colder months.
Liked this? You'll love these! 1. Everything you need to know about Style Magazines' publisher and new editor, Tracy Sinclair 2. Get tight and toned at 11 of Brisbane's best Pilates studios 3. Australia's first ever vegan marketplace has officially launched!