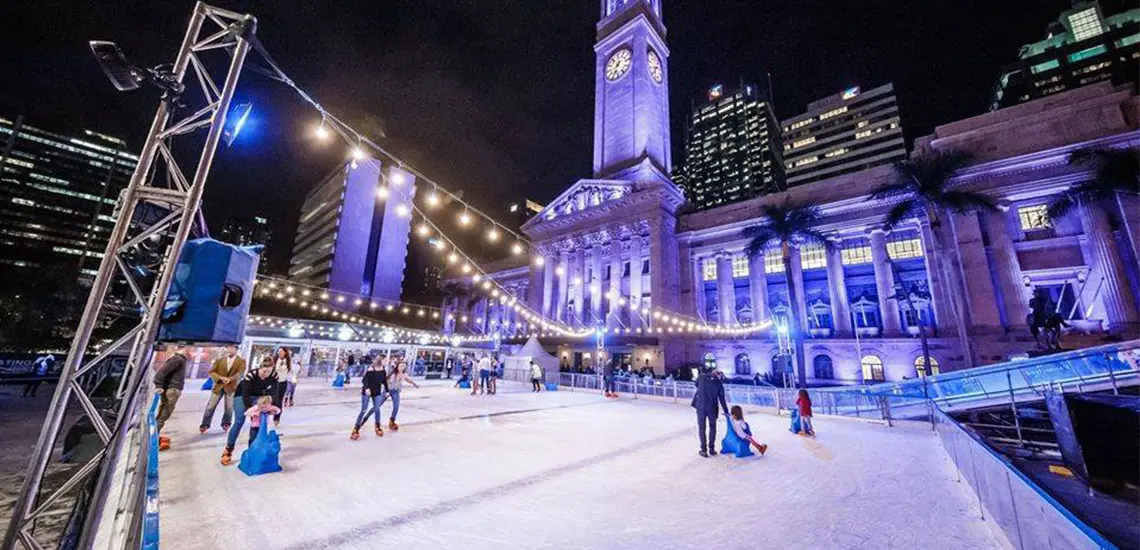 Blades Of Glory! Where To Skate The Ice In Brisbane This Winter
I said brr… it's cold in here!
By Guest Styler | 23rd July 2019

It may not get cold enough for the Brisbane River to freeze over and transform into natures ice skating rink, but there's still ways to get your skate on this winter. Whether it's for a cool date night, a bit of unconventional exercise or to live out your 'Blades of Glory' dream, we've compiled Brisbane's go-to places to get your ice-skate on.

King George Square is playing host to a CBD ice-skating rink, only available until the end of July. The rink is a highlight of the 'Skating At Festival', which has seen the city hub transform into a wistful, winter wonderland. With Brisbane City Hall as the backdrop and the rink framed with fairy lights, it's a dreamy destination for a date night or family-friendly activity. Not only can you get your skate on, but the festival also features 'The Runway', an adrenaline-filled ice slide where participants get to race at thrilling speeds on a rubber snow tube. Why not warm-up with a treat from the Maple-Leaf Bar after? No need to escape to Canada this year for your winter-fix.
Iceworld | Acacia Ridge & Boondall
The name gives it away and gets straight to the point – it's a world of ice! Located at both Acacia Ridge and Boondall, these ice havens host ice-skating year-round. If you're after something a little more serious, Iceworld also offer training and facilities for competitive skaters. Otherwise, skate on in to Iceworld for an affordable and fun weeknight activity, especially on Tuesday nights when it's just $12! All other sessions are still extremely affordable at $20, which includes your skate hire and two hours on the rink at all different times throughout the day.
No, we're not talking Iceland the country; we're looking a little closer to home! Only a short drive from the city you will discover Iceland Ice Skating in BundallI. The go-to skating venue is open for the public all through the week and transforms into a date-night destination four nights a week for evening sessions. Put on your long socks and jump in the car – the quick trip down to the Coast is worth it for an evening of fun!
Time to chill? If so, Planet Chill is your answer. Although it's located at Paradise Resort, the venue is open to the public and ideal for the entire family. Once the legs are worn out from rink laps, you can enjoy the 'Chill Zone' for a bit of competition at pool, air hockey and foos ball. During July you can also catch their 'In The Air Experience', an aerial and dance show!
If you're not a fan of the cold or the idea of blades on ice freaks you out, you don't have to miss out on the fun! Here are some local rollerblading rinks if you're after a warmer climate:
Stafford Skate Centre offers a social atmosphere with great tunes where you can leave the winter-wear at home and skate on solid ground instead! Their general skating sessions run from Friday evening to Sunday afternoon, where you can hire a pair of skates for only $3 on top of the already cheap admission fee of $13.
Feel like trading a dance on the d-floor with RnB on the rink? Digi Roller has you covered! While the centre is open throughout the week, the Friday night RnB events with a Digi Dance Spot are the place to be.
Liked this? You'll love these! 1. Our Pick Of Best Boxing Gyms In Brisbane! Take a Jab At These 2. We've Decoded Millennial Slang So You Can Stay Happenin' With The Kids
 3. The Best Weekend Escapes In Brisbane And Beyond!