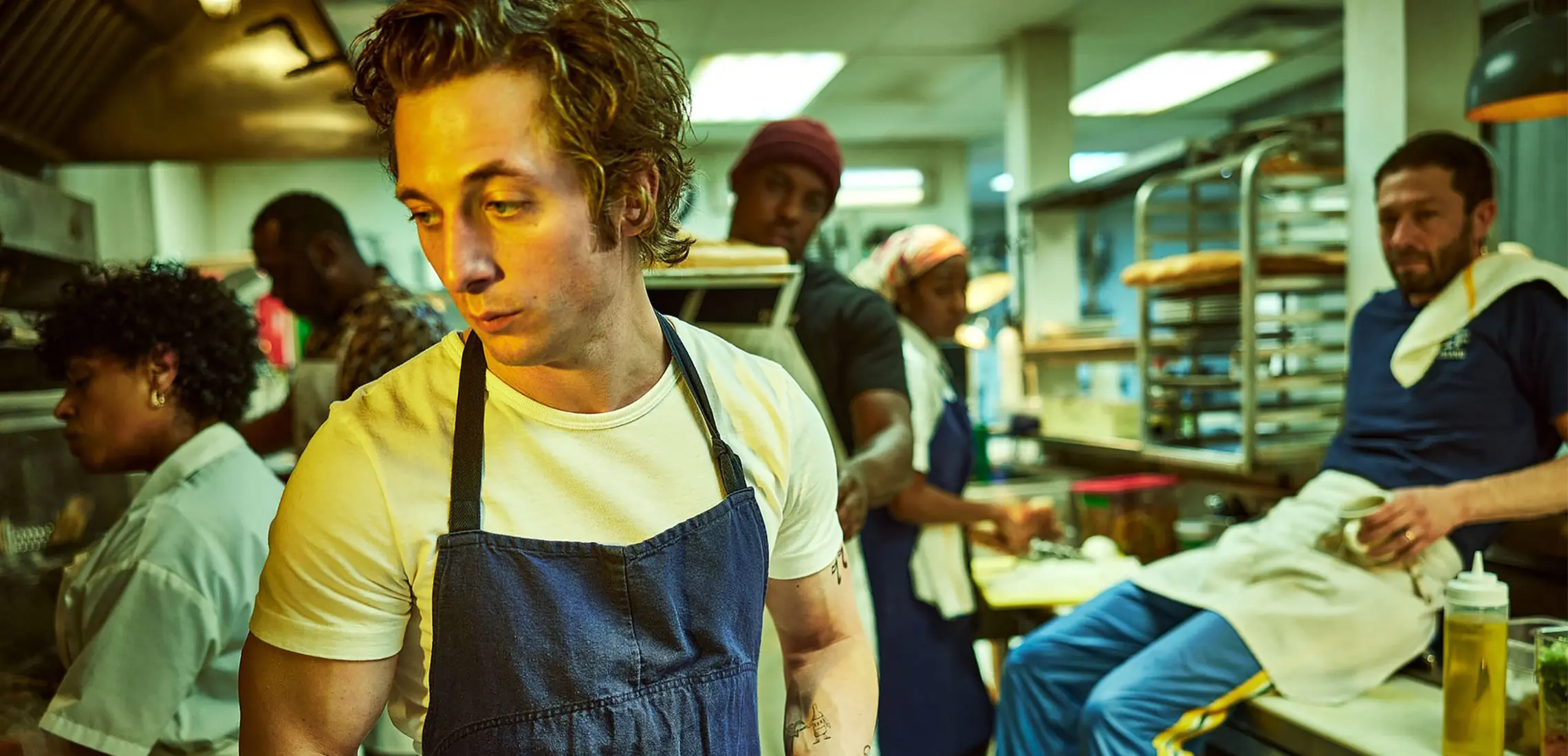 18 Shows You Need To Watch Before The End Of 2022
Couch potatoes, this one's for you
By Dinushka Gunasekara | 3rd October 2022

A single year has 525,600 minutes. In episodes? That's a whole lot of time to crank through some good TV.

2022 has delivered a whole array of must-watch series to the silver screen and your homework is to get through them all before the year wraps up. To help you on your merry binge-watching, we've wrapped up the best new shows from the year that you need to get your goggles on. Park up on the couch, hit play, and we'll catch you in the DMs for a debrief! 
The Bear
Where to watch: Disney+
If you often catch secondhand stress, you might need to hold your pillow tight, but this breakout hit is worth it. A dramedy set in a family sandwich chef, Carmy leaves the fine dining world to run the chaotic restaurant after the death of his brother. Dealing with all the highs and lows of running a small business as well as a rough-around-the-edges crew and his own demons, it's a gripping tale that will have your heart for every minute. 
Heartbreak High
Where to watch: Netflix
Aussie, Aussie, Aussie! This reboot for Gen Z is where Sex Education meets Euphoria set Down Under, following a bunch of high schoolers as they navigate all the joys and messiness of being a teenager. From love to (you guessed it) heartbreak, the kids at Hartley High have a lot to learn and needless to say, drama ensues. 
Under The Banner Of Heaven
Where to watch: Disney Plus
Religious crime, extremism, and tests of faith: this shocking show has it all. Detective Jeb Pyre (Andrew Garfield, dreamy!) heads to the Salt Lake Valley to investigate the demented murders of Brenda and Erica Lafferty but the mystery turns out to be larger than anyone expects, as he uncovers the buried truth of his own church. 
View this post on Instagram
Minx
Where to watch: Stan
Girl power gets a touch salacious in this tongue-in-cheek comedy set in 1970s Los Angeles. Ophelia Lovibond plays an earnest writer who wants to get a feminist magazine off the ground at a time where the idea is not exactly welcomed with open arms. Her plan? To get help from a smut mag king (aka Jake Johnson) and create the first erotic publication for women. 
Pachinko
Where to watch: Apple TV+
Book adaptations rarely live up to their source, but Pachinko certainly gets close. Based on the New York Times bestseller, this sweeping saga captures the love, sacrifice, and ambition across four generations of one Korean immigrant family. Bonus points for the cinematography, which is as breathtaking as the story.
The Girl From Plainville
Where to watch: Stan
A true story that's quite haunting, this adaption of Michelle Carter's 'texting-suicide' case explores her relationship with Conrad, delving into her psyche in the lead up to his death and her conviction. You'll barely recognise Elle Fanning in this role, who leads the all-star lineup alongside Chloë Sevigny, Cara Buono, and more. 
The Dropout
Where to watch: Disney+
As the textbook definition of when your highs are high and your lows are low, this semi-fictionalised miniseries tells the story of Elizabeth Holmes: the world's youngest self made female billionaire and scammer who loses it all. Played by Amanda Seyfried who dons a turtleneck and a voice a few decibels lower than her own, it's a tale of fame and ambition gone wrong. 
Abbott Elementary
Where to watch: Disney+
For something lighthearted, wacky, and incredibly wholesome, look no further than this award-winning hit. A group of dedicated, passionate teachers find themselves thrown together in an underfunded Philadelphia school, but despite the odds, they'll do whatever it takes to help their students succeed. Fans of The Office and Parks and Recreation, this one's for you! 
View this post on Instagram
Severance
Where to watch: Apple TV+
If working from home has you reminiscing about the office vibes, this thriller will change your mind. At a mysterious company called Lumon, office workers have had their memories separated between their work and personal lives to match when they're on the clock or not. But when an ex-colleague appears outside of work, department head Mark begins to have doubts about what's really going on. 
The Patient
Where to watch: Disney+
Steve Carrell proves again that he's a multifaceted talent as he takes on the role of therapist Alan Strauss who's held prisoner by a patient, Sam Fortner. Oh, and the patient? Turns out he's a serial killer. Sam wants Alan's help to curb his homicidal urges, and needless to say, the task is one that explores grief, power dynamics, and the struggle between good and evil.  
The Resort
Where to watch: Stan
This dark comedy puts a marriage to the test when an anniversary trip throws a millennial couple into Yucatan's most bizarre unsolved mystery from 15 years ago. Emma and Noah think solving the disappearance of two young guests at a nearby resort will help them ignore their own marital issues, but the answer to the crime requires diving into some of life's biggest questions. 
Candy
Where to watch: Disney+
Candy Montgomery (played by Jessica Biel) is a 1980s housewife who's always played by the rules. One summer day, she bumps into Alan Gore and makes a decision that will change everything: she will have an intimate affair with Alan. Two years later, Alan's wife is dead and Candy is suspect number one. But how does a preppy housewife come to murder her friend with an axe? There's only one way to find out! 
Loot
Where to watch: Apple TV+
In the epitome of first world problems, Maya Rudolph stars as Molly Novak, who divorced her husband of 20 years and is left with an $87 billion settlement – yes, with a 'b'. Equally hilarious as heart-warming, the show follows Molly as she decides to dive back into her charitable foundation and do some good with her sudden moolah and free time. 
Everything I Know About Love
Where to watch: Stan
Whether you're a bookworm who loved the memoir of a generation or you've never heard a word of Dolly Alderton, this television adaption is a coming-of-age must-watch. Jumping back to 2012, you'll be swept up in the shenanigans of four mates living in a sharehouse across seven episodes that capture the good, the bad, and the ugly of female friendships. 
View this post on Instagram
The Staircase
Where to watch: Binge
To all the true crime lovers who thought they knew the genre back to front, this will have you reeling. Based on one of the most fascinating true stories of the last two decades, the wealthy Kathleen Peterson meets an untimely death at the bottom of a staircase and her crime novelist husband (played by Colin Firth) is convicted for her murder. Exploring all the possible scenarios that could have led to her death and the impact it has on the family, this is one you'll be watching back to back. 
Inventing Anna
Where to watch: Netflix
Watch for the drama, stay for the accent. The true story of legendary Instagram heiress Anna Delvey (played by Julia Garner) is brought to the screen as she steals the hearts of New York's most elite socialites, before stealing a whole lot of their money. 
Dahmer
Where to watch: Netflix
Arguably one of history's most infamous serial killers, Evan Peters takes on the role of Jeffrey Dahmer across more than a decade of murder. With the blood of 17 victims on his hands, the limited series explores how he evaded arrest for so long. 
Do you like your stories on the page? Check out the books we're reading here.