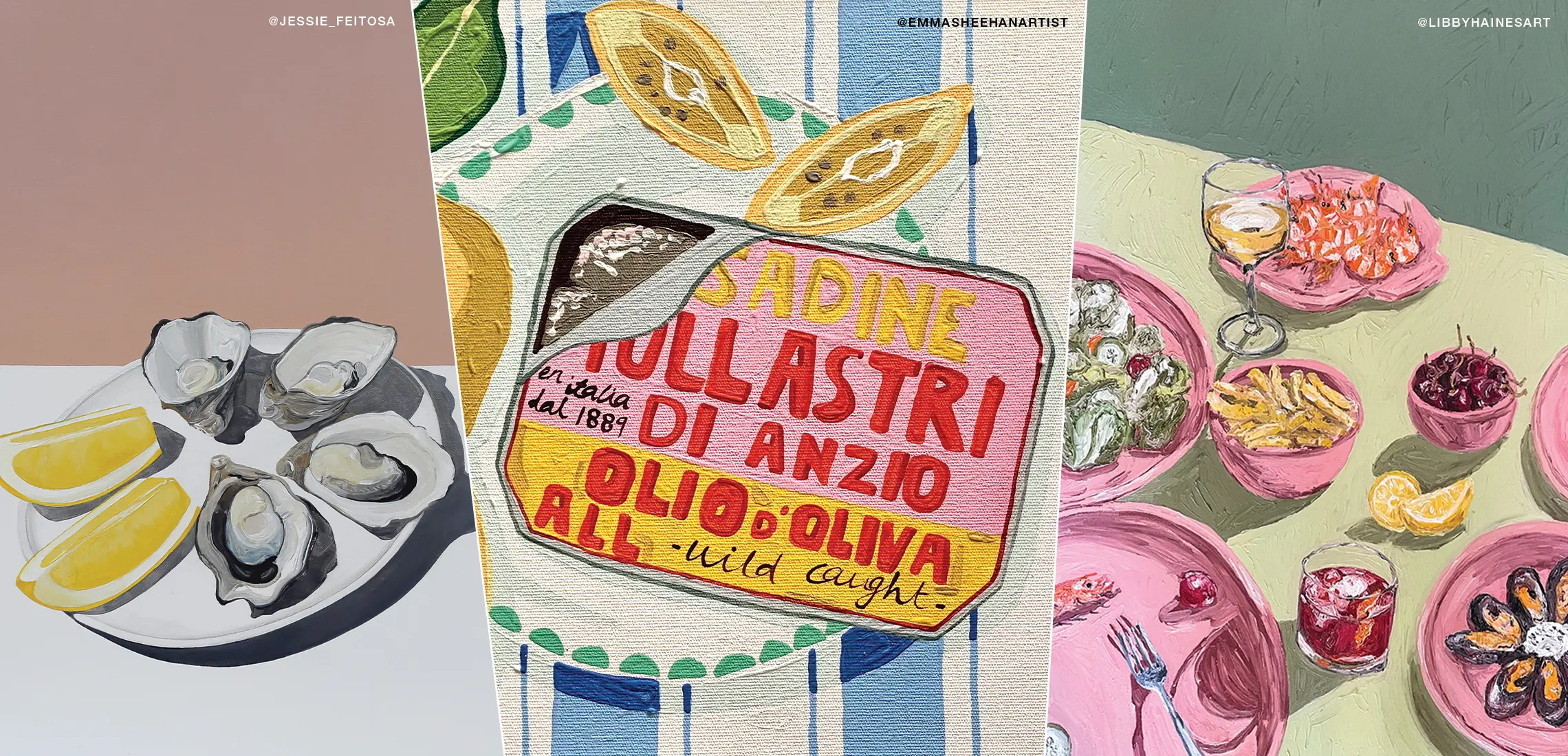 Bon Appetit! 7 Aussies Turning Food Into Works Of Art
A feast for the eyes
By Guest Styler | 12th May 2022

With the rise of culinary art hitting a fever pitch, these talented Australian artists turn to the table for inspiration as they brush up their skills. Feast upon these hunger-inducing pieces in all their gastronomical glory, and never go hungry again. 

A mother and artist, Libby's work cherishes the joy of everyday moments and the nostalgia of objects in still life paintings. 
Do you cook to paint or paint to cook?
I think I do a bit of both, I mostly use meals I've eaten as inspiration for my paintings, but may find myself craving the thing I painted that day and let it be the source of cooking inspiration for my next meal.
What foods are you planning to paint next?
I just finished up all the paintings for my exhibition at Saint Cloche, which features lots of food scenes. I'm also enjoying painting the process of cooking, not just the final cooked product. So maybe there will be more of that in the future.
A deep lover of wine, coffee, travel, and art, Jessie is drawn to painting glasses, bottles, shadows, and reflections of cocktails. Playing with acrylic paint, resin, and gold leaf techniques, her detailed work captures the depth of shadows, light interactions, and vivid colours.
Hardest food to paint?
A passionfruit.
What is your signature cocktail?
Hands down my signature cocktail to paint or drink is an Aperol spritz.
Inspired by her Italian culture and travels, Ashley's work is a myriad of prints that will whisk you away to a summer destination.
Go-to snack when painting?
Frozen berries! Love the sweet and sour crunch. 
Favourite food to eat vs favourite food to paint?
Pasta is undoubtedly my favourite meal to eat in any shape or form! Whilst fruit and vegetables are my usual subject matter when illustrating.
A self-taught watercolourist based in Sydney, Emma paints vibrant pictures inspired by her everyday life such as nature, treasures, and delicious sweet treats. 
Do you cook to paint or paint to cook?
I definitely love cooking. My partner and I often have cooking dates together which inspires me to include some of the ingredients we use in my work.
Your favourite place to go food shopping?
There is a lovely greengrocer in Eastwood (NSW) called Super Fresh. So much lovely fresh produce is available here. 
A Kiwi girl, Kim made a move across the ditch to pursue her love of painting. Inspired by her love of cooking and sharing a meal with family and friends, her detailed works will leave you feeling hungry for more. 
Favourite food to eat vs favourite food to paint?
I actually only paint what I like to eat! So, in saying that, all my painting subjects are absolute favourites, however, cheese in all its moreish forms is without a doubt my favourite food and it does feature in a lot of my paintings.
Hardest food to paint?
Sliced bread can be tricky, especially with all the crevices, holes, and seeds to contend with. An unsliced baguette or sourdough with the lovely floury sprinkle is always fun.
Emma uses her work to explore subject matter that is close to her heart. With a strong appreciation for colour, pattern, textiles, and ceramics, she uses her mother's love of cooking and her aunt's beautiful kitchen homewares store as inspirations to create her still life artworks.
Favourite food to eat vs favourite food to paint?
I love to eat and paint seafood so it's a win-win.
Your favourite place to go food shopping?
We have a local grocer here in Jugiong (NSW) named Gino's Fruit and Veg that opens every Wednesday.
Whitney's work reflects the people and things we miss – the places we long for and the interests we share. Using polaroids of places from the Greek Islands as inspiration, her series of work is predominately food based, where fresh oysters, fish, pasta, and Mediterranean-themed settings feature. 
Favourite food to eat vs favourite food to paint?
These two go hand in hand. I love eating seafood, and I also adore painting seafood. It is such a decadent cuisine – one that reminds me fondly of my family and our favourite food for celebratory and festive dinners.
Your favourite place to go food shopping?
Our region (Orange, NSW) has such an amazing local food offering. From the Farmers Markets to the orchard fruit shop, and not to mention the local vineyards. Spoilt for choice!
For more food-meets-art musings, read our interview with artist Gabrielle Penfold here.