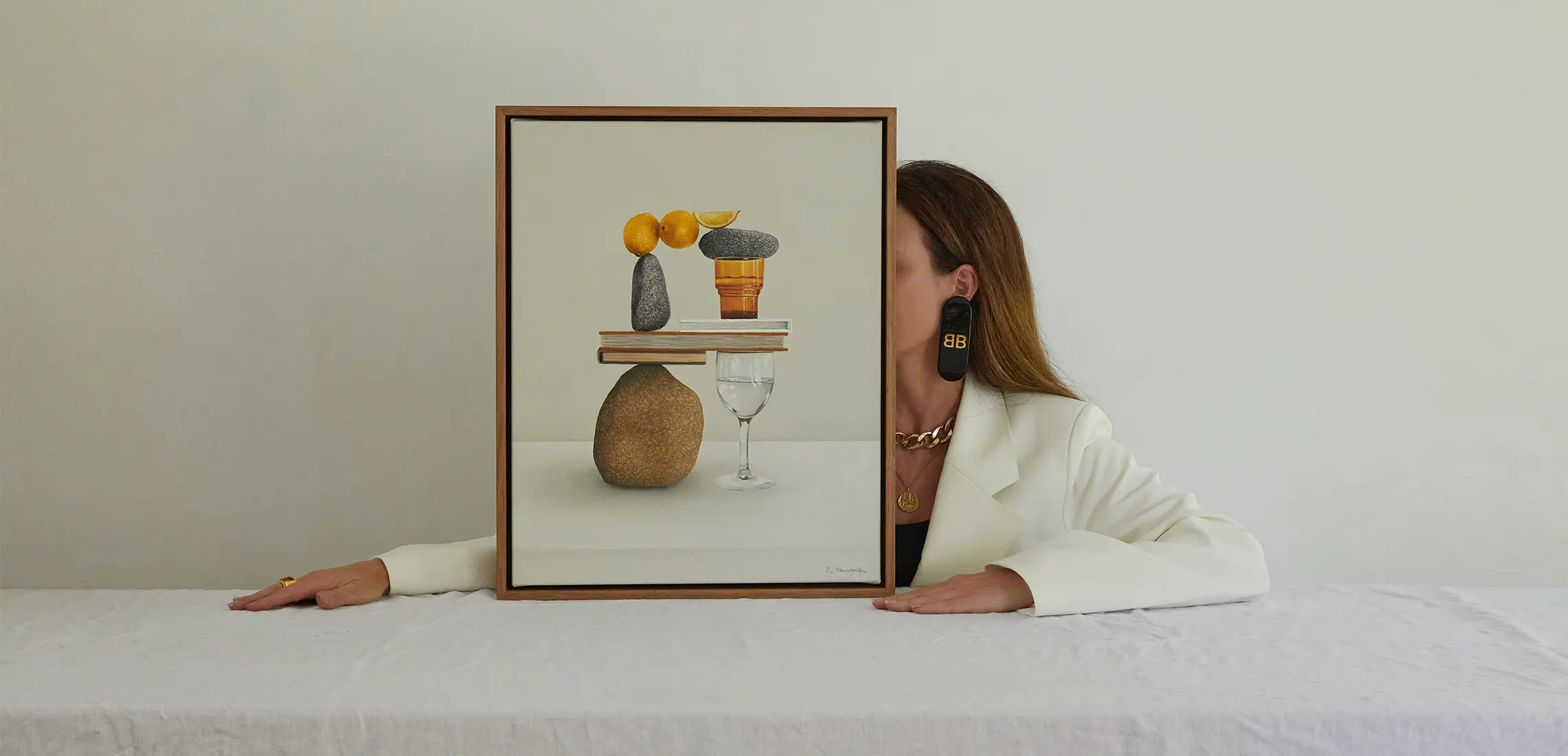 Style Muse: Five Minutes With The Talented Amanda Shadforth
Woman on top
By Polly Gardner | 8th August 2022

For Amanda Shadforth of Oracle Fox, aesthetic dexterity is a way of life. One of Australia's most high-profile stylists, this creative force majeure counts content creation, photography, creative direction, parenthood, and art among her many talents. 

Now, in celebration of her latest venture — an exclusive still life and sculpture collection for design mecca Tigmi Trading — we take a peek into her daily life and luxe Sunshine Coast abode, which is as much an extension of her work and travels as it is a loving ode to the beachside locale she calls home.
Hi Amanda, how has 2022 been so far?
It's been a whirlwind with the launch of my sculpture and wall art collection, as well as my new website and my first oil on canvas fine art collection 'Between a Rock and a Hard Place', after a ten-year hiatus. The biggest challenge has been balancing my existing work in the fashion space, with time to paint and sculpt and family commitments, but revisiting art through a more mature lens has been so much fun!
You've been such an influential part of Queensland's creative community for years now – how did you get started?
I have always followed my passions and live by the ethos 'my vocation is my vacation'. For years I had an art gallery and creative space in Cotton Tree, but I wanted to push myself further creatively, and around 2010 I created my WordPress page to share my artwork. From there I started to be approached for work by the fashion community and I really enjoyed the challenge of working creatively in a new genre.
View this post on Instagram
Describe your personal aesthetic and how it influences your home and work spaces…
My personal aesthetic is quite minimal and contemporary when it comes to dressing – I'm lucky to work with so many incredible brands. In regards to my aesthetic beyond fashion, I love the European mindset mixed with a little mid-century. I've collected some beautiful pieces through my travels, and I like to mix old and new in a paired back kind of way. There is a lot of my own artwork in our house – a true side effect of being an artist. Sometimes I need to live with a piece for a long time before I'm ready to let it go.
Tell us about where you work and where you feel most productive:
With my fashion work, my space can be anywhere from local to international shoot locations. I frequently travel, and you learn to work on the go from hotels, airports, and on location depending on deadlines. My overseas travel ignites my art inspiration, but in general my productivity is not limited to one location. You quickly learn to master the art of multitasking, whereas with my art, I find solace in working from my home studio on the Sunshine Coast.
What are your can't-live-without home and office items?
Definitely my computer, phone, and camera play an integral role in everything I do. Then of course, my art supplies including easel, paints, and specialised brushes. From an aesthetic point of view, I can't live without fresh flowers, my collection of art books, and I love a great candle.
View this post on Instagram
What does a typical morning entail for you?
There's something to be said about having your own daily rituals when you are a creative. For me personally, days start off quite busy and I find myself rushing to get everything done in the morning. If I can, I like to begin in my work space and take a few deep breaths to centre myself because I need peace, harmony, and balance in my life. 
What's next for you and for Oracle Fox?
Re-entering the art space, I felt it made sense to rebrand from Oracle Fox back to @amandashadforth, which is synonymous with where my journey began as a young artist. I'm looking forward to pushing my personal limits as an artist, whilst simultaneously growing my work in the fashion industry. I think it would be exciting to merge these worlds together eventually — I can't say too much now but definitely watch this space!
Daily Vice?
Green smoothies
Exercise of choice?
Pilates, yoga, and surfing
Favourite spot on the Sunny Coast?
Bistro C
Number one wardrobe essential of all time?
A tailored blazer
Ballet flats — yay or nay?
I'm definitely more of a brogue kind of girl!
What are you listening to at the moment?
An album by French electronic duo, 'Paradis', called Recto Verso
Star Sign?
Libra
Favourite Book?
Mid-Century Modern — High-end furniture in collectors interiors
What are you most proud of?
My family
Love local women of influence? Catch up with Bianca Marchi here.