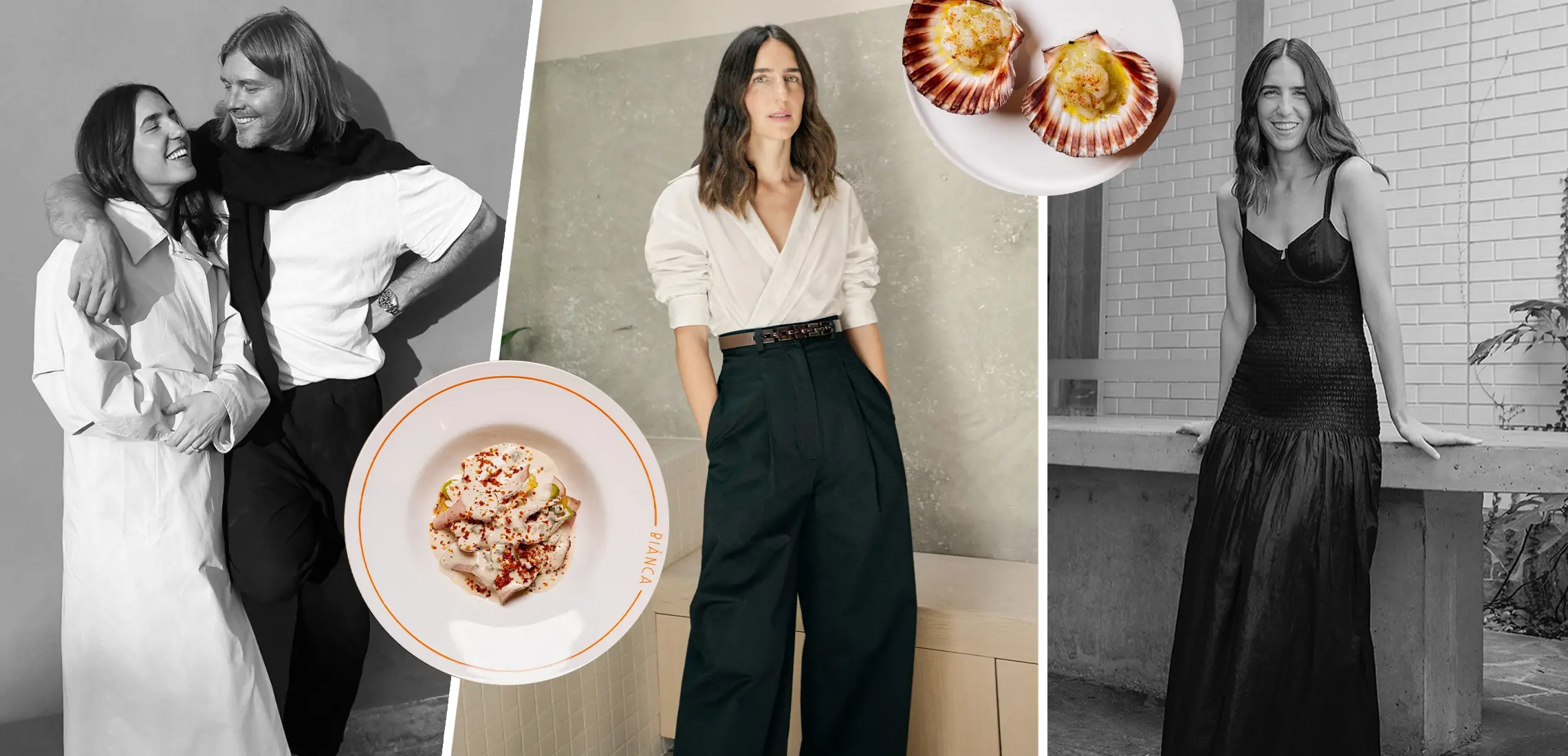 Five Minutes With BNE Woman To Watch Biànca Marchi
B is for Biànca
By Astrid Taemets | 7th June 2022

She's one slice of the awesome foursome pie who's delivered us Agnes, hôntô, sAme sAme, LOS Bar, and (her namesake), Biànca Restaurant, but that's not all Biànca Marchi is good for.

With an inimitable style that transcends her years, get to know the woman behind your favourite eateries.
Hi Biànca, thanks for chatting with us! Firstly, how would you describe your style?
It has certainly changed over time. When I lived in Italy, it was a style synonymous with the streets of Milan – classic, minimal, and mostly black. However, after being in Australia for 10 years, it's been influenced by the environment – both the sub-tropical climate and the industry in which I work. In the summer, it's about feeling comfortable and cool, but polished. I favour lines that are simple and clean, and most often in a neutral and lighter colour palette. I purchase items I know I will wear often and have been made well – the same goes for the items in our home.
What are your current top five fashion brands?
This will be six, but I love Lucy Folk, Art Club by Heidi Middleton, Scanlan Theodore, Albus Lumen, as well as Camargue – a beautiful, independently owned boutique right near three of our venues, which carries Matteau and Totême – both perfect for the basis of a classic wardrobe.
What is the most prized item in your wardrobe?
My engagement ring which was designed by my friend Natasha Schweitzer and a Cartier watch that my dad gifted me for my graduation.
What is your daily go-to uniform?
For me, it's all about what is comfortable, feels good, allows me to move on the floor, and jump into a meeting if needed. I love a good slide in summer and a sturdy boot in winter. You can't really embrace heels in this industry.
What does fashion mean to you?
For me, it's about feeling comfortable and making considered choices. If you're certain about how you appear, that exudes a confidence no professional stylist can capture.
What is currently on your wish-list?
A Lucy Folk tribute ring.
You recently visited Italy. What staples did you pack?
I went back to Italy for nearly six weeks. I had not been with my family for almost three years due to the pandemic – those first hugs were everything! I packed items I could layer and mix together. MVPs were an oversized cashmere knit from Khaite and Totême high waisted black wool trousers – I wore these on repeat. My long-belted coat from P.Johnson kept the winter chill at bay.
Walk us through a day-in-the-life of Biànca Marchi:
I love routine and moving my body first thing in the morning. Ty (Simon) and I will go for a walk with our dog Roy and get a coffee. We carve out that time, so no matter how the day unfolds, we have done something positive for ourselves and have done it together, which is important to us both. If I can fit it in, I love to take a reformer Pilates class with Sarah Watson at TotalFusion or box with my trainer. By 10am I'm in the office and the meetings begin. We read the reports from the night before, action anything urgent, and plan initiatives for the coming days, weeks, and months across our portfolio. In the evening, I'm often in the venues working. If not, Ty and I will have dinner with our friends, either cooking at home or heading out for a bite.
Tell us the story from the beginning, before you transformed Fortitude Valley's dining scene:
That is very kind to say, but we definitely do not think we have transformed it, and I would hate for people to think we think we do! There are so many fantastic offerings both in our neighbourhood and the city. Many of which existed before we came along – just look to the teams at Harvey's and Cru Bar + Cellar – they really anchored James Street. The ideas for each of our venues came from identifying opportunities and creating offerings we hoped our loved ones would enjoy. In terms of learning, that comes from each and every service, adapting where we need to. The learning never stops. Our restaurants are authentic and respect tradition, but they also look forward.
Where does your love of food come from?
From a love of the connection it yields – sitting down and sharing a meal with those you care about and who care about you has the power to reset and reframe an intense day, especially when life is moving at a fast pace.
What is next in store for you?
I can't believe we are nearly halfway through the year! We have a few more trips planned, both here in Australia and to Europe to see my family again.
If you love Biànca's work, discover the best Brisbane restaurants to book a table at here.