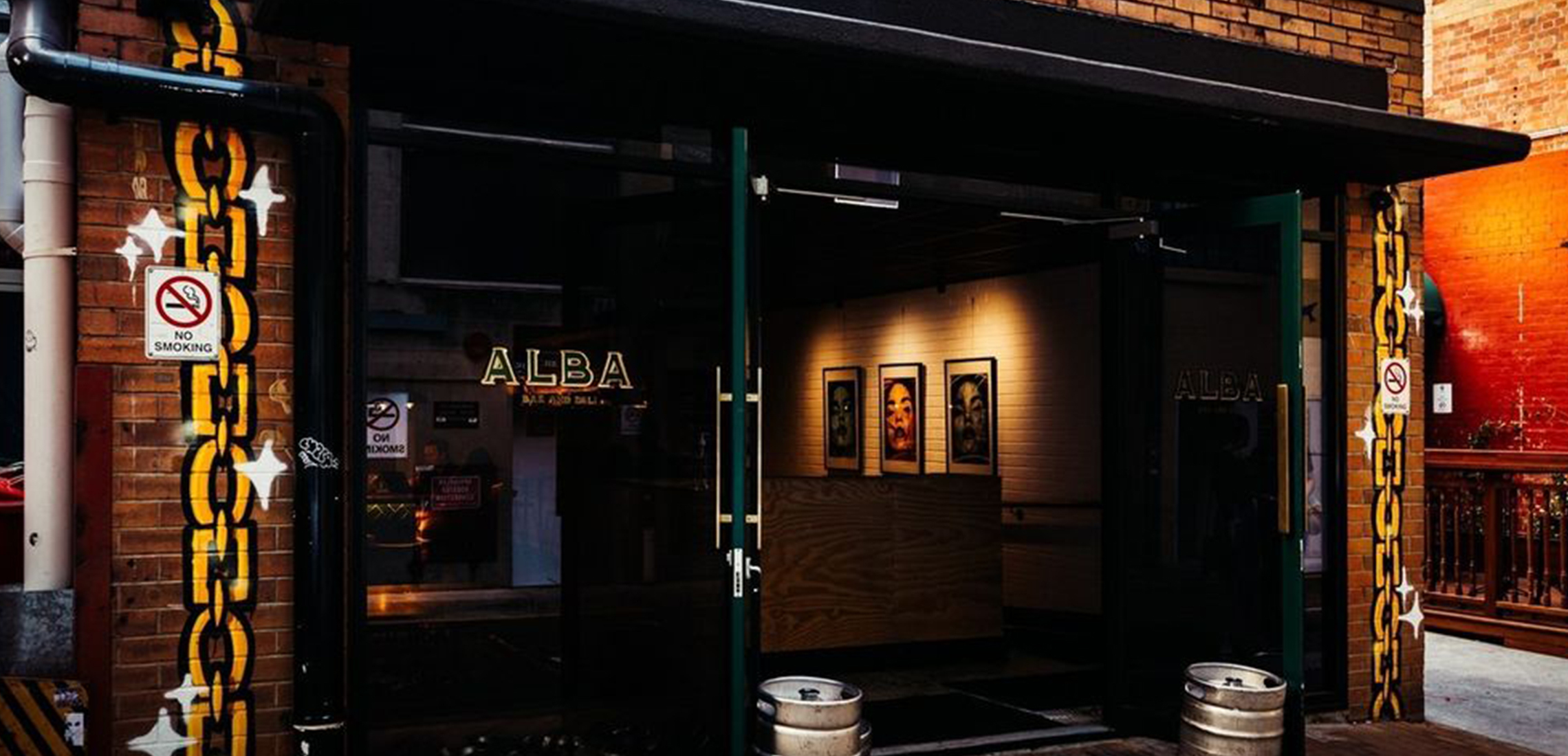 Secret's Out, 13 Of The Best Underground & Hidden Bars In BNE
Hide and seek
---
Mix in a dash of darkness, add a garnish of mystique, and you've got yourself a quintessential underground concoction. Come nightfall, we're chasing the allure of the hidden drink dens our city has under wraps. 
Tunnel down for a stiff beverage – these clandestine charms are known only by those seeking the sweet allure of low lighting, leather lounges, whispered secrets, and an ambiance that never quite sees the light of day. 
From a phony barber shop to a cupboard leading to Narnia, tick these off and rest easy knowing you and Brisbane's underground and hidden bar scene are now very well acquainted.
Did we miss someone from the list? Let us know here!
Mrs J. Rabbits Speakeasy
Woolloongabba
Jump feet first down the rabbit hole and you'll emerge inside Mrs J. Rabbits Speakeasy. Through a wooden cupboard in Woolloongabba's Electric Avenue you'll find whiskies, gins, tonics, and botanicals worthy of this Narnia-inspired wonderland. With an antique cupboard that is filled with far more than it seems, you'll need to use the password from the bar downstairs to get you through this concealed entrance. Filled with wooden walls, hanging ferns, and trinkets galore, this cosy bar has an undeniable otherworldly ambience. Their menu is right on-theme – with each playful cocktail comes with a quote straight out of wonderland, served in vintage teacups! Tempt your imagination with the Queen of Hearts, Tick Tock Croc, or the Glass Slipper, nibble on bar snacks, and experience this hidden charm on Logan Road. 
Brooklyn Standard
Brisbane City
If good times are your thing, then you'll find them pumping six days a week at this underground ode-to-NYC bar just off Eagle Street. Brooklyn Standard is where the vibe is high and the party is happening all night long. What sets them apart isn't just the expert bartending team, but their cracking live music each night with funk, rock and roll, Mariachi, RnB, and everything in between. A quick look on their Facebook page will uncover the week ahead line-up of rocking music, so you can get your hips shakin'. After a boogie on the d-floor, get stuck into the American-inspired menu with fries, wings, burgers, and bar snacks.
Death & Taxes
Brisbane City
For those who can't turn down the nectar of a neat glass of whisky, this is your new night haunt. Find the grim reaper waiting on Burnett Lane – Brisbane's oldest laneway – and follow him through to what is dubbed the only things you can be sure of in life – Death & Taxes. Inspired by the underground bar scene in London and Paris, it boasts an ever-growing collection of over 1000 spirit bottles, century old floors, deep buttoned leather booths, and arched wooden bookshelves. Winning whisky bar accolades for the past two years, you can count on their selection of aged, big flavoured classics as you slowly savour each sip. If you prefer something a taste more experimental, opt for what have now become household names among guests – a Death & Taxes OG whisky cocktail!
Savile Row
Fortitude Valley
This opulent vintage lounge bar and hidden treasure in Fortitude Valley is a must-do while on a night out in Brisbane. Step inside the out-of-place orange door on Ann Street and peel back the curtains to reveal a slice of central London – it's where the name is from, after all. Experience a glorious old school chandelier glowing above you and incredible views of the wide-scape spirit bar from every angle. With a carefully curated cocktail list, Savile Row is where tailored drinking is at its finest (psst! There's over 900 spirits to choose from!). Whether it's an intimate setting for you and a plus one or a social gathering, there's delightful seating and standing areas for all to sip and be merry.
Doo-Bop Bar
Brisbane City
Follow the sound of saxophones underground to experience Brisbane's home of blues, funk, and soul. The Doo-Bop Bar is a basement brought to life every Friday and Saturday after sundown with world-class jazz performed by local and international artists alike. With exposed brickwork and thick wooden beams from the original Federation era warehouse, it holds an old-world ambiance that pairs perfectly with jazz. Whether you're fueling your night with a feast or making your way down the cocktail list, head to The Doo-Bop Bar's socials to view the lineup and settle in for a night of rhythm and movement in true Miles Davis style.
The Boiler Room
Fortitude Valley
From strip club to dive bar, you'll find the other half of Tomcat hiding behind bouncer Bill Murray from Lost in Translation. His debonair mural conceals a door leading to The Boiler Room, far more glamorous than its racy history as an illegal gambling den. Choose from over 500 speakeasy cocktails, share charcuterie plates by candlelight and listen to live music every Thursday to Sunday until the wee hours. This eclectic, tranquil space packs in quickly with those looking for a long night of Euro-style bottle service with their specialty, Remy Martin cognac. With a long wooden bar, a grand arched window, and low hanging light bulbs, there are ample late nights ahead of you in The Boiler Room.
Miss Demeanour
Brisbane City
Amongst the hustle and bustle of Brisbane City (and a hop away from Queen Street Mall) exists a hidden laneway across the road from the big labels: Louis V and Bvlgari. Head down the rabbit hole and you'll find the moody Miss Demeanour laneway bar. Since re-opening after lockdown, Miss D (as they like to be called) has brought back a new take not just on their cocktails and rotating craft beers, but to their lunch and dinner offerings. In particular are their delicious melt-in-your-mouth burgers with gluten and dairy free options. They've also just launched their bottomless brunch every week from 11am to 2pm, which includes burgers, bottomless fries, and a large selection of booze options including espresso martinis and bloody marys.
Cindy Chows Theatre & Cocktail Bar
Fortitude Valley
Cindy Chows Theatre & Cocktail Bar is a 1920s Shanghai inspired secret amidst the centre of nightlife in Brisbane. Shanghai was once a melting pot of cultures, known as the Paris of the East, and home to the lady who ruled all things drinking, gambling, and eroticism. What's the fascination you ask? Perhaps it's the cabaret girls, the secret poker room, or the hidden whisky den? The cocktails served in birdcages, the delectable tapas, or flasks stashed in hollowed out books? With Chinese statues and decadent artwork adorning the walls, enter through the fridge door and step back in time with a lady who risked it all to entertain.
Next Episode
South Brisbane
Masked as an entrance to a barber's shop in South Brisbane's Fish Lane, you wouldn't think there's a hip hop inspired secret bar with Biggie Smalls waiting for you on the other side. You'll find a phone at the entrance which is where you dial the ever-changing number on the vintage phone (check out Next Episode's Instagram for the weekly code) and the mirrored walls unlock! With neon lit signs inside, a Biggie Smalls mural, a handful of booths, and hip-hop tunes singing through the intimate space, the NYC inspired cocktail bar will take you to another world. Staying true to their theme, the cocktails are where Next Episode really shines. From 'I got 99 problems but a drink ain't one' to 'Gin and juice' and 'Hendricks Lamar' you'll be sure to find something for your inner homie here.
Susie Wong's Good Time Bar
Fortitude Valley
Coming to you by the same powerhouses behind Brooklyn Standard is none other than the Hawaiian themed Susie Wong's Good Time Bar. Who is this Susie Wong and can we be friends? More grungy surf shack than tiki bar, push open the cold room door and be immersed in a room of vibrant colours and vintage novelties. They've got the basics down pat with bubble tea cocktails and a frozen selection that will cool you right down after a hula or two on the dancefloor. With surf rock on school nights and classics on weekends, this hidden bar is soon to be a regular hangout.    
Greaser
Fortitude Valley
Embracing all things grit and grime, this is one underground bar that truly belongs beneath the streets. The original cellars of The Prince Consort Hotel, you'll find Brisbane's emerging indie band scene performing gig after gig here. Graffiti and framed paraphernalia line the brick walls, antique velvet lounges welcome guests, and exposed ceiling pipes create a grog den like no other. It's exactly what you want at the end of your twisting journey down a Brunswick Street back alley, past the kitchen, through to a framed Elvis hanging in all his glory. The journey just makes it all the more enthralling! Kick back at the killer burger bar, brave the Greaser rite of passage (hint: it involves whiskey and pickles), and relish a craft Aussie tap beer.Buckle in, this one's an all-nighter.
Alba Bar & Deli
Brisbane City
For a taste of Brooklyn meets Barcelona, Alba is your fix, with delicious bites, cocktails, and a modern wine dished out to patrons in an ambient hole-in-the-wall joint on Burnett Lane. Taking cues from Basque with its laneway vibe, the neighbourhood bar puts a great deal of thought into its aperitivo and rotating cocktail list. It's also constantly evolving with the seasons, so each time you visit will like a brand new escape. Just head to the heart of the city and follow the sound of understated hip hop, and you'll find yourself at the hands of Brisbane's most respected.