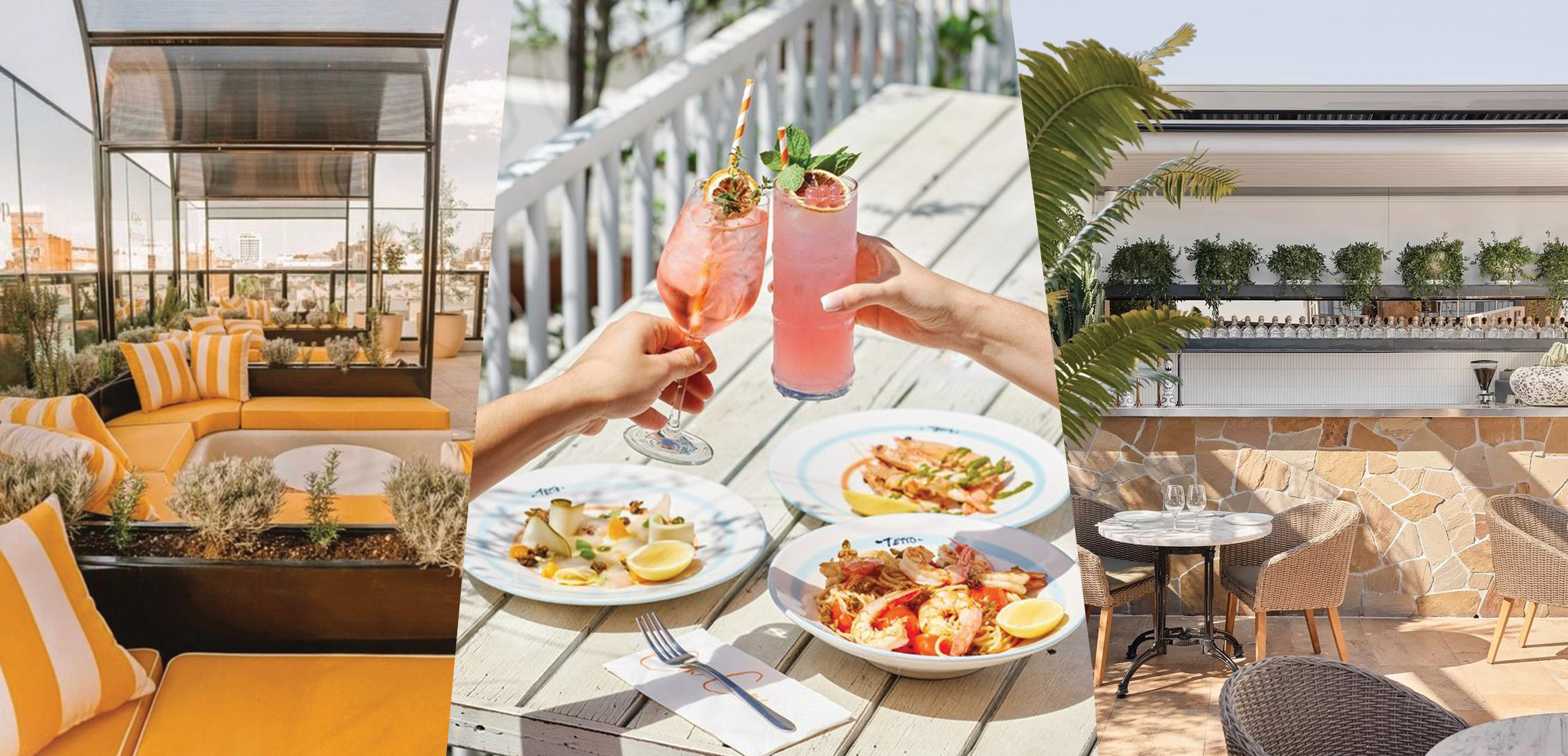 Reach New Heights With Brisbane's Best Rooftop Bars
Ooft, that sunset!
By Style Journo | 2nd June 2023

Street level is très passé. We're taking drinks to new heights this season filled with dazzling city lights, pastel-hued sunsets, and skylines that will make you ooft! From the neon Story Bridge and our snaking river to vantage views over city commuters and late-night shoppers ­­– Brisbane is a vibrant city with the best rooftop bars around and lots to look at.

While hidden bars are great for escaping prying eyes, and you can't go past a pub for a pint paired with a parmy, we've discovered that drinks taste seductively sweeter several levels up. So, we're bringing you a taste of our city's top shelf; from hype new hangouts to haunts you've seen but never sipped at, order your cocktail of choice because this first round of the best rooftop bars in Brisbane is on us!

By the way, we consider everyone in this list the best of the best! To make finding your next favourite that much easier, we've ordered the list alphabetically by suburb and also have filtering tabs for your convenience. Did we miss someone from the list? Let us know here! Hide the form

FILTER BY

All
All
Brisbane CBD
North Brisbane
East Brisbane
South Brisbane
West Brisbane
Gold Coast
Noosa
Sunshine Coast
Ivy Blu Rooftop
Petrie Terrace
There's a new urban oasis above the commotion of Caxton Street, and her name is Ivy Blu. This pastel cargo playground in the heart of Brisbane is one of the latest rooftop haunts to add to our ever-growing list since its opening late last year. Filled with pastel blue picnic benches, cream lounges, vast umbrellas, fairy lights, a huge screen, and greenery galore, there's no better location to soak up the sun and gaze over our city's heart. Their eclectic cargo container kitchen is serving up everything from Moreton Bay Bug buns and caprese salads, to buffalo chicken ribs and Provolone cheese plates, and did we mention they do a bottomless brunch every Sunday? With spritzes galore, ten bangin' on-tap beers, and copious cocktails, plus a wine list that will both surprise and delight, their neon sign sings true – this must be the place! 
View this post on Instagram
Su Casa Brisbane
Fortitude Valley
If you're hankering for a rooftop that turns it on come sundown, let us introduce you to Su Casa. With mellow moments during daylight hours including arvo eats and killer cocktails, Ann Street's new rooftop bar has us sky high! Come sundown, the all-expansive bar, a glimmering disco ball, Brisbane DJs on the decks, and no shortage of neon make this casa irresistible. Established this year, they've got all of Brisbane grooving and our full attention when it comes to a good night out, thanks to the nightclub kicking on the good times downstairs.. Think: explosive bottle service, a space that welcomes one and all, and a d-floor worthy of any rooftop venue. Let the fiesta begin! 
View this post on Instagram
Cielo Rooftop
Fortitude Valley
Perched high above the streets of Fortitude Valley lies the Italian Riviera-inspired rendezvous, Cielo Rooftop. Beloved by our city for their orange-hued open-air booths, vibrant cocktail trees, bubbles everywhere you wouldn't expect, and surreal metropolitan outlook, it's a must for those who love an alfresco tipple. From the brains behind the Salt Meats Cheese Group, its charm remains its affability – an oasis easy to slink into and stay well past sundown. A tribute to a summer spent on coastal Italy, you can't go past shared antipasti like Mooloolaba prawn cocktails or Byron Bay burrata, paired perfectly with a selection of twenty contemporary cocktails. Take note, late arvo is the best time to snag a seat and soak up the sun!
View this post on Instagram
The Rooftop at Spicers Balfour Rooftop Bar
New Farm
For those who pleasure in an evening of refined suburban sips, look no further than the Rooftop Bar at the Balfour Kitchen & Bar. This historic century old Queenslander nestled in New Farm's leafy green suburb is surrounded by native foliage and filled with elegant art deco-inspired interiors. While inside is reserved for fine dining, the rooftop is the perfect spot for a relaxed evening pinot with friends. A true neighbourhood bar, they'll always try and keep seats free for locals so it's strictly walk-ins only. Dimly lit and intimate, let the expert team of staff craft you a cocktail (or mocktail!) Monday – Saturday from 5pm and bask in the view of our stunning northern suburbs.
View this post on Instagram
Valley Hops Brewing
Fortitude Valley
With their finger on the pulse of all things Fortitude Valley, Valley Hops Brewing are embracing both the nice and the nasty of this booming historic suburb. Pouring top-quality beers under the Queensland sunshine, this rooftop brewpub and bar is sitting pretty on Cloudland with good times aplenty. The distinctive characters of The Valley are captured in each brew, with a core range of six signature house-brewed beers named after people, places, and moments in time across the Valley's eccentric history like the Herbalist IPA or the 21 Pubs Pale Ale. Featuring striking steel arbours intertwined with lush greenery, sip back and enjoy beer made for locals, by locals!
View this post on Instagram
MAYA Mexican
Fortitude Valley
From the same creators of what was Brisbane's most iconic rooftop bar, Eleven Rooftop, MAYA Mexican has well and truly taken over this highly sought-after space. This venue makes our list of best rooftop bars in Brisbane for its unparalleled views of Brisbane from countless stories high, a long list of delectable cocktails, and deep appreciation of regional Mexican cuisine – all inspired by a trip to Guadalajara Mexico, and plenty of artisanal tequila. From long lunches to late-night cocktails, no one does chilli margs, artisanal mezcals, and pescado tacos quite like MAYA. Choose the lush rooftop courtyard during the day and watch it transform into a bustling bar come sundown with live music performances and DJ sets reverberating from this enviable Mexican oasis.
View this post on Instagram
The Terrace by Emporium Hotel
South Brisbane
Twenty-one stories above ground level, experience sprawling views of South Bank, the Brisbane River, and our CBD at The Terrace ­– the next on our list of the best rooftop bars in Brisbane is Emporium Hotel's revered rooftop bar. From the moment you step foot out of the psychedelic elevator, find yourself immersed in a sensory symphony with mismatched marble tiling and pistachio chairs making up this spectacular, reflective space. Featuring a bespoke retractable glass ceiling, soak in our subtropical climate all year round as inside rapidly becomes alfresco. Boasting a 27-page drinks menu, it's a cocktail sanctuary filled with ten signature creations, exclusive non-alcoholic options, French Champagnes that will transport you across the globe, and more beers than you can count on fingers. The same vibes are translated in the carefully thought-out lunch and dinner menu, complete with lighter grazing including BBQ sweetcorn, beef bulgogi sliders, and artisan cheese options.
View this post on Instagram
Fiume
Brisbane City
If unbeatable views of the Brisbane River are what you're chasing, look no further than Fiume at Crystalbrook Vincent. Perched above the flurry of Howard Smith Wharves lies this glamorous rooftop bar, reflecting one of Brisbane's very best angles. Look up and you're engrossed in the impressive architecture of the Story Bridge, look ahead and you'll see the river gracefully curve around Kangaroo Point. Snag a coveted balcony seat and drink in the panorama, with sustainably sourced bites to graze on and a signature historic The 1930 Classic cocktail in-hand. From local brews and liqueurs to an impressive range of Aussie vino, unwind amongst the foliage with your nearest and dearest.
View this post on Instagram
Tetto Rooftop Bar
Everton Park
This suburban slice of the Italian Riviera soothes our wanderlust time and time again. Perched in all its glory atop Everton Plaza, Tetto is filled with thirsty locals looking to embrace the La Dolce Vita lifestyle. Orange striped umbrellas, white wooden tables, and bougainvillaea adorn the terrace, with exquisite cocktails and delectable bites being devoured on each table. Complete with colourful cocktail trees, jugs filled with the flavours of Italy, and a list of classics you'll want to work your way through, this elevated neighbourhood bar is where memories are made. With live performances every Friday and Saturday from 5pm, and boozy acoustic Sundays from 2pm, immerse yourself in the open-aired courtyard, raise a glass, and cin cin to the sweet life!
View this post on Instagram
Agnes
Fortitude Valley
From the creators of sAme sAme, Hôntô and Biànca, Agnes has been cooking up a fiery storm in Brisbane. They're best known for their wood-fired dishes and contemporary restaurant experience, but up the dark staircase above the main dining room you'll find an intimate terrace, overlooking the CBD and Fortitude Valley. Best in, best dressed – once you've experienced a house-made limoncello, a serving of wood fired bread, and (if you're lucky enough) an oven baked cheese cake, you'll be itching for another night at Agnes. Complete with cobblestones, an exposed brick wall, olive trees, and black garden tables, this outdoor bar serves up bar snacks, desserts and of course, wine and cocktails. Open late from Tuesday through to Saturday, this hidden gem on our list of the best rooftop bars in Brisbane is best enjoyed on a weeknight. Seats on the terrace are available by walk-in only.
View this post on Instagram
Iris Rooftop
Fortitude Valley
From the brains behind some of our favourite Brissy restaurants like Donna Chang, Blackbird, and Bisou Bisou, the Ghanem Group delivers their latest venture, Iris Rooftop. Located above Fortitude Valley's Hotel X, Iris promises to bring guests breathtaking views of the Brisbane City skyline, Fortitude Valley, New Farm, and beyond. With decadent décor inspired by the European coast and a bold Mediterranean menu curated by Head Chef Lloyd Evans, kick back by a grove of olive trees in your exclusive poolside bungalow and enter a daze of delightful drinks.
View this post on Instagram
SOKO
Fortitude Valley
If stunning views of Brisbane's skyline take your fancy, then strut your stuff over to SOKO Rooftop Bar. Situated at the top of Jubilee Place in Fortitude Valley, you'll find Japanese Peruvian bites, jungle-inspired interiors, and drinks aplenty! With an abundant array of spirits, wines, and cocktails, there is something on their beverage list for everyone. Not to mention, their entertainment scene is sure to please – think bongo players, Latin dancers, DJ tunes, and more. So gather the gang, because it's time to hit SOKO!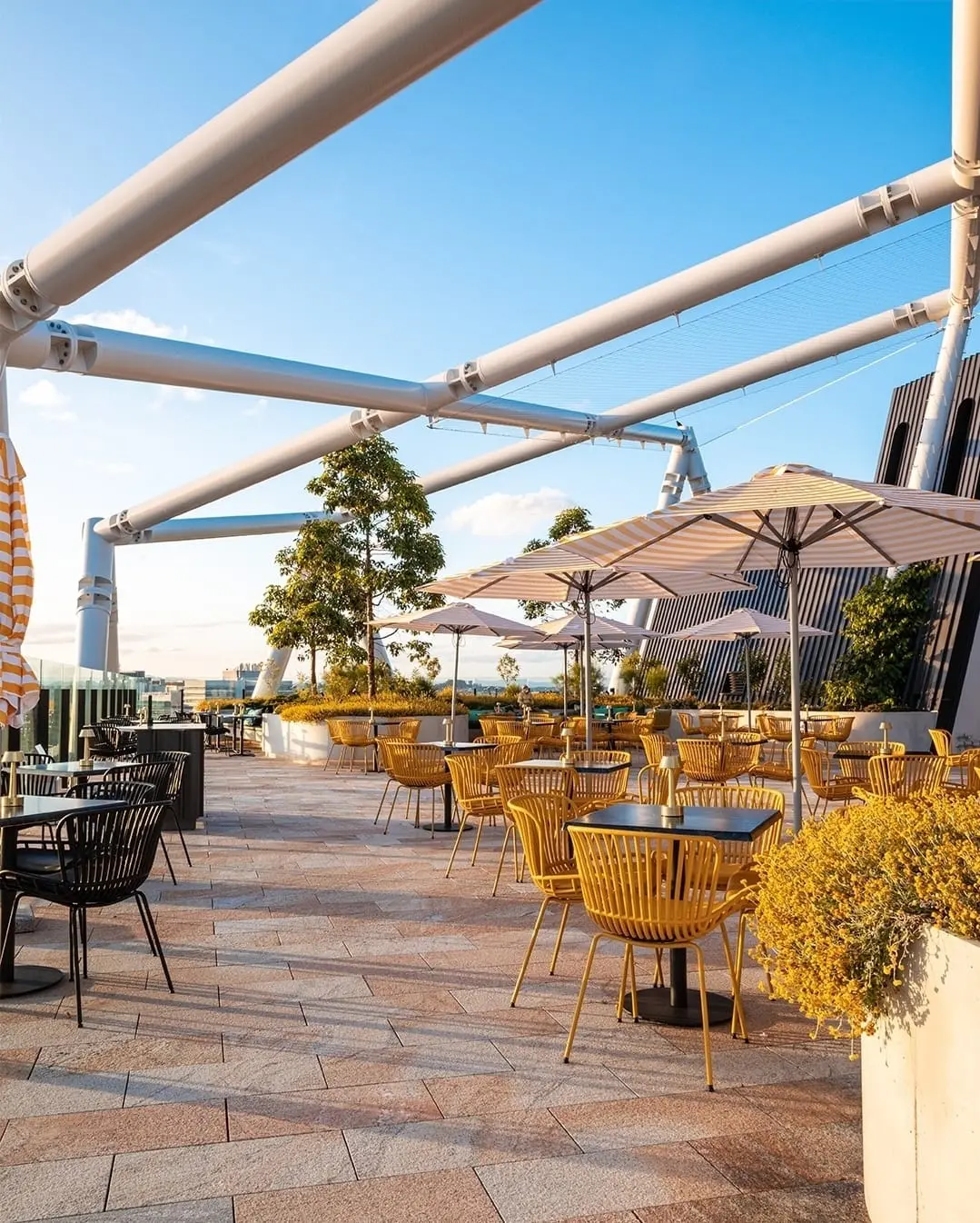 Heading down south? Add a classic Aussie coastline to the equation and experience the GC's best rooftop bars here.