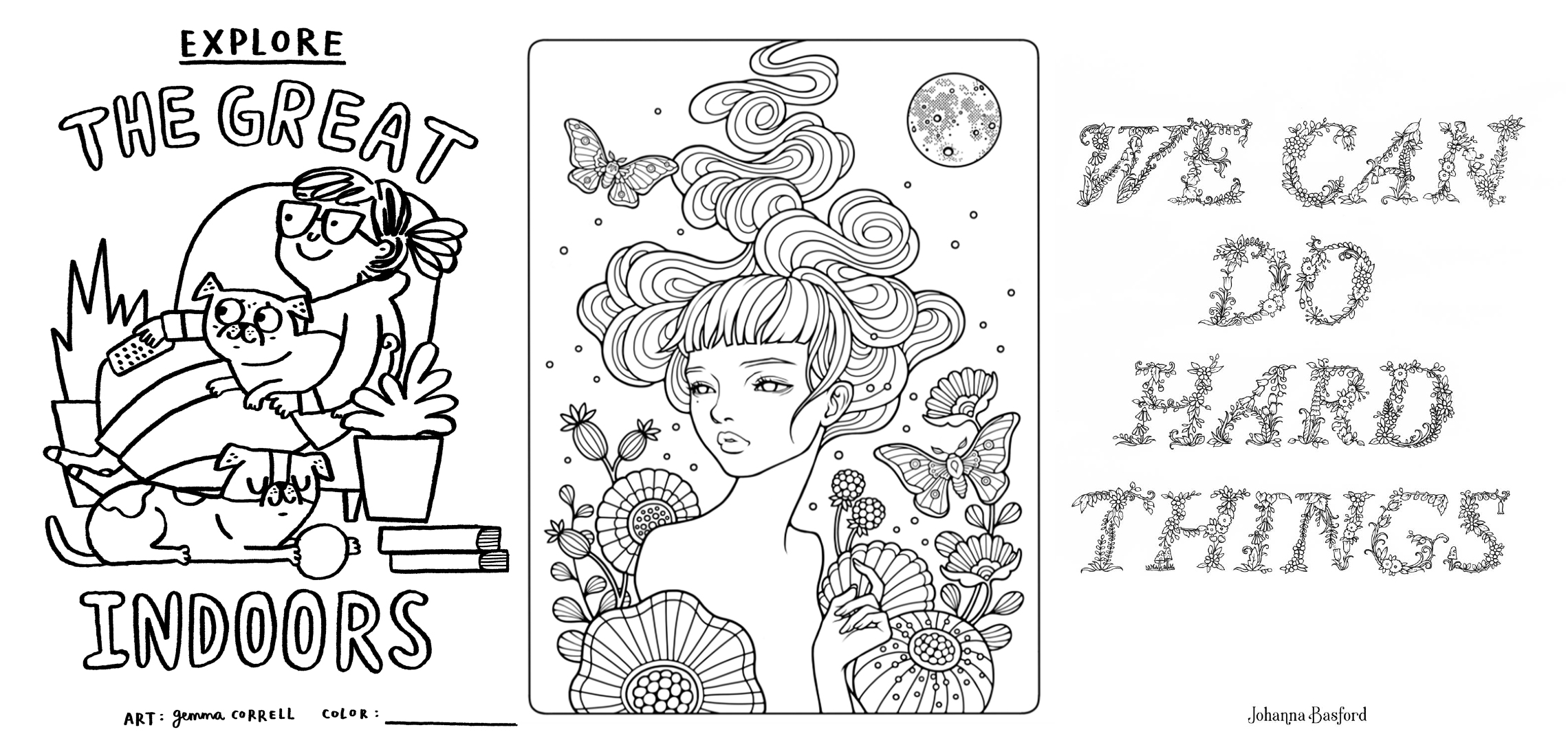 Free Colouring Pages To Pencil In
BYO sharpener
---
Remember that kid in primary school who carried a briefcase like a Wall Street broker, filled to the brim with twistable crayons in every shade imaginable? They were the envy of the class, the Picasso of the playground, and the height of cool when your teacher's strict regime said it was time to colour in.
Whether you prefer your Crayolas or Faber-Castells, colouring in is just as enjoyable for those who've swapped their sippy cups for tumblers. It's like creative meditation that's scientifically proven to help reduce stress and anxiety (@ all you Type As: colouring in the lines is optional!). To help your imagination reach its nirvana, we've rounded up a bunch of free, downloadable colouring pages that you can crank out the printer and hue up 'til your heart's content.
The OG inky illustrator behind the whimsical wonderlands that helped spark the adult colouring in craze, Johanna Basford offers a range of downloadable pages, including a free 12-page mini-colouring book. Download here.
https://www.instagram.com/p/CJqrTxmF8pS/
One of our favourite Indigenous artists, Emma Hollingsworth has created these beautiful pages to celebrate her culture and Country, filled with Aussie fauna and flora. Download here.
Go wild with the intricate hedgehogs, butterflies, rhinos, jellyfish, and more that Millie Marotta has made for you to bring to life – she even has a free activity book for the kiddos! Download here.
The charming Susie Ghahremani spent lockdown posting a new colouring page every day on her Instagram, inspired by the whacky requests of her followers. Check them out on her Instagram highlight with the two pencils here, hold the one you like, screenshot, and voila.
If you're not familiar with the gosh darn adorable world of Liz Climo, you better study up. Her cute little critters are available to hang out with in two free colouring books. Download A Little Coloring Book here and A Little Unicorn Coloring Book here.
Ethereal and intricate, Audrey Kawasaki is a stunning painter and drawer in L.A. who stepped away from her wooden canvas to create two dreamy colouring pages. Download here.
The brilliant and award-winning mastermind behind many a DC Comics cover, James Jean is offering truly breathtaking pages that will make you believe you're a lot more Van Gogh than you actually are. Download here and here.
Rug up and sit down with the oh-so-cute and incredibly relatable work of Gemma Correll, who's made a colouring page and activity book. Download here and here.
Hey, people relax in different ways, so if you're looking for a vibrant vent, these printable swear word colouring pages will do the trick. Just in case little eyes are watching, we won't give you a sneak peek, but if you're in the clear, we highly recommend you click here.
Header images: Gemma Correll, Audrey Kawasaki and Johanna Basford