We Met With The Founders Of The Original Woven Mules At St. Agni
Another reason to hit James Street!
---
Known as the original creators of the woven mules, the Byron Bay based brand has grown a cult following over the years due to their high quality and unique designs. There's no doubt they could be described as 'trailblazers' in the fashion industry, always thinking outside the box and coming up with timeless and never-seen-before styles using different shapes and textures such as linen, leather and natural fibres. Their earthy, laid-back and relaxed aesthetic represents the landscapes of the small coastal town they call home.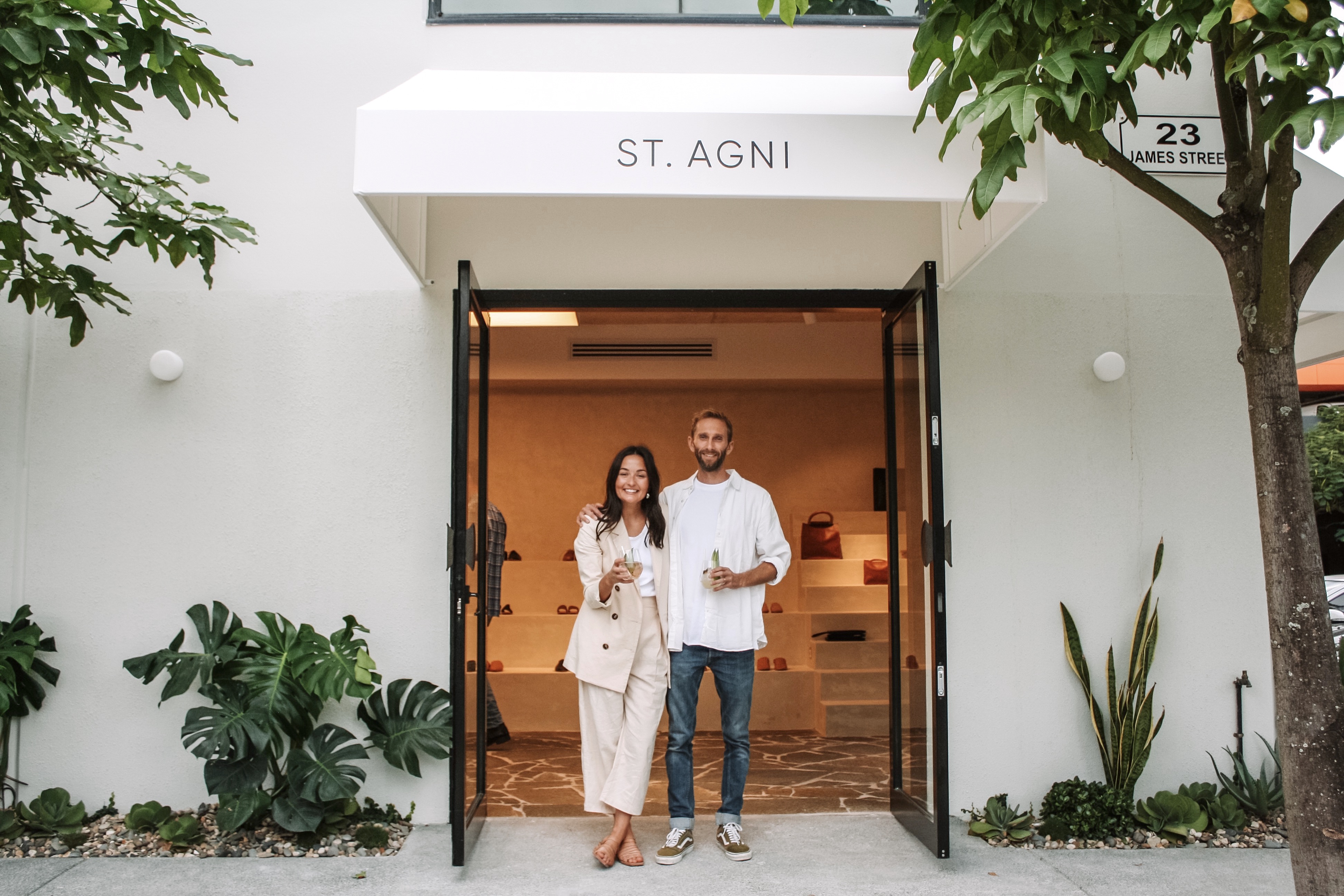 Founded by Lara and Matt Fells back in 2014, the couple fell in love in Lara's hometown of Tasmania whilst Matt was travelling from the UK, they travelled back and forth between Australia and the UK before finally settling down in Byron where they currently reside with their young son, Jude and cavoodle, Harper.
St. Agni was born in 2014 when the couple decided to begin their own project together having both worked previously in retail. Lara always had a clear vision on what she wanted to create, so one day whilst working full-time elsewhere, she decided to just go for it. Each piece is carefully considered, designed in Byron and manufactured in Indonesia. They've always had a strong relationship with the manufacturers and a focus on doing what they can to limit their carbon footprint.
They started the business out of their linen cupboard with a $10,000 limit credit card, which was maxed out very quickly. First starting with footwear, then accessories, before introducing clothing to their ever-growing collection. St. Agni is named after Lara's grandmother Agni, whom she considers as a saint.
Over the past five years, their team of just two has grown and so has their space in their first store. At the start of June, they opened their second bricks-and-mortar store in the Fortitude Valley's affluent precinct of James Street.
The Brisbane boutique was fit out by interior design studio We Are Triibe who captured the brand's earthy, relaxed and minimalistic style thoughtfully with furnishings by local creative including Worn Store and Coe Store. You can find their full collection of apparel, footwear and accessories, including a curated range by local creative including Holly Ryan Jewellery, Two Hills and The Line of Sun.
Liked this? You'll love these!
1. The Aussie Fashion Brands We're Loving At The Moment!
2. La Dolce Vita: With Silk Laundry's Katie Kolodinski
3. We Checked Out Cult Footwear Label St. Agni's Brisbane Flagship Boutique!