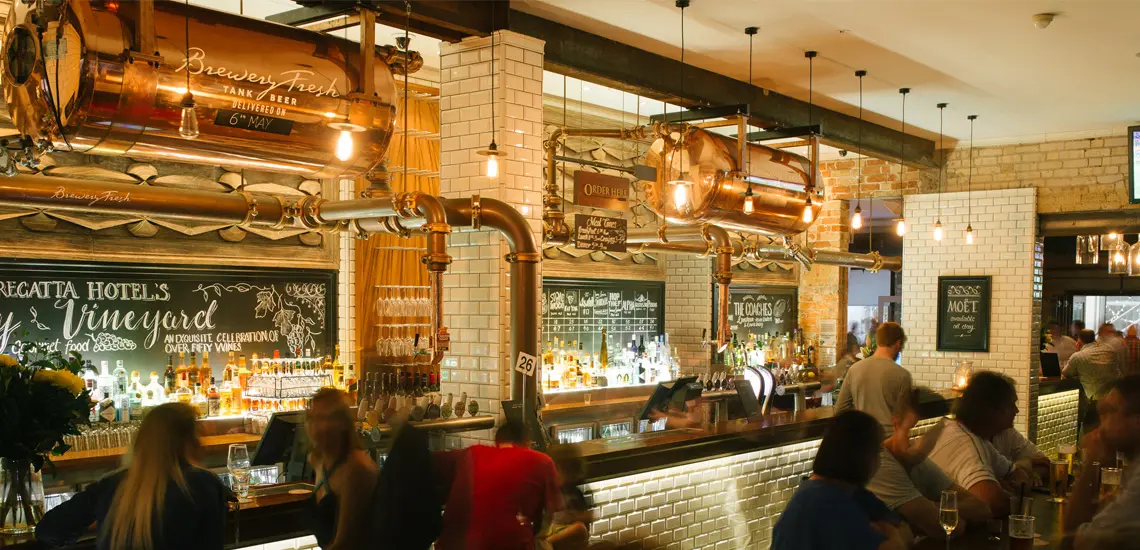 Our Guide To What's Open In Brisbane This Anzac Day
Because if you're waking up at 4am for the dawn service, a beer is in order.
By Guest Styler | 24th April 2018

Businesses are preparing for Anzac Day on Wednesday, April 25. With some open and others closed, we've created a handy list of those that will be open and buzzing! For Australians, this is a day of remembrance, contemplation and respect, with the morning spent marching and attending a service. For a post-service drink, these pubs, bars and restaurants will be open and filled with the Anzac spirit all afternoon.

This is the destination for those early birds up for the dawn service. From 5.30am the River Road Café will be serving post-service breakfast to those early commemorators (major respect). For those that wake up at a normal hour, The Courtyard will be open with their normal menu running as well as a special BBQ! A two-up tournament will be making an appearance from 1pm, hosted by Triple M Brisbane's Ben Dobbin, with live entertainment playing throughout the day. If all of that isn't enough to sway you, The Regatta is also supporting the local Toowong RSL. They will be hosting an Anzac Day dawn service at the second oldest Cenotaph in Australia at Toowong Memorial Park (FYI, for those who aren't familiar, a Cenotaph is an empty honorary tomb or monument).

The Normanby has a few special deals going this Anzac Day. Perhaps the most exciting is the full menu being half price from 12pm! But if that's not enough to draw you in, it is also home to Brisbane's biggest two-up arena, ensuring your afternoon will be filled with entertainment. Perfect for the whole family, the iconic Normanby Hotel is the perfect destination for post-Anzac Day service food and drinks.

Once again, the Story Bridge Hotel is hosting an Anzac Day celebration & commemoration. From 1pm to 9pm, you can take part in all the traditional celebrations. The day will include two-up from 2pm, the Forever Road band playing classic pub rock, and enough food and drink to satisfy everyone. This iconic Queensland hotel is a perfect pick to spend the rest of your day-off, after a morning of commemoration.

This is one for the boys. With 360° box screens and different matches airing on over 50 screens everywhere you look, The Sporting Globe is set to start or finish your Anzac Day with Dons vs. Pies playing from 3.20pm and Storm vs. Warriors from 7pm. This is one to book if you're after a taste of their delectable menu or a table tap to share. Check it out!

The Fox is opening especially early for Anzac Day, operating from 10am to 8pm this April 25. To commemorate those who served, 50c from every draught beer sold will be donated to Legacy Brisbane, a charity caring for the widows and families of Australia's incapacitated and deceased veterans. We couldn't think of a more appropriate cause for donation on Anzac Day.

The Fox isn't the only organisation that has teamed up with Legacy Brisbane! Little Big House has also recognised the great work this charity does and will be partnering up on Anzac Day. With free entry, live music and two-up, this bar is the perfect follow-up spot after a morning of marching. What better way to spend the day than in this historic, heritage-listed Queenslander with fairy-lights, verandas and palm trees.

This annual Anzac event held at the Victory Hotel offers a day of drinks in Brisbane City. Celebrating with ADF personnel after morning parades and services, the hotel will be holding yet another game of two-up, so place those bets! Music wise, the beer garden will also be banging with live party tunes from DJ Paul Bell. 1pm sees Brooksy and Co. playing, followed by Acoustic Moose, wrapping up the music scene. This Australian tradition will soon be your go-to.
Important retailer opening hours in Queensland this Anzac Day:
All day • 7/11 From 1pm • BWS • Liquorland • Vintage Cellars • First Choice • Event Cinemas • Selected Woolworths's • Bunnings Closed • Coles • David Jones • Myer • Aldi
Lest we forget this Anzac Day.
Liked this? You'll love these! 1. Fork Talk: Issue 35 2. Your New Favourite Sports Bar Open In Brisbane This Week! 3. All The Brisbane Breweries You Should Have Cracked A Cold One At Already