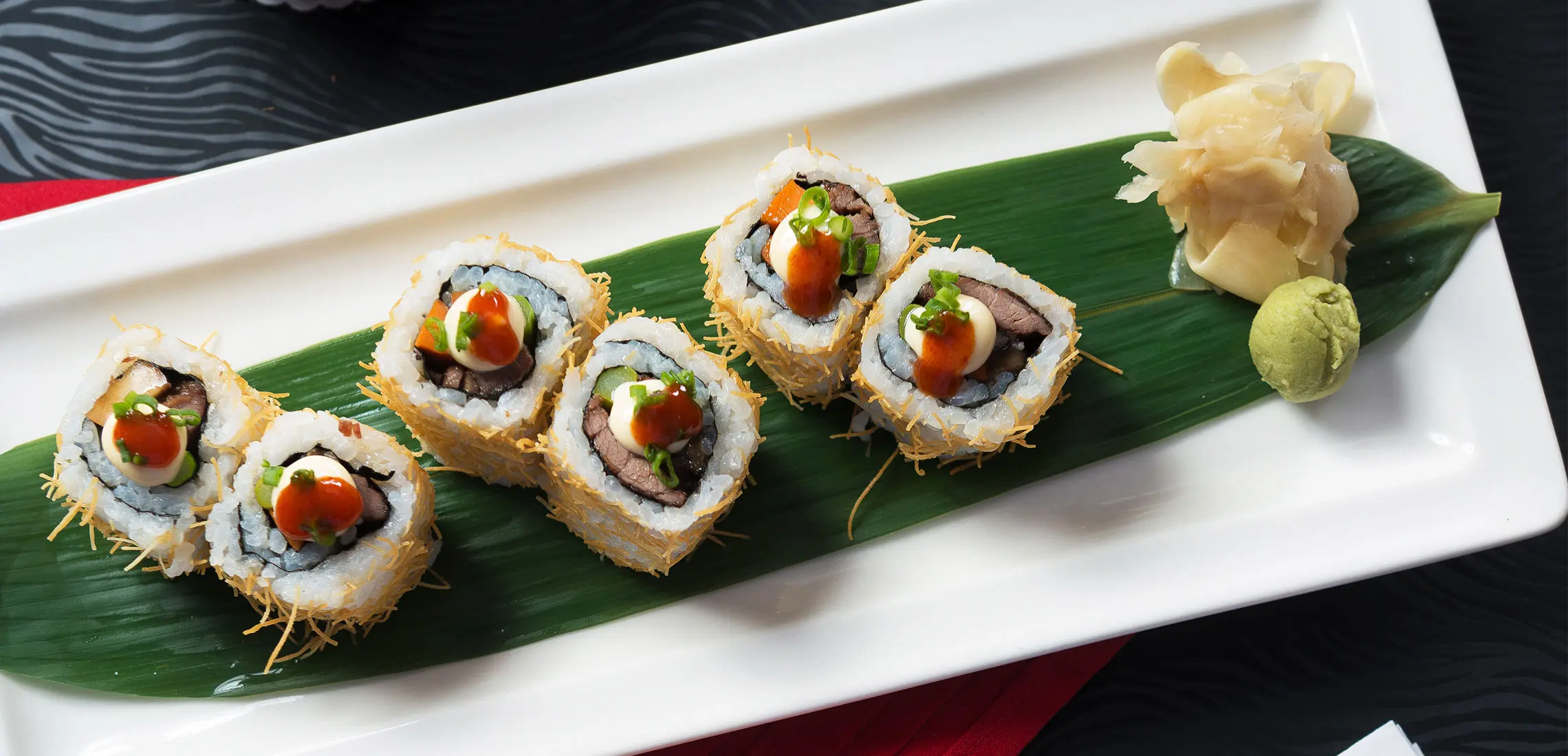 BNE's Best Japanese Restaurants
Sashimi rollin, they hatin'
By Jess Cuskelly | 26th October 2020

Did you miss out on hitting Japan's ski slopes this year? Alas, so did we, but one thing we haven't had to miss out on is delicious Japanese food. Brisbane is home to some stellar Japanese restaurants, which – luckily for us – means that it's never been easier to satisfy those sushi cravings!

Whether you've got a hankering for sashimi, udon or teriyaki, we've rounded up 15 Japanese restaurants in Brisbane that are sure to hit the spot each and every time. Read on to find out where you can experience the tastes of Tokyo in sunny Queensland.

Located only a stone's throw from the heart of Brisbane city, this Spring Hill restaurant has been serving up simple, authentic Japanese cuisine for 16 years. Open Monday to Friday, Bishamon is a family favourite for its extensive dinner menu which includes classic dishes like tempura udon and beef teriyaki, and a range of gluten-free options for those with dietary requirements. This family-run dining hotspot always offers a huge takeaway menu, so you can experience the tastes of Japan from the comfort of your own home.

Slinging fusion eats and inventive dishes that will please your camera and your palate, this moody basement restaurant and bar will send you spiralling to the streets of Japan. The delightful menu is curated by Executive Chef Jack Nicholson and Head Chef Zac Sykes, and inspired by the electric energy of Tokyo, resulting in barramundi katsu bao burgers, Fraser Isle spanner crab with udon noodles, yuzu crème brûlée, and more. It pairs beautifully with the healing cocktail list, featuring the Reiki Master – a twist on classic penicillin that takes the aroma of an incense-filled temple and puts it in a glass.

Paying homage to both izakaya – the Japanese pub experience, and washoku – traditional Japanese food, this Teneriffe restaurant showcases the best parts of Japanese cuisine. Boasting years of culinary experience in French, Italian and Japanese cuisines, Hikari owner Joon has curated a refreshing menu that is equally delicious and approachable. Whether you're a die-hard Japanese foodie or simply looking to get your sushi fix, head to Hikari for a delicious culinary experience.
hôntô | Fortitude Valley
Contemporary flavour meets traditional cooking at Honto, the Fortitude Valley eatery reimagining Japanese dining. Boasting a menu that's "a lot Japan and a little bit Australia," Head Chef Jamie King has curated a mix 'n' match style menu that combines the best of both worlds and showcases fresh, local ingredients. Our pick? The Honto Signature Raw menu, which consists of local seafood, prepared to perfection.
There's a reason that this Racecourse Road joint is popular with locals – serving up generous portions of feel-good Japanese fare, Hosokawa is sure to satisfy your tastebuds and your purse. If you've got a hankering for simple, back-to-basics Japanese food, this venue has you covered with a menu that includes authentic izakaya-style dishes like tempura, karaage and yakitori, as well as the garden-fresh sushi bar. Hosokawa offers a select range of local and Japanese beers, wines and spirits, but as a BYO venue, we recommend bringing along your favourite wine. Cheers to that!
Kabuki | Brisbane City
Dinner and a show is what you'll get when you book in at this fifty-thrills-a-minute teppanyaki restaurant. Famous for its upbeat atmosphere and sizzling dishes, you'll be entertained all night long as Kabuki's top chefs chop, cook, flip and serve your dinner right in front of you. To round out the evening, make sure you indulge in the beverage list, which is jam-packed with imported and local beers, as well as Japanese specialities like plum liquor, citrus wine and of course, sake.
KU-O | Woolloongabba
You might not be jetting around the world any time soon, but you can still be transported to Japan, thanks to the foodie pros at KU-O. Adorned with oriental umbrellas and lanterns, this Woolloongabba bar and restaurant will make you feel like you've stepped straight into Tokyo, and with a mouth-watering menu to match, you won't ever want to leave. Head to Trafalgar Lane this weekend and take a bite out this Japanese joint.
Miku | Graceville
Located on leafy Honour Avenue, Miku is Graceville's solution to Japanese cuisine. Only a stone's throw from Graceville Station, patrons can watch their food being prepared in the semi-open kitchen or take a seat outdoors and soak up the sunshine while mulling over the menu. Can't choose between the wide variety of bento boxes, sushi, sashimi, salads and rolls on offer? Bring your pals along for swap and share style Japanese dining!
Five-star dining awaits you at Sake, the dynamic Japanese restaurant reigning supreme over Eagle Street Pier. Named after Japan's famous rice wine, Sake combines a powerhouse menu, excellent customer service and stunning river views to create a dining experience like no other. With tantalising signature dishes like the Hiramasa Kingfish with soy dressing, house-made lime and jalapeno kosho, this venue serves up unbeatable culinary experiences from Wednesday to Sunday.
A whole lot delicious and a little bit fancy, Sono is your one-way ticket to unbeatable Japanese dining. Featuring neutral décor, sleek wooden furniture and stunning views of the Brisbane River, this venue offers a range of dining options, including teppanyaki bar, à la carte and wine-matched degustation menus. Our pick? The Zen Course, which includes traditional dishes like seafood sunomono (seafood with seaweed and cucumber, topped with sweet vinegar sauce – yum!). At a cool $135 per person, this one is definitely worth saving up for!
Craving the tastes of Japan? Next time you're hungry for sushi, make sure you head to Woolloongabba's Sunny Doll, where you can indulge in a versatile menu that includes a wide range of sushi rolls, sashimi, noodles, soups, mini rolls, bento and nigiri. Don't want to leave the couch? Not a problem – the restaurant also delivers all over Brisbane, so you can experience Japanese cuisine without even leaving the house!
Sushi Edo | Multiple locations
Quick and convenient Japanese food doesn't get any better than Sushi Edo. Dishes are served sushi-train style, and include a range of nigiri, aburi, gunkan and hand rolls for the unfussy price of $3.80, or dishes like Wagyu beef, sashimi sets and Udon noodles from the à la carte menu. You can find Sushi Edo stores all over Brisbane, including in Newmarket, Nundah, Sunnybank and Garden City.
Since opening in 2008, Sushi Kotobuki has established itself as the go-to spot for East Brisbane locals looking to satisfy their Japanese food cravings. With a hearty menu that boasts Asian-fusion dishes like teriyaki tofu noodles and spicy karaage, as well as a range of sushi options including unagi nigiri and California temaki rolls, there's something for everyone at Sushi Kotobuki.
It's no secret that Sunnybank is home to some of Brisbane's best Asian restaurants, and Oisshi Sushi Bar is no exception. With a team of highly trained Japanese chefs at the helm of the venue, diners are treated to delicately arranged plates of melt-in-the-mouth sushi and fresh sashimi garnished with ginger and wasabi, as well as steaming platters of salted edamame and chicken yakitori. To top off your dining experience, make sure you indulge in a Japanese beer from Oisshi's drinks menu.
https://www.instagram.com/p/BvvTMz-HkDa/
Howard Smith Wharves accommodates some of Brisbane's premier dining hotspots, and Yoko Dining fits right in alongside them as the home of contemporary Japanese cuisine. Sister restaurant to Greca, Brisbane's favourite Mediterranean tavern, Yoko serves up fresh and funky dishes in the Japanese pub style of izakaya, as well as an innovative drinks menu that includes sake, cocktails, local and imported beers, Japanese spirits and wine. Boasting stunning views of the Brissy river, Yoko is the perfect location for your next culinary adventure.
Australian dining meets Asian cuisine at this Teneriffe bar and kitchen. Combining the best elements of both Korean and Japanese food, Zero Fox serves up delicious Asian-fusion dishes, washed down with Australian craft beer, wine and spirits. We recommend booking a table and ordering up a storm, before kicking back and relaxing with a bevvie or two. Oh, and did we mention? Furry friends are also welcome!
Keen for more culinary experiences? Check out BNE's Best Italian Restaurants as voted by you!