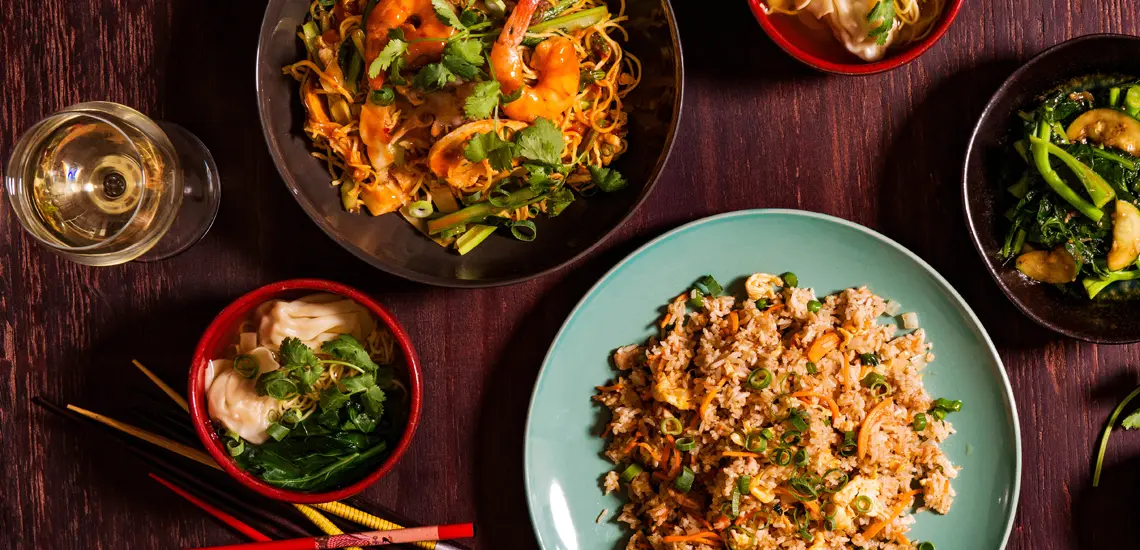 Where To Eat The Best Chinese In Brisbane
Chopsticks at the ready!
By Guest Styler | 28th January 2016

You don't have to wait until Chinese New Year (hint: it's on Monday, February 8 this year) to eat yourself silly with sweet, sour, spicy and lip-tingling dishes, have your fortune told by a cookie, or get your karaoke on at the dinner table. We've uncovered Brisbane's best Chinese restaurants to get your fix all year long!

Unlike picking your favourite French or modern Australian joint, the fit out of the restaurant and the ability to understand the menu rarely matters, and often the best Chinese gems are found in the most surprising places. So forget the sneaky takeaway box in front of the television and dine out at these Chinese restaurants:
1. Peng You, Newstead
Experience communal Asian-style dining at Gasworks Plaza. Peng You China Kitchen and Bar offers modern and traditional Chinese dishes, such as roasted Peking duck, whole baby barramundi wrapped in banana leaf, sizzling king prawns and beef shin hot pot.
Showcasing authentic northern-style Chinese cuisine, including heartier meals and those that incorporate wheat (the staple crop in Northern China), Bamboo Basket on Grey Street specialises in handmade noodles and dumplings. They also offer Shanghai-style spicy and sour soup, and spicy kong po chicken, and you can watch the chefs pull and stretch dough to form noodles right in front of your eyes.
This Woolloongabba treasure was established in 1993, and still continues to provide a top-quality a dining experience. Ben's offers more than just traditional Chinese cuisine, with an equal share of authentic Vietnamese dishes on the menu and karaoke that goes off on weekends! The venue is perfect for a friendly and social dining experience, with the option to BYO.
4. Satay Ria, Fortitude Valley
Tantalise your taste buds with the Asian fusion dishes at this Malaysian-Chinese restaurant. The chef RECOMMENDS THEIR chili mud crab, seafood curry laska and yam basket. And you can't go past their signature chicken satay skewers, coated in spicy peanut sauce! Recently announced as the winner of best Malaysian restaurant at the 2015 Restaurant And Catering Awards, this Malaysian-Chinese restaurant is waiting for you.
Described as an organic Chinese restaurant, Obsession offers a modern dining experience in South Bank with fresh seafood and quality free-range produce. The restaurant also has a unique range of Chinese and Japanese wines to choose from, as well as unique Asian cocktails.
Have you ever wanted to organise a get-together and had to deal with conflicting tastes? Michael's Oriental Restaurant offers a diverse range of South East Asian fusion flavours in one melting pot, including Chinese, Malaysian, Thai and more, so everybody stays happy, not hungry. And if you're looking at catering for a large group, conference or wedding, their function hall can comfortable seat up to 400 guests, and has on-site accommodation.
Stealthily located behind a sliding garage door in Spring Hill, Happy Boy's excellent combination of fine wines and authentic Chinese food makes it an ideal candidate for a social banquet catch-up. Delicious, shareable meals such as beef brisket stew, noodle knots, house fried rice and crispy bao sliders will make everybody happy.
While Big Fortune serves traditional Cantonese cuisine, the kitchen also creates specialty dishes from other Asian nations. The restaurant is known for its authentic salt and pepper dishes and its signature fares include the flaming pork chops, wontons and salt and pepper squid. If that doesn't tickle your fancy, you're sure to find something in the six-page menu – and that doesn't even include their various banquet deals!
9. Fat Noodle, Brisbane CBD
Calling all lovers of late-night dining! If you're ever looking for a Chinese fix after 10pm, Fat Noodle at the Treasury Casino and Hotel is a good place to start. Celebrity Chef Luke Nguyen's Asian-fusion restaurant dishes up primarily Chinese cuisine, with a mix of exotic and fresh Thai, Malay and Vietnamese dishes. The restaurant is open til 3am on Friday and Saturday and until midnight all other nights.
Did you know dumplings were created by the founder of Chinese Herbal Medicine, Zhang Zhongjian more than 1800 years ago? Neither did we! To get your dumpling fix, Dumpling Republic in the Wintergarden creates fresh, flavoursome, handcrafted dumplings, as well as a range of other Asian favourites, including noodles, stir-fries and rice dishes. For a Tuesday treat, they offer $1 dumplings after 5pm.
If you're looking for a decent inner-city buffet feed, look no further than 100 Degree! They offer an all-you-can-eat hot pot buffet for under $30 pp, which includes hot pot dishes such as dim sims, spring rolls and soups, as well as seafood dishes, desserts and drinks. You're welcome.
Like this? You'll love these!
Brisbane's Best BYO Restaurants Best Thai Restaurants in Brisbane Brisbane's Best Late Night Restaurants