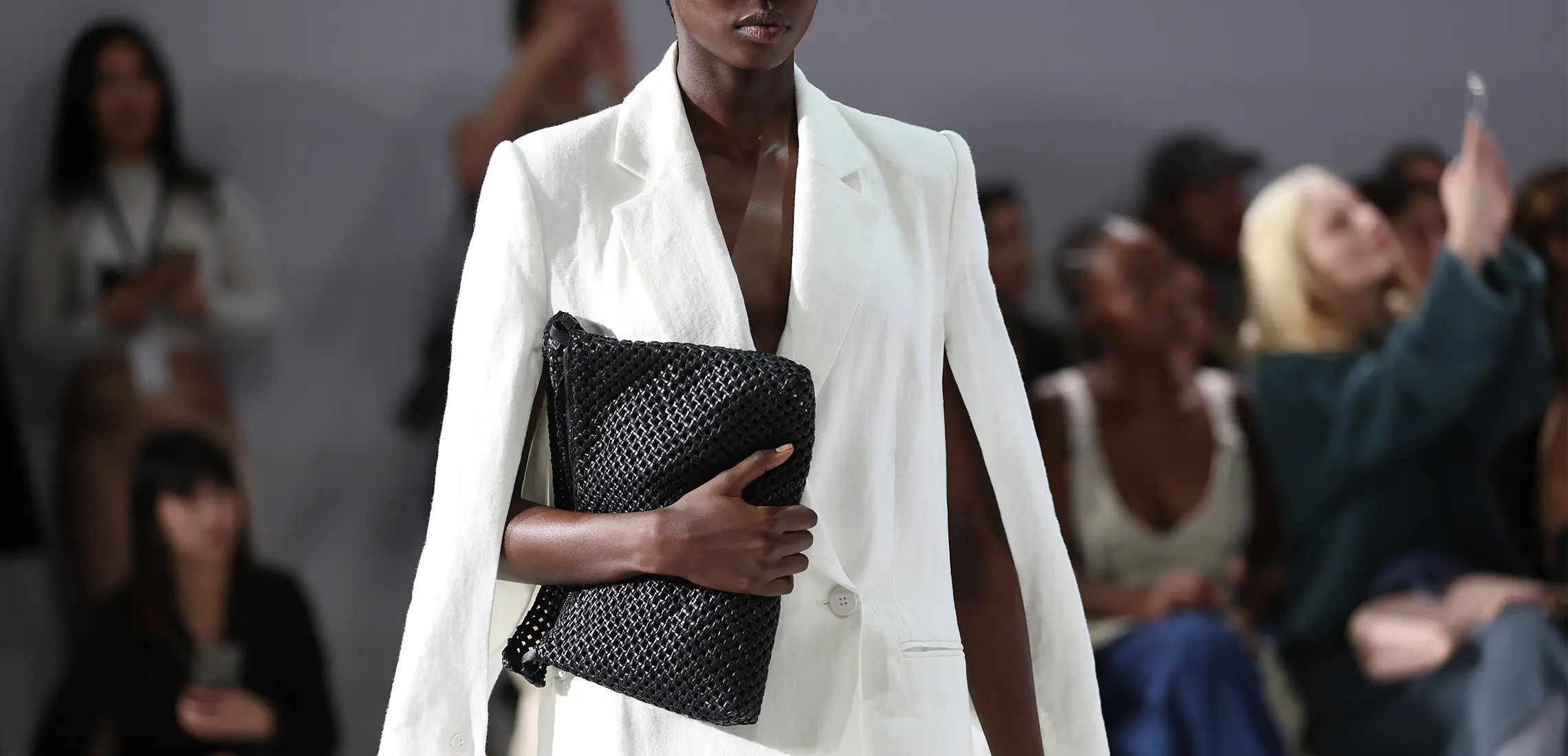 St. Agni Highlights Vacation-Wear With A Minimalist Attitude
90s resortwear on high rotation
By Astrid Taemets | 4th July 2023

With so many sunning themselves on the shores of Europe's pebbled beaches right now, you'll forgive us for daydreaming about our next flight to somewhere warm and tropical. But it's not just the location that's in our sweet, sweet reverie – after all, what's a girl to wear while sipping on coconuts as the sun goes down? 

Though not your typical resortwear style, St. Agni's Resort '24 collection brings simplicity with the type of understated elegance and sharp design perfect for packing into your Rimowa in pursuit of an island far, far away. 

Continuing to prove less is more with every new collection that drops (including their 90s Kate Moss-inspired '22 AAFW show that we'll never forget), the homegrown and internationally beloved label presented a palette that's approved for city life and temporary escapes. The perfect blend of urban design meets coastal laissez-faire, the pieces were a mix of netted gowns, relaxed slacks, clean-cut slips, and tailored sets in shades of black, beige, white, and silver – the universal colour palette for any sartorialist. Here, co-founder and creative designer Lara Fells breaks down their winning formula, fit for all seasons…
What was the vision for the Resort '24 collection?
The vision comes back to our core values and a strong focus on the element of wardrobing. We were inspired to create a collection that emphasised the versatility and functionality of the garments while staying true to our brand identity. 
View this post on Instagram
How did you bring it to life?
We curated a moodboard that captured our vision and conducted extensive fabric research, sourcing high-quality materials. We sampled a variety of pieces and continued to refine the collection. The campaign photoshoot helps to bring the vision to life and drive the direction further.
What were your main references?
The main reference for the Resort '24 collection was 90s minimalist dressing. We used this as a grounding element for the overall design direction. We focused on the concept of juxtaposing refined resort tailoring with a masculine edge and a sensual element. The combination of these visual references created a unique, contemporary visual language for the collection.  
Who is the St. Agni customer?
We envision the St. Agni customer to be confident and appreciative of a blend of progressive and classic elements in their style. We strive to offer versatile and timeless pieces that speak to a diverse group of people, transcending any specific demographic. Our goal is to provide fashion options that empower and inspire anyone who connects with our brand. 
What is your favourite part about the collection?
Love that the entire collection ties harmoniously together. The incorporation of AGMES in the runway really lifted the pieces and helped bring the vision to life. 
What was the creative process behind the runway design?
The creative process behind the runway focused predominately on creating an intimate experience for our audience. We paid close attention to the overall atmosphere of the show, choosing music and soundscapes that would create a mood of understated sophistication and complement the minimalistic aesthetic. We wanted to ensure that every guest felt immersed in the world we were creating and had a close connection with St. Agni. To achieve this, we focused on experimenting with light and shadow to introduce an architectural element to the show. We aimed to create a dynamic and visually captivating atmosphere that would complement the collection. 
What were the fabrics used?
We incorporated a variety of natural fabrications such as organic cotton, RWS wool, linen, and silk, avoiding the use of synthetics where possible, and only using them when the integrity of the garment required it. 
How do you keep inspired with a minimalistic aesthetic?
I would describe my personal style as minimalist, so feeling inspired comes naturally. My focus is on simplicity and creating a cohesive and versatile wardrobe that reflects my understated aesthetic. There is a quiet confidence and elegance to minimalism that I am drawn to, which continues to inspire my vision for St. Agni.