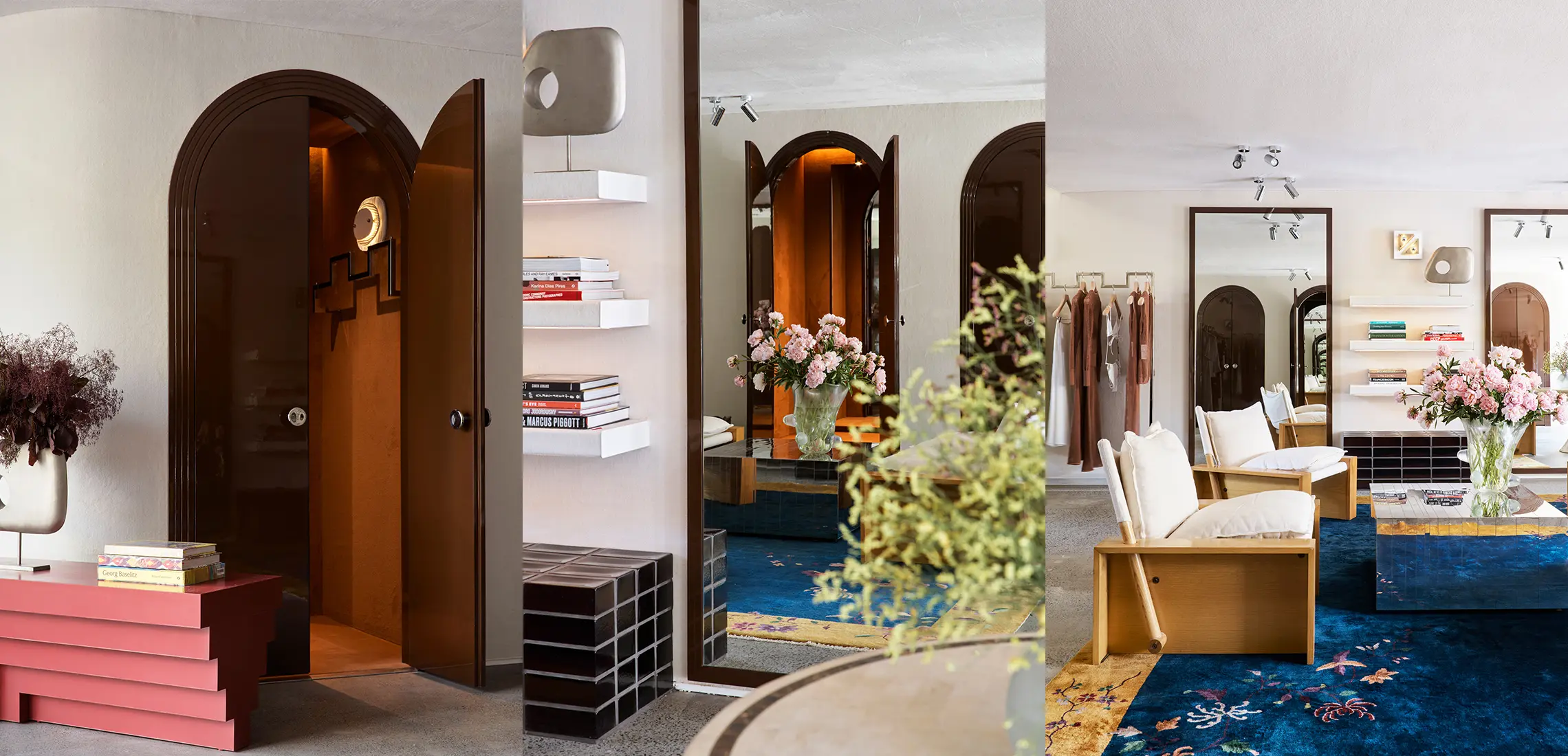 Yes Sir! Get To Know The Founders Behind SIR. The Label In Their New BNE Store
One for the sunseekers
By Astrid Taemets | 7th December 2022

A SIR. girl is an unmistakable being. Effortlessly polished, she exudes the attitude of a woman chasing an eternal summer – always in holiday mode, always ready to take off on another exotic vacation. She's aloof, carefree, timeless, and playful. So, it's little wonder that the Australian brand's signature throw-on-and-go style has become somewhat of a fundamental puzzle piece for those chasing a life less complicated and confined by a 9-5. And now, that life is available right on our doorstep in a sensory boutique experience on James Street, designed by Tamsin Johnson.

View this post on Instagram

Since launching in 2014, SIR. – an acronym for separates, intimates, and ready-to-wear – has cemented itself as an essential label for the discerning woman, with founders Nikki Campbell and Sophie Coote cornering the market thanks to their trans-seasonal pieces that are both feminine and full of gumption. But what's their secret? It's simple, really. They just design for themselves…
How was the brand born?
We founded SIR. with a desire to fill a gap in our own wardrobes with minimal, elevated pieces that you could pop in your suitcase and travel the world with. We started out with a linen capsule which sold out within the first few hours of launching, and the rest is history. 
What is the SIR. aesthetic?
Quintessential Australian style spanning across separates, intimates, and ready-to-wear for an eternal summer. 
What are your roles within the business?
We both sit across all aspects of the business, collaborating together on the creative direction and design, and leading the strategy for each department of the business. 
Who is the SIR. woman?
She has a distinct personal style, a sense of adventure, and an eagerness to inspire. She's not one specific person – it's more about the energy she embodies. 
What was the decision behind opening your second ever store in Brisbane?
Since opening our Bondi flagship store in December last year, we have had a desire to expand the physical presence of the brand across different locations. The stores offer an all-sensory experience for our customers to immerse themselves in the brand. We have a strong customer base in Brisbane, and saw it as the perfect next move in expanding our retail footprint. 
View this post on Instagram
What is your all-time favourite item from your collections?
We have many, and most of them have been adapted over time and given new life due to their popularity, which in turn has created our signature SIR. aesthetic. Since launching three years ago, the Aries cut out gown is our most sought-after style.
Has your aesthetic changed over time?
We started the brand at 24-years old. Our collections very much reflected our personal style of that time. Now in our 30s, we are still designing for ourselves, so the evolution of our aesthetic has organically evolved with us. In saying that, we still design for our 24-year old selves – we never want to lose that girl. 
What inspires you?
We look to vintage architecture, art, and design in all aspects. We're inspired when we travel the world, when we are with our team, and our nearest and dearest. 
Your three favourite fashion brands:
Jil Sander, Acne Studios, and we love sourcing vintage. 
How would you describe your own personal style?
We both have a minimalist style with a feminine edge. 
What is the creative process behind each collection?
Our travels really form the basis of inspiration for our collections. On these travels, we visit print houses to source inspiration for our SIR. exclusive prints which are adapted in-house by our design team, and spend hours exploring vintage fashion stores, galleries, and new cities. Following a trip, we meet with our team to share vintage pieces, trinkets, and artwork we have sourced on our travels, and share shapes and colours we found interesting. From there, we work closely with the team to bring all of these elements together to create a cohesive collection and the next evolution of SIR. 
Your campaigns are always shot in breathtaking places. What is the process for bringing these to life?
We work closely with our creative director, Bruna Volpi, who has a deep understanding of the SIR. aesthetic and aspirational narrative, along with our creative team in-house. Through a combined vision, we work together to bring to life our storytelling in a visual capacity that is aspirational. The collections are generally inspired by places we have travelled, so we like to represent this through our campaigns.
Who would you love to see in SIR.? 
Margaret Qualley, Kate Moss, or Zaina Gohou. 
What are your future goals for the business?
We want to continue to create collections that lean into the feeling of eternal summer, and continue to share our SIR. vision with the world. We are planning a number of activations and pop-ups globally next year, and can't wait! 
What is your most memorable SIR. moment yet?
Seeing SIR. worn by people on our travels. There are so many, but it's always incredible seeing a woman on the other side of the world wearing our clothes and styling it in her own way.