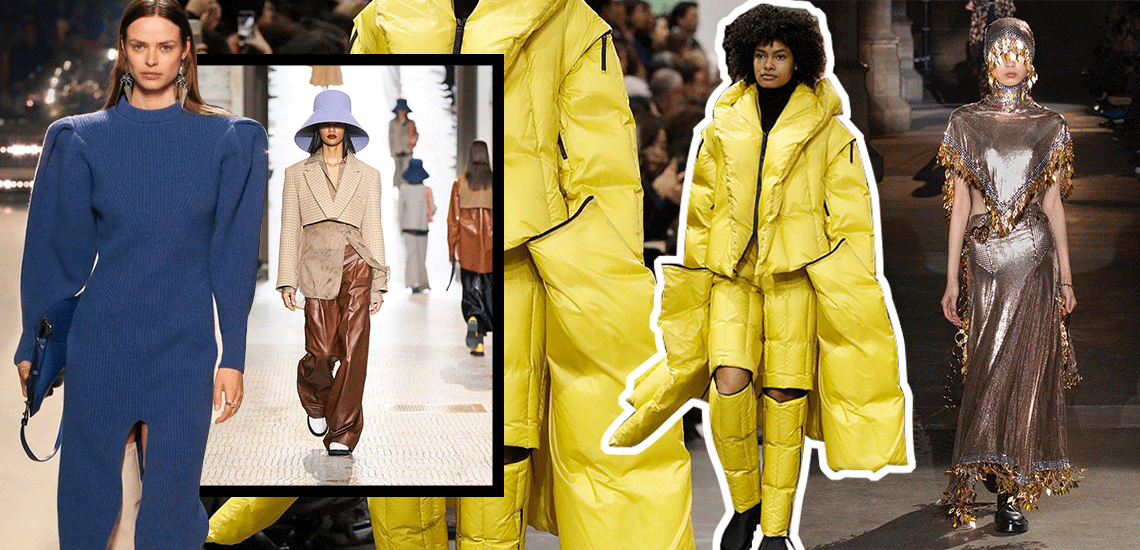 Runway Review Of Paris Fashion Week
We're talking lobes.
By Dinushka Gunasekara | 5th March 2020

Bonjour Paris Fashion Week and au revoir. Armed with croissants and baguettes in their tiny designer bags (I assume), the designers came out to play and P (he), G (she) and D (me) have opinions.
ALEXANDER MCQUEEN | AW20
P: Fly, be free!
G: Looks like the soles of a Louboutin.
D: Growing up in a brown household, shoes that are also pants stress me out. What do you leave at the door?
ANDREW GN | AW20
P: It's about the lobes. Does she work out those lobes?
G: That's some fierce button work. Oh yeah, and the earrings – how are her lobes not ripped?
D: Since when was Wednesday Addams a resident at the Vatican?
ANDREAS KRONTHALER FOR VIVIENNE WESTWOOD | AKAW2021
P: Is that a sword in your pocket?
G: Bewbs. Is that a knife? No, THIS is a knife. It's kind of like she walked out of the clouds into a Grecian fight.
D: When you re-enter the world after binging The Witcher.
BALMAIN | FW20
P: Shiny, how do you launder it?
G: Walking straight into Christian Grey's Red Room? I dig it, I just feel like everyone is wet. (Editor's Note: This triggered P to get a glass of water)
D: Did Augustus fall into the chocolate river again?
COPERNI | FW20
P: Greta Thunberg all grown up.
G: Putting the bored in the boardroom. Needs a little something something, like a red lip.
D: If I had to wear business wear, this would be in the circulation.
DIOR | AW20
P: Those boots were made for walking…
G: Scotland meets Native America – I'm into it. Pocahontas went to fashion school.
D: As headmaster of my imaginary high school, I declare this the uniform.
GIVENCHY | FW20
https://www.instagram.com/p/B9NEHAlIfNf/
P: Wouldn't that be heavy on the shoulders?
G: Givenche-give me. Loving all dis.
D: The structure I need in my personal life right now.
HERMES | AW20
P: That's a lot of neck action. Show me again. Car accident at 12, fashion show at 3 and herding the sheep at 5.
G: Evil James Bond in the snow.
D: Putin would dig this.
ISSEY MIYAKE | AW20
https://www.instagram.com/p/B9MTjz4gy1X/
P: High vis on the catwalk.
G: When your knees get sweaty. Great for the snow when you fall over.
D: I love knee ventilation.
ISABEL MARANT | FW20
P: What's that rug thing that's been converted to a onesie?
G: I would look like a swollen blue lollipop.
D: Middle splits stress me out. Put the crotch away.
JUNYA WATANABE | FW20
https://www.instagram.com/p/B9Jdx5uBBDc/
P: How do you even put that thing on?
G: Cruella de Ville got caught up outside Moulin Rouge. If you know, you know.
D: There's a lot to take in here but I'll take it in another day thank you.
KOCHÉ | FW20
P: Couldn't decide on a colour theme? Half Sweden, half Denmark.
G: Isn't it nice to see international diversity on the runway?
D: Is this what 1800s lingerie looked like?
KWAIDAN EDITIONS | AW20
https://www.instagram.com/p/B9O67nXgjOl/
P: High vis again. And doesn't look happy wearing it.
G: Absolutely un-fabulous.
D: Zoinks. What Shaggy would do for a Scooby snack.
LANVIN | FW20
P: Someone forget their helmet.
G: I actually really dig this, minus the neck thing and would contemplate leaving the helmets at home.
D: When you have to wear a helmet on a Lime Scooter but make it fashun.
LOEWE | FW20
P: Looks like a Chinese restaurant table runner
G: This looks like Emperor's New Groove! I like it!
D: I used to draw this exact pattern on all my exam papers when I finished early.
MAISON MARGIELA | AW20
P: I don't know if she's walking backwards or forwards.
G: When your husband's dead but you're still on the prowl.
D: Is this commentary on ocean pollution because, if so, it seems counterproductive.
MAISON VALENTINO | FW20
P: What's going on with that handbag? Handbag or hambag?
G: Mr Mugatu from Zoolander helped out.
D: When I'm forced to clean the toilet.
MUGLER | FW20
https://www.instagram.com/p/B9ESGQxoA2r/
P: She's pulled the couch apart and made an outfit. Sustainable fashion at its finest. Wouldn't want to be busting in that, though.
G: Very noisy to walk in. Does she need lube underneath that?
D: Those shoes are a weapon and I want them for the apocalypse.
NINA RICCI | FW2021
P: That would make a good lampshade. Rings a bell.
G: Sun safety at its finest. Nek minnit, neck flap hats.
D: I adore the shizz out of this and if an influencer could donate it to my local thrift store ASAP that would be swell.
OFF-WHITE | FW20
P: Yakity Yak, don't talk back.
G: Cow-licious. Give me all the animal print, cows included.
D: These pieces are really moo-ving.
PACO RABANNE | FW20
P: How do you see through that? How do you manoeuvre?
G: Lots of boujee seaweed.
D: Dementor high fashion.
REDEMPTION | S20
P: That's pretty hot.
G: Still can't get around the gladiator heels, but that dress is amaze. So are her collarbones.
D: Would need plenty of fashion tape for those shoes but not mad about it.
SACAI | AW20
P: I just want her to stop so I can read it all. The first word you find is your future.
G: It's just hurting my eyes a little bit.
D: Luxe meets literacy.
THOM BROWNE | FW20
P: I don't even know what to say. (Editor's Note: he actually didn't say anything else, just stared).
G: When you have a kid's birthday party at 9, school at 10 and circus performance at 12.
D: Alternate reality animal Uncle Sam is living for this.
Header Credit: Paco Rabanne, Issey Miyake, Nina Ricci